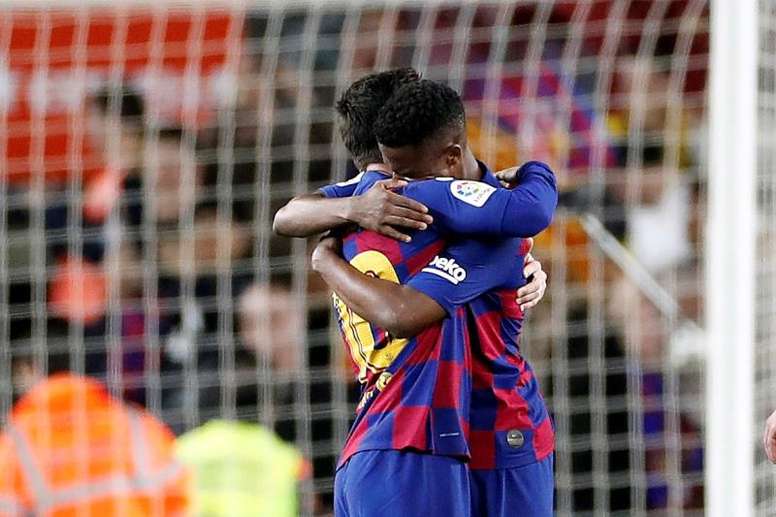 Fati on being dubbed the new Messi: "I only want to learn"
Ansu Fati turns 18 this Saturday. To celebrate his 18th birthday, 'Tuttosport' have got an interview with the Barca youngster on their front page.
"I dream about winning the Golden Boy," an excited Ansu Fati admits. The attacker is one of the candidates for this prize.
Some are comparing Ansu Fati to Messi, there are those who call him the 'new Messi', but he is not keen on that tag. "I don't focus on those things. I only think about training and learning, I'm fulfiling a dream and I hope it remains that way," he said.
On being nominated for the Golden Boy, he would love to join the select group to have won that award. However, it is not something he loses sleep over. "I'm excited. Being nominated for such an important award makes me very happy, but I have to keep on working so that more nice things like this come along. It would be an honour to join the list of players to win the Golden Boy, but as I said earlier, I'm not obsessed about it. We are all winners just for having reached the final round," he said.
Fati also spoke about Koeman, the new Barcelona coach. He admitted he is still getting used to what the boss wants. "We started with him not long ago. We are adapting to his ideas. I must stress that we are working very well."
Lastly, he explained where his passion for football comes from. "I was born into a footballing family. My parents played as does my older brother. Braima played with me at the Barca academy and I always wanted to follow in his footsteps. I've always loved football, I really enjoy playing it," Ansu Fati concluded.
October 31, 2020