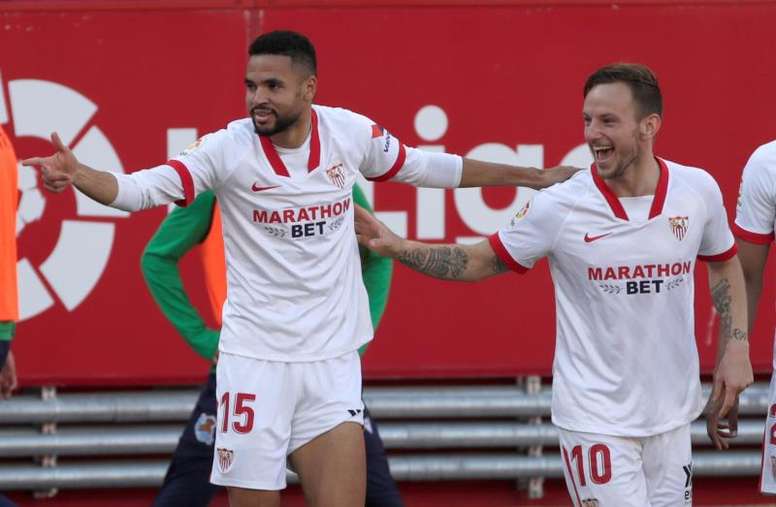 En-Nesyri's agent admits he has turned down another offer from the Premier League
Sevilla have already turned down up to €36m from West Ham for Youssef En-Nesyri, but the Moroccan has also made his commitment clear. The striker said he wanted to finish the season at the club and according to his agent, he has said "no" to further offers.
"A few days ago another Premier League club called me again, an important team. They asked me what Youssef's situation was. I told them straight away that it didn't matter, that Youssef didn't want to leave Sevilla, that he wouldn't," revealed Anass Ouzifi, the striker's agent, to 'ABC'.
"They insisted and told me if they could offer something. I explained the situation well. Youssef is very happy in Sevilla, very grateful to the club and his teammates, he feels the affection of the fans. He is happy. He is 23 years old, why would he want to leave? Not everything is money in life", he continued.
Ouzifi explained that it was En-Nesyri himself who refused despite the juicy offer: "I only spoke to Youssef once about it. I told him: 'Look, Youssef, you have an offer from England. They called me. They want to pay you more than double what you earn at Sevilla and I want to know what you think.
"He quickly told me no, no, to tell them that he was very happy at Sevilla and that he didn't want to go anywhere. Then he said to me 'what do you think?' I told him exactly the same, that it wasn't the right time, that we are at a great club like Sevilla, a model team in Europe, a champion team, and that what we had to do was to continue to succeed. Then he told me: 'Well, that's the way it will be,'" he added.
"Since then we haven't spoken about offers or anything like that. We only talk about Sevilla, about the goals he has scored and the goals he has yet to score," concluded the player's agent, who is being sought after by the Premier League. But if they want him, it will have to be in the summer.