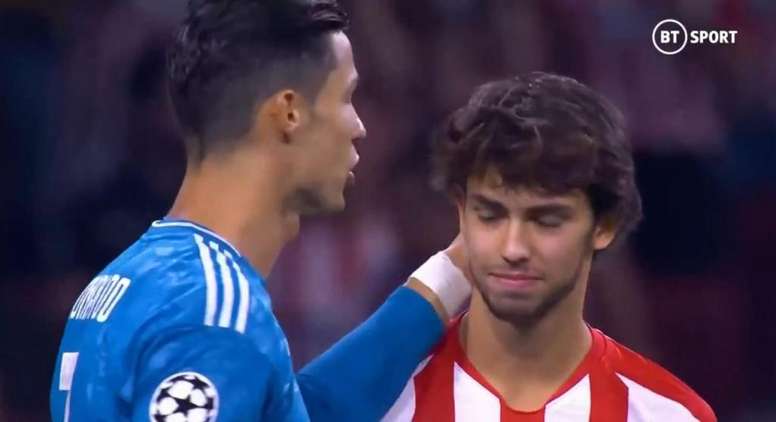 Cristiano's fatherly gesture to Joao Felix
It was one of the most moving images before the Champions League clash between Atletico Madrid and Juventus. And it is that both were fused in a gesture of fatherly love from Cristiano to a Joao Felix that was making his UCL debut with Atletico.
Both Portuguese stars made headlines in the Metropolitano, with two teams that have shared recent and at times painful history in the Champions League.
It was his first official match - they met in the preseason friendly in Sweden in which Joao Felix scored two goals for Atletico, which won 2-1 on August 10 - in which Ronaldo faced one of his favorite rivals, Atletico, which has seen him score 25 goals in 33 games against them, and Joao Felix faced his first presentation in Champions with his new club.

At Atletico, Joao was accompanied by Diego Costa, who has proven key for Atletico Madrid in matches of this stature in the past. Koke Resurrección, Saúl Ñíguez, Thomas Partey and Thomas Lemar provided them withthe midfield, with Kieran Trippier, Stefan Savic, Josema Giménez and Renan Lodi in defence.
Juventus' offensive was completed by Argentina's Gonzalo Higuain, another player with a Madrid background (he has scored five goals in nine games against the reds and whites) and Colombia's Juan Cuadrado; with Sami Khedira, Miralem Pjanic and Blaise Matuidi in midfield; and Danilo, Leonardo Bonucci, Matthis De Ligt and Alex Sandro in defence.
Atlético de Madrid and Juventus have met four times, all of them in the Champions League, with two red and white wins (1-0 in Vicente Calderón in the 2014-15 group stage and 2-0 in the Metropolitano in the eighth round last year), a draw (0-0 in Turin in 2014-15) and a defeat (3-0 that gave the transalpine team a place in the quarterfinals last year).