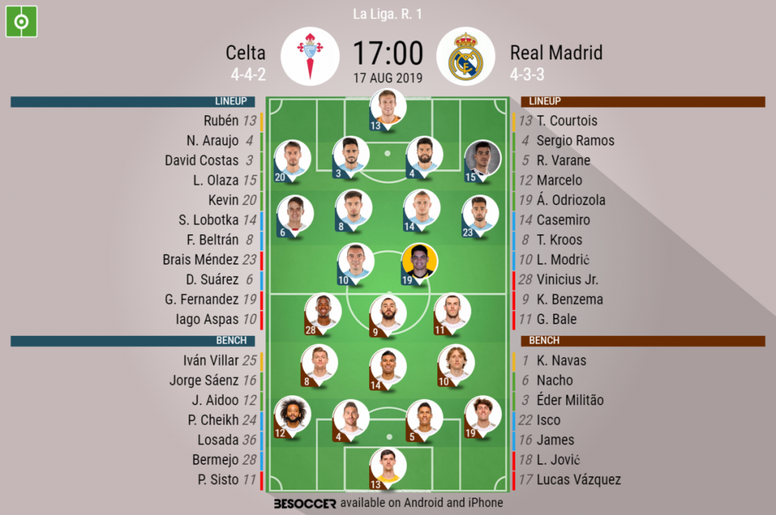 Celta v Real Madrid - as it happened
Celta

Real Madrid

90'
Full Time! Zidane will no doubt be ecstatic with his team as they cruise to a 3-1 win against Celta Vigo!
90'
After a scuffle in Celta's box they manage to counter and run all the way up the pitch, substitute Losada gets the goal and Diop with the assist. A bit of consolation for them
87'
Celta take off Fernandez and his replacement is Losada
86'
Isco took the free kick which deflected off the Celta wall, only for him to have another shot and Ruben makes a great save to deny Madrid of an even greater lead!
85'
Free kick just outside the box for Madrid!
83'
Beltran comes off for Celta to be replaced by Diop!
83'
That has surely sealed the victory for Real Madrid and will be just what they needed to gain confidence and for Zidane to win over his fans.
80'
Final sub for Real Madrid, as Benzema comes off, straight after assisting the third goal and is replaced by Jovic
79'
Madrid make it three!! Substitute Lucas Vazquez is the goal scorer, with a controlled finish into the bottom corner!
76'
Lobotka goes off and on comes Sisto!
74'
Gareth Bale goes off, after unexpectedly starting in this opener! Isco is his replacement
73'
Costas goes into the book for a nasty foul on Benzema. Free kick given
72'
Celta counter and have a shot, however it goes wide! still 0-2
71'
Madrid corner! Came to nothing
68'
Real Madrid make their first change of the game as Vinicius Jr goes off, to be replaced by L. Vazquez
67'
Celta have a corner and it is easily headed away by Madrid, no threats there!
64'
Odriozola gets a yellow for a foul on Suarez once again
61'
The assist was made by Marcelo Vieira da Silva!
61'
Kroos gets a second for Madrid from a long volley into the top corner, that would have taken a lot to stop! 2-0 Madrid
58'
Araujo heads the ball but it goes straight to the keeper and he manages to hit it over the bar! Courtois keeps Madrid ahead!
55'
Straight red for Modric as he clipped Suarez's ankle. After a VAR check, the referee sent him off, as in Spain you cannot go in on somebody's ankle like that.It is deemed violent play. Real Madrid down to 10 men
53'
Free kick for Celta as Modric fouls Suarez!
49'
Celta now have 4 yellow cards this match as they are failing to keep their composure due to being 1-0 down.
49'
Madrid have a corner, with the consequent shot at goal being saved neatly by Ruben
48'
Fernandez yellow card for his challenge on Ramos, who appears to be okay and playing on now
48'
Sergio Ramos is down! The medical team are attending to him now
47'
Celta counter and try a shot at goal but Courtois comes away from the line and clears it
46'
Benzema tries a shot at goal only for it to be saved anyway!
45'
Real Madrid kick off the second half in high spirits!
45'
Celta have had no problems on the attacking front, with Mendez and Suarez, they just couldn't make it count when it mattered the most.
45'
Real Madrid leave the pitch feeling a lot happier than Celta. They have had a lot less possession, but have remained calm and took advantage of any attacks when it has mattered most.
45'
The referee has blown the whistle and Real Madrid at half time after Celta's equalizer was disallowed due to being off-side! Madrid have dominated in the first half.
45'
Goal disallowed for offside! VAR checked
45'
Celta equalise in injury time (1 minute) after a great goal from Mendez
40'
Zidane should be happy with how his team have performed! Madrid came into this game under immense pressure but they seem to have managed expectations very well
39'
Mendez goes down after a foul and earns a free kick
38'
Modric has a shot and it is a good save by Ruben!
35'
Vinicius Jr gets a yellow card after bringing down Suarez
30'
Fernandez gets free on the left-hand side but with space to hit a cross, he instead slips it inside for Verane, who cannot get his feet to it and Madrid clear once again. What a chance to equalise!!
29'
Odriozola clashes with Olaza and the two bang heads! Free kickin the Celta defensive end for Celta, keeper taking
26'
Suarez charges towards the penalty area and has Olaza on the overlap, but the full-back opts to cut inside behind the defence, which removes any possible passing lane as Varane comes across to intercept.
24'
Celta have not looked confident in attack and very little is happening for them!
22'
Modric gives away a free kick as he fouls Suarez. It's a bad foul but he still does not see yellow for it!
12'
Aspas (for getting frustrated with the referee)and Ruben Blanco (protestation) both in the book!
11'
Benzema slots the ball in the back of the net after Fernandez goes down and Real Madrid take advantage of it!
7'
Kevin is booked for the foul on Kroos!
7'
Kevin fouls Kroos and there is a free kick given
6'
Benzema tries his luck, but could not get to the ball in time after a cross-in from Modric
4'
There is a wonderful atmosphere in the stadium today! Celta will be confident of getting a result after Barcelona's shock result last night
2'
Celta have a free kick on the right-hand side as Ramos brings Fernandez to the ground
1'
We have kicked off! Celta kick things off
Prev.
Santa Mina still has an ankle issue and so the summer signing will not be starting this game. Hugo Mallo is also sidelined. Denis Suarez, signed from Barcelona is named in the starting XI
Prev.
Star signing Eden Hazard set to miss the first few weeks of the season due to injury. No start for Jovic. However, an Asensio injury sees a surprise start for Gareth Bale. James Rodriguez is on the bench
Prev.
Real Madrid: Courtois (GK); Ramos, Varane, Marcelo, Odriozola; Casemiro, Kroos, Modric, Vinicius Jr; Benzema, Bale
Prev.
Celta: Ruben (GK); Araujo, Costas, Olaza, Kevin; Lobotka, Beltran, Mendez, Suarez; Fernandez, Aspas
Prev.
The line-ups are as follows
Prev.
Join us for Real Madrid's first game of the La Liga season as they take on Celta de Vigo at Balaidos.