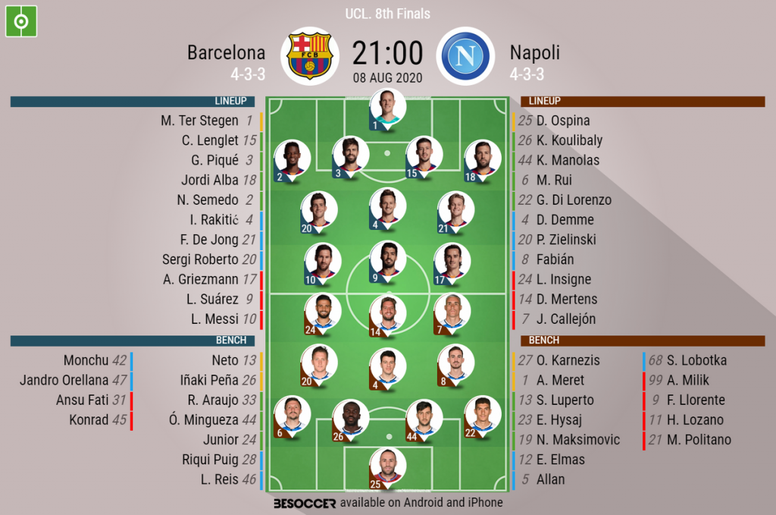 Barcelona v Napoli - as it happened
96'
Thanks for joining us and we hope to see you again soon!
96'
FT: Barca 3-1 Napoli!! (agg 4-2)! All over at the Camp Nou! Lenglet, Messi and Suarez gave Barca a 3-0 lead in the first half before Insigne netted a penalty. Barca were poor in the second half, but they were helped by Napoli's lack of shots on target. Napoli dominated the second half, but Ter Stegen had little to do. Insigne thought he had pulled Napoli to within 1, but he was offside. Barca will play Bayern in the QFs.
94'
Great chance for Napoli as Politano passes to Di Lorenzo and his cross to the near post is scrambled away.
93'
Napoli have dominated the second half, but they've had very few shots on target.
92'
Suarez is booked for time wasting. He didn't want to go off.
92'
Barca sub: Junior on for Suarez.
90'
Napoli shoot, but the shot is blocked.
88'
Napoli have deserved at least another goal and if they had made it 3-2 earlier, it would have got interesting. Still 3-1 for now.
86'
Politano's ball in is headed by Lozano at Ter Stegen.
84'
Barca sub: Griezmann is replaced by youngster Ramon Rodriguez (Monchu).
81'
Milik heads home Rui's cross from the far side, but the flag's up. Clear offside.
79'
Napoli double sub: Elmas and Milik on for Fabian and Insigne.
79'
And another corner!!! Manolas claims a shirt pull in the box, but not much there.
78'
Another corner for Napoli.
76'
Suarez gives a pass to Alba and his ball finds Ospina. Barca not impressive in the second half, but the job's already done and they're comfortable.
74'
Napoli are penalised for a foul on Griezmann just outside the box.
71'
Lozano!!! Insigne makes a fine run and his ball in is headed over by Lozano.
70'
Napoli double sub: Callejon and Zielinski off, Politano and Lozano on.
67'
Suarez is down injured after a foul from behind by Koulibaly. Suarez is up now.
66'
Lovely play by Alba, he combines with Suarez, the cross finds Messi at the back post, but Messi can't direct his effort.
65'
Free-kick to Barca in Napoli's half.
62'
Napoli send a long ball forward for Mertens, but it's too strong and the ball runs through to Ter Stegen.
61'
Rakitic's free-kick is poor as it beats everyone.
60'
Zielinski sees yellow after Messi is cynically pulled back from a De Jong throw-in.
59'
Napoli win another corner! Pique has to slide in as Insigne was threatening.
59'
S Roberto is penalised for a clear shirt pull on Zielinski.
56'
Very open game! Napoli are attacking and Barca are countering. Suarez goes down in the box, but nothing is given.
53'
Napoli!!! Callejon's cross finds Insigne and Mertens heads at Ter Stegen from close range!
52'
Fabian wins another corner for Napoli.
50'
Chance for Napoli!!! Fabian's free-kick is headed by Koulibaly onto Pique for a corner.
49'
Free-kick to Napoli 30 yards out. De Jong is the man penalised, I think.
48'
Messi is given the ball by Griezmann and Napoli get the ball off him.
46'
Rui and Zielinski combine, but the Pole's cross along the ground is cut out by Pique.
46'
Barca get us going again!
45'
Napoli HT sub: Lobotka on for Demme.
45'
HT: Barcelona 3-1 Napoli!! Half-time at the Camp Nou!! Lenglet put Barca ahead despite a possible foul in the build up. Messi then scored a lovely goal to make it 2-0 before seeing a goal disallowed for handball by Messi. Barca got a VAR pen after Messi dispossessed Koulibaly. Suarez converted it, but Napoli got a penalty of there after a foul by Rakitic. Insigne scored, but Napoli still need 2 more in the second half. Back for more in a bit!
45'
What a vital intervention by Pique!!! Napoli attack, Insigne cuts back from the by-line and Pique clears as Callejon is about to fire in!! Half-time!
45'
Insigne takes it and sends Ter Stegen the wrong way! He hits to the GK's right! 3-1 in the 50th minute!
45'
Rakitic looks to touch the ball even though Insigne goes down, but he may go through the back of the Napoli man first. 50:50.
45'
Penalty to Napoli in the 48th minute after a foul by Rakitic!
45'
Suarez sends Ospina the wrong way and it's 3-0!!!
45'
Suarez to take the penalty.
45'
It took 4-5 minutes to give the penalty when it quite a straight forward decision. Could have 7-8 added minutes here.
44'
Cakir is still looking at it and now he gives it!!
44'
The ref's going to the screen.
43'
Messi touches the ball and then Koulibaly kicks him, it's not a case of Messi putting his foot there to kick him.
42'
Messi is still down getting treatment and the VAR is checking the incident still.
41'
Koulibaly had the ball in the box, but Messi came bearing down on him, Messi touches the ball and then Koulibaly kicks his leg. A clear pen for me.
40'
Barca are shouting for a penalty after Messi tries to dispossess Koulibaly. The ref says no penalty! It's a clear pen and this should be reversed.
38'
Fabian is down injured after a clash with Lenglet.
36'
Free-kick for Napoli here. It's sent into the box and Barca head it clear.
33'
No goal!!! Handball by Messi. Still 2-0. As attacking handball is not subjective for UEFA, in UEFA games, the ref doesn't go to the screen.
32'
The VAR is checking for a handball by Messi. I think it touches his left arm and then his chest. For me, it's handball.
30'
3-0 Barca!!! Messi!!! Barca counter, Luis Suarez sees the first shot saved by Ospina, the ball goes to De Jong. He sends a lovely chipped pass to Messi at the back post who controls before firing in.
29'
Insigne sends a ball into the box, the ball is going straight to the GK, but Alba touches it and that causes problems for Ter Stegen.
28'
Napoli are having a bit of possession in Barca's half, but the La Liga side are keeping them at bay.
26'
It's a tall order for Napoli now. They've done very little after the first 10 minutes.
23'
Messi makes it 2-0!! Napoli now need 2! That's an incredible goal! He runs past three or four players, he's even tripped, but gets up and hits into the far corner. Messi gets some good fortune as Napoli don't deal with it, but it's a top goal! Ospina gets a hand to it, but it's not enough.
22'
Callejon sends the ball in, Barca head the ball to Insigne who volleys one well wide.
21'
Free-kick to Napoli on the far side after Lenglet fouls Demme.
20'
Barca are looking comfortable now. Messi looks to send in a cross, but it's deflected by an opponent.
18'
Fabian is caught offside now for Napoli.
15'
Napoli attack and Insigne is flagged offside.
15'
Napoli need one goal for ET.
14'
Rakitic hits one wide of Ospina's right hand post from distance.
11'
The goal stands and Barca are 1-0 up. It could have easily been chalked off...
10'
Barca score after Lenglet heads home Rakitic's corner, but the VAR is checking as Lenglet barges Demme who then falls onto Koulibaly.
9'
Barca win another corner. The home side are picking up.
8'
Napoli threaten again and Zielinski hits it over the goal after being given the ball by Mertens.
7'
Nothing comes of the set piece.
5'
Rui goes for goal from 60 yards! He tries from inside his own half, but it goes wide.
4'
Napoli attack again and Barca have to clear out of their own box.
3'
Napoli are doing all the attacking here so far.
2'
Off the post!!!! Napoli attack through Insigne, his pass takes a couple of deflections through to Mertens and his strike hits the post!
1'
Napoli get us going in the white from right to left! Barca in their usual kits.
Prev.
The players are coming out here at the Camp Nou!
Prev.
Insigne picked up a knock against Lazio, but he's back for this one. Manolas also plays for Gattuso's side despite being an injury doubt.
Prev.
Napoli last played much more recently (1st August). They won 3-1 v Lazio. There's only one change from that match as Lobotka is replaced by Demme.
Prev.
Barca's last match on 19th July when they beat Alaves 0-5. Messi got two in that game. Ter Stegen comes back in goal in place of Neto, Pique replaces Araujo in defence, Fati, Puig, Busquets and Vidal also drop out. Semedo, Rakitic, De Jong and Griezmann are in.
Prev.
A reminder that it was 1-1 in the first leg so Napoli must score this evening. Arturo Vidal is suspended for Barca are seeing red in the first game while Busquets is also suspended through yellow card accumulation.
Prev.
It's 29 degrees at the Camp Nou this evening.
Prev.
We have Turkish officials tonight. Cuneyt Cakir is the referee while Mete Kalkavan is the VAR.
Prev.
Napoli XI: Ospina (GK); Rui, Koulibaly, Manolas, Di Lorenzo; Zielinski, Demme, Fabian; Insigne, Mertens and Callejon.
Prev.
Barca XI: Ter Stegen (GK); Alba, Lenglet, Pique, Semedo; De Jong, Rakitic, S Roberto; Griezmann, Suarez and Messi.
Prev.
Good evening and welcome to our live coverage of the Champions League match between Barca and Napoli!