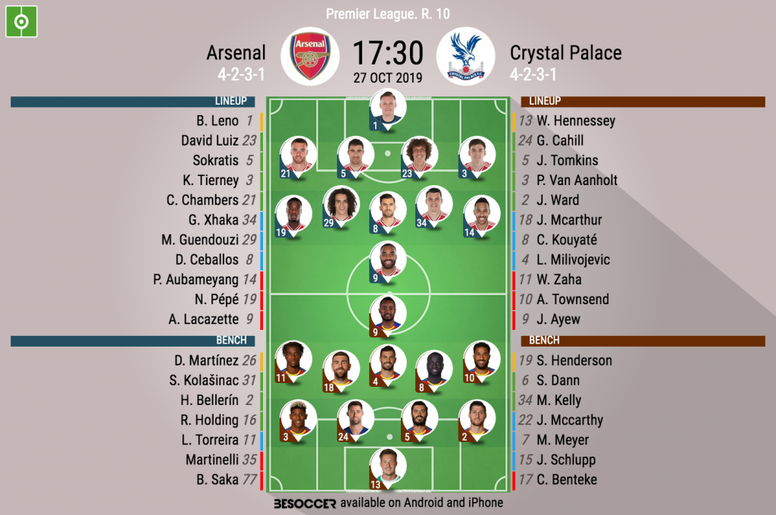 Arsenal v Crystal Palace - as it happened
Arsenal

Crystal Palace FC

Post.
As always, we thank you for joining us today! See you next week for some more Premier League action!
96'
FT: ARSENAL 2-2 CRYSTAL PALACE. Despite a superior performance at times, Emery's men could not get their wanted 3-2 and will have to get just the one point away.
96'
Guendouzi is booked for that foul on Zaha despite the Palace players' protests that he'd stopped a clear goal-scoring opportunity.
95'
Pepe swings yet another corner into the box for Arsenal, but this time it's cleared by Cahill. He picks out Zaha who is ready to break on the counter-attack but Guendouzi rugby tackles him to the ground to stop his run.
94'
Palace's second change of the game sees Kouyate coming off to be replaced by McCarthy.
92'
Unai Emery urging his team forward for one last effort here... But it looks like it's not coming.
90'
Five minutes of extra time!
89'
Lacazette and Tomkins are just down on the edge of Palace's box after clashing heads and are receiving some treatment. They're both back on their feet quickly though and they'll be able to carry on.
87'
Palace are being put under a lot of pressure now as Arsenal try once again to regain this lead late on. It's a good flick on by Ceballos to Pepe in the box but he can't bring it under control with his first touch and Tomkins puts it out for a corner.
85'
VAR checks it... And it doesn't stand!! Arsenal are celebrating but VAR are having a look at the goal as it looks like there was a foul on Milivojevic in the build-up to the goal and it has been chalked off. Still 2-2!
84'
SOKRATIS!!! It's yet another corner which catches Palace's out. Chambers goes to ground and the fans are asking for a penalty but it's not given and Tomkins tries to poke it clear. He gives the ball to Sokratis and he fires it into the back of the net. 3-2 Arsenal!
83'
ARSENAL GET THEIR DESERVED GOAL!!!!
81'
Hodgson makes his first change ahead of the game, choosing to bring on Benteke for a corner with Ayew making way.
79'
Chambers is getting a lot of joy down the right side for Arsenal as he pulls away from Van Aanholt again. He takes the ball to the byline and chips a good pass into the middle of the box where Lacazette is waiting, but Cahill gets ahead of him to clear Palace's lines.
75'
Second change from Emery now and it's Tierney that's making way with Kolasnic coming on to replace him. Big round of applause in his Premier League debut.
72'
GOOD CHANCE! Guendouzi chips a pass over the two Palace defenders ahead of him and picks out Lacazette's run ahead of him. It's a tight angle for the forward but he gets his shot away. It looked like it would've bounced off the post but Hennessey makes pushes it away anyway.
70'
Pepe steps up to take the free-kick and he's looking to curl his shot into the top corner, much like he did in the Europa League last week. He gets his effort over the wall but there isn't enough dip on it as it flies high over the crossbar and into the stands.
68'
Really good spell for Arsenal here... A goal should be on its way.
67'
GOOD CHANCE!!! Pepe goes across to take the corner and once again, it's another good ball into the box. He picks out Lacazette at the near post and the forward directs his header on target, but it's saved by Hennessey. Can the hosts turn this around?
64'
Ceballos is being urged to shoot by the Arsenal fans on the edge of the box but he chooses to lay it off to Guendouzi instead. The midfielder takes a touch before driving his shot low towards goal, but it's straight at Hennessey who makes a comfortable save.
62'
Chambers come close! His first effort on goal is pushed away comfortably by Hennessey but it comes back to the right-back. This time, he's aiming for the top corner, but there's not enough dip on his shot and it flies just over the crossbar.
60'
Xhaka is booed by his own fans as he is replaced by Saka. He takes his shirt off before storming off to the dressing room... Not good.
60'
Luiz does well to hold off McArthur as he is being harassed down the middle of the park. For all of his faults, Luiz has been one of Arsenal's more promising performers this season. Alarmingly, it's the lack of chances that Arsenal are creating that seems to be their problem.
56'
Ward takes a free-kick for Palace in their own half and picks out Kouyate down the right. He nods it down and he's looking for Milivojevic on the edge of the box, but Xhaka gets across to intercept it.
51'
And just like that... Arsenal's lead is gone! heads in at the back post following McArthur's cross. Really poor from Xhaka who allowed the ball to be delivered into the box. The crowd are furious, as boos slowly drown out the Palace celebrations. Palace back in this!
51'
GOAAAAAAAAAAAAALLLLL!!!!!
50'
Chambers picks up the first yellow card of the game after he catches Townsend with a late challenge.
45'
HT: Arsenal 2-1 Crystal Palace. The hosts had a comfortable lead until Zaha's fall into the box, which has left them clearly rattled. A confidence boost is at hand for Emery's men, who could easily lose their lead if they do not focus.
45'
CHANCE! Van Aanholt finds himself high up the field and when the ball falls to him in the middle of the box, he decides to have a shot on goal. It's a good effort from the right-back, but it's a comfortable height for Leno who pushes it away with both hands.
44'
OFF THE POST! Arsenal take a quick free-kick and Aubameyang plays a clever pass forward to Pepe on the edge of the box. He takes a touch before drilling his shot low towards the bottom right corner, but his effort hits the outside of the post
42'
Palace look a lot more confident since scoring the penalty but their build-up is just too slow. They're trying to use their wide players to find some space but they're not having much luck at getting in behind Arsenal. More to come in the second half?
38'
Arsenal struggling at the moment. Townsend wins it back from David Luiz again and lays it off to McArthur just outside the box who tries to cross it in. It's blocked by Sokratis and the midfielder wants a handball but the referee waves away the claim.
34'
Emery is not happy at all with the fourth official and is giving him something of a mouthful on the sidelines. Just when you thought it was all going Arsenal's way, they are rattled and are needing to regroup. The last 10 minutes of this half are going to be important.
31'
AND THERE WE GO!!! PALACE BACK IN THIS!!!!
30'
No yellow for Zaha... And penalty for Palace!!
28'
Another pepe corner causes trouble for Palace but this time Van Aanholt manages to clear the danger.
28'
Yellow card for Wilfried Zaha for a supposed dive. It doesn't really look like one to me. All of Crystal Pakace is in disbelief. VAR will check it... Could be a penalty.
23'
Another pepe corner causes trouble for Palace but this time Van Aanholt manages to clear the danger.
20'
It's very slow from Palace when they play out from the back and it's easy for Arsenal to deal with at the minute. All of their possession is in front of the home defenders and the wide players are struggling to make something happen as there are no runners into the box.
18'
Palace give the ball away sloppily in midfield once again and Xhaka comes away with it. He gets his head up and spots Lacazette's run towards the box, but he overhits the pass and it's comfortable for Hennessey to deal with.
14'
A brilliant long ball over the top from Guendouzi frees Aubameyang. The forward has the chance to go through on goal but his first touch is poor and he shoots well wide under pressure.
11'
Palace just can't get hold of the ball at the minute as Arsenal push forward once again. They're sitting back in their own half and letting Arsenal push forward with no real pressure on the ball.
9'
They have another one! It's another corner into the box for Arsenal and Palace just can't cope with it. David Luiz is unmarked at the far post and he gets there just ahead of Sokratis to score. 2-0 Arsenal!
8'
AND ANOTHER ONE!!!!! BOTH CENTER-HALFS ON THE LEAD ALREADY!!!!!
7'
It's poor defending by Palace as they just don't clear their lines from a corner and Xhaka works it to Sokratis. He takes a touch before firing his shot past Van Aanholt on the line and into the back of the net. 1-0 Arsenal!
6'
GOAAAAAAAAALLLL!!!!!!! ARSENAL GET AN EARLY LEAD!!!!!
3'
Strong start from the hosts as Palace are working incredible hard off the ball, exactly how you would expect from them, but Arsenal are controlling the possession in the early stages but nothing too meaningful created. Guendouzi, as always, dictating the Arsenal midfield.
1'
Arsenal get us started ay the Emirates!
Prev.
Palace were on a three-match unbeaten run in the league, winning two and drawing one of those matches, but that ended last weekend when they lost to Manchester City.
Prev.
Arsenal come into this game having lost just one of their last eight games in all competitions (W6 D1), but that did come in their last outing in the league when they were beaten 1-0 by Sheffield United. They bounced back from that on Thursday though with a last-minute win over Vitoria.
Prev.
Crystal Palace starting XI: Hennessey, Ward, Tomkins, Cahill, van Aanholt, Townsend, Kouyate, Milivojevic, McArthur, Zaha, Ayew.
Prev.
Arsenal starting XI: Leno, Chambers, Sokratis, Luiz, Tierney, Guendouzi, Xhaka, Ceballos, Pepe, Lacazette, Aubameyang.
Prev.
Hello and welcome to our live minute to minute coverage of this Premier League clash between Arsenal and Crystal Palace!