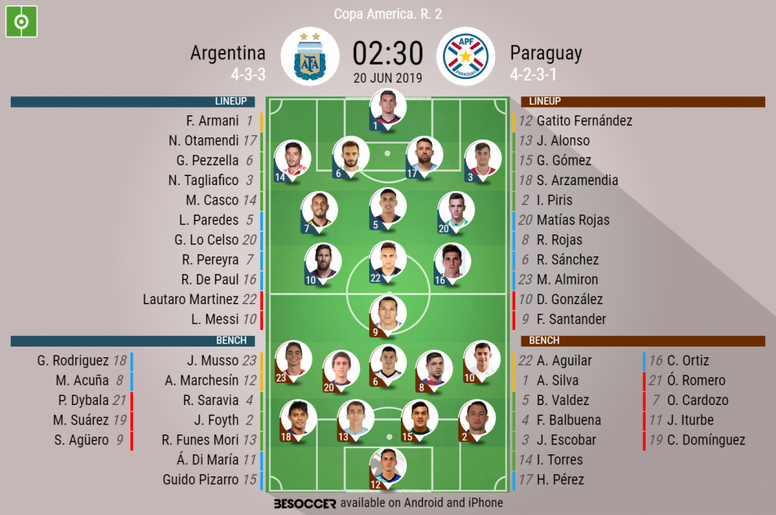 Argentina v Paraguay - as it happened.
Post.
That's all from us tonight! Thank you for joining, and see you next time for more Copa America action.
Post.
A game bereft of any real quality comes to an end, with both teams struggling in the heat and Argentina once again disappointing. Paraguay will feel like they could have taken all three points with González's missed penalty, however, and both sides will be needing a result in the final round of games to secure themselves a place in the knockout stages.
97'
FT: ARGENTINA 1-1 PARAGUAY!
95'
Casco fouls Romero in midfield, and he stays down. That could be that for Argentina...
93'
Suárez gets in down the right, but his cross is too high for Aguero and Argentina have to start from scratch again.
92'
Rojas spots Armani off his line and tries his luck from his own half, but he can't get the elevation and gives the ball straight back to Argentina.
90'
SEVEN minutes of added time. Can Argentina rescue their Copa America with a winner?
88'
Goalscorer Sánchez tries his luck from distance, but it flies harmlessly over. Straight after, González, who missed the penalty let's not forget, makes way for Juan Escobar for Paraguay.
87'
Final sub for Argentina as Matías Suárez replaces Rodrigo De Paul.
86'
He's run himself into the ground, and now Almirón is replaced by Celso Ortíz for Paraguay.
83'
Romero heads a rebound straight at Armani with the goal gaping after the keeper unconvincingly pushed away a free-kick, but his blushes are spared by the offside flag.
82'
More direct, inspired running from the excellent Almirón, who bursts down the right and is chopped down unceremoniously by Otamendi - he has really struggled today and receives a deserved yellow card.
79'
Yellow card for Tagliafico after he went into an aerial challenge with his arm raised. It's all gone a bit scrappy again.
75'
De Paul gets to the byline down the right and cuts it back to Messi, but he's off-balance and can only hook it over with his right foot.
74'
What must Paulo Dybala do to get a game for Argentina? The Juventus star may not have had his finest season, but it still seems surprising to the outside eye that he doesn't get a look-in for his country.
73'
Messi and Aguero looking to link up almost every time one of them gets the ball, but Paraguay doing enough to crowd them out and keep them at bay for now.
71'
Oscar Romero, who's been waiting to come on for about five minutes, eventually replaces Santander for Paraguay.
68'
Rojas down injured behind the goal for Paraguay at the moment. That's the third time one of their players has stayed down, but they're still yet to make a change.
66'
And that miss will be Martínez's last action as he is replaced by Angel Di María.
65'
Chance for Argentina!! Messi slides in Lo Celso down the left of the box, who flashes a cross to the back post that's headed over from inside the six-yard box by Martínez. Tough for the Inter striker that - it flew towards him at some pace.
62'
Big save from Armani!!! The goalkeeper guesses right, dives to his left and pushes it round the post.
61'
Penalty for Paraguay!! Otamendi slides in and brings down González after a cross from the left....terrible defending from the City centre-back. González to take...
60'
Aguero's introduction has made a big difference here, with Argentina now looking much more dangerous going forward.
58'
Argentina have their tails up now and are pressing Paraguay high...Messi nicks the ball back twice, and is then fouled by Arzamendia on the right. Otamendi commits a foul from the following set-piece, however.
57'
GOOOOOOAL!!!!!!!! LIONEL MESSI!! Who else? Argentina's captain steps up from 12 yards and fires his penalty into the bottom right corner. Fernández went the right way, but was beaten by the power. Game on!
56'
Yellow card for Piris for his handball there too...
55'
Penalty for Argentina!! Martínez's effort brushed Piris' hand from point blank range, but that looks an incredibly harsh decision from the referee...
54'
No idea what he's spotted here, but he's certainly taking his time...
53'
After a long conversation in his earpiece, the referee is making his way over to monitor....VAR penalty time?
51'
Close for Argentina!! Good work down the right from Aguero, who cuts the ball back for Martínez. The striker's volleyed effort cannons off the crossbar, and after a short scramble, Messi fires the rebound on target but Fernández pushes it behind.
50'
Another dangerous counter from Paraguay, with Rojas carrying the ball forward this time. Once again, however, they are let down by their final pass.
48'
Almirón wins the ball and charges down the left, but his cross is overhit and avoids everyone in the middle. Space on the counter for Paraguay now.
47'
Disjointed start from Argentina as Casco miscontrols out of play.
46'
Bright work from the lively Almirón, who breaks down the right and wins a corner.
45'
Second half underway!! Argentina are on the brink here...
45'
A change at half-time a Sergio Aguero replaces Roberto Pereyra. Teams back out now and ready to get going again.
45'
HT: Argentina 0-1 Paraguay! Richard Sánchez's goal sees Paraguay take a surprise lead into the break, and leaves Argentina on the brink. Another abject performance from the 'albiceleste', who have failed to test Fernández in the Paraguay goal at all. See you in 15 for more!
45'
Gómez fell awkwardly after a aerial challenge with Otamendi. He doesn't look well down on the turf, and Paraguay are calling for a stretcher.
45'
Despite a lengthy stoppage for González earlier and another fairly long one just now after the Armani yellow, it's somewhat surprising to see only three minutes of added time go up on the board.
44'
Yellow for Armani!! Now then.... the Argentina goalkeeper miscontrols the ball well out of his area. González pinches it off him, and Armani takes him out as he swings to try to kick the ball. Clumsy from the goalkeeper, and he's lucky that he was so far out of his goal or it would've been a red.
43'
Rodrigo Rojas goes into the book as he slides through Paredes.
42'
Argentina string a few nice passes together, but De Paul seems too keen to force the ball to Messi down the left and gives it away.
40'
Another dangerous attack for Paraguay as Almirón leads the charge again. He slides it into the tall figure of Santander down the right, but he lacks any real pace and his effort across goal is easily cleared.
38'
Well well well...more problems for Argentina then. Their Copa America campaign is looking in tatters at the moment...
36'
GOOOOOOOALLLLLLLLLLLLLLLLLLLL! Paraguay take the lead!! Danger man Almirón races down the left, beats two men and cuts it back from the byline. Richard Sánchez is arriving at the edge of the box, and his effort is not cleanly struck but it beats Armani at the far post and the underdogs are ahead!
32'
Gómez received a yellow for that challenge.
32'
Messi chips it over the wall, but his effort lacked power and was easily held by Fernández.
31'
Free-kick around 25 yards out as Martínez is shoved from behind by Gómez. Now this one is definitely Messi range...
29'
A decent chance for Rojas from the resulting corner, but he puts his volley at the back post wide under heavy pressure.
28'
First chance of the game and it's a Paraguay one! Rojas sends González through in space down the right, but his shot from a fairly tight angle takes a slight deflection of the defender and flies past the far post for a corner.
26'
De Paul receives the ball in a pocket of space in midfield, but he lifts a hopeless through ball to nobody that rolls on through to Fernández. That just about sums up this opening 25 minutes or so...
24'
Almirón, who is undoubtedly Paraguay's biggest threat, is dropping very deep to get the ball. He seems to have a license to roam wherever he fancies as he tries to get his country playing.
23'
Santander heads Messi's cross clear, and Argentina look to build play up from the back again.
22'
Martínez wins a free-kick down the right for Argentina after a cynical trip from Matías Rojas. Messi standing over the free-kick, surely this isn't shooting range...
21'
Otamendi has a heart in mouth moment as he completely slices a clearance that ends up going back over his own head and just about into the grateful arms of Armani in goal.
18'
Messi beats two men down the left as he goes on his first mazey dribble of the game, but he chucks himself to the floor and the referee waves play on.
17'
Paraguay keeping the ball well in their own half, but don't really look to be going anywhere. Slow start here in Belo Horizonte...
14'
A high foot from Messi catches Gómez in the face...all very congested on the edge of the Paraguay box, but Argentina are probing for a breakthrough.
13'
Play continues after an extended break. González seems to be patched up and ready to return to the action.
9'
González hits the turf clutching his face after a clash with Tagliafico...looks like an accidental clash of heads, but the Santos player seems to be bleeding and is being attended to by the medical staff.
7'
Good spell of possession for Paraguay here, camped in the Argentina half at the minute.
5'
Messi steals the ball from Alonso on the edge of the box, but his cut back is cleared by Gómez. Paraguay causing their own problems here.
3'
Argentina have settled quicker, looking like they have a point to prove so far...
1'
Argentina, kicking from left to right, get us underway in Brazil!!
Prev.
National anthems ringing out here with just minutes until kick-off...
Prev.
However much Argentina seem to be struggling, their opponent's Copa America form makes them look like world-beaters in comparison. Incredibly, Paraguay have won just one of their last 18 games in this tournament...will they shock Messi & Co. and end this horrible streak tonight?
Prev.
For Argentina, this really is a must-win game. Colombia now sit top of the group with six points, meaning a win for Argentina would take them up into second place ahead of their final round clash with Qatar.
Prev.
So, tonight's clash is one of the upmost importance for both teams. Paraguay chucked away a two-goal lead against Qatar in their first game, and will now need to get something from this match if they want to keep their slim hopes of progressing alive.
Prev.
Paraguay make seven changes from their first game, with the most notable being veteran striker Oscar Cardozo's omission, as well as West Ham defender Fabián Balbuena missing out.
Prev.
Four changes for Argentina from the team that limped to a disappointing 2-0 defeat against Colombia at the weekend, with Ángel Di María and Sergio Aguero being the biggest names to miss out. Lionel Messi will be paired up front by Inter striker Lautaro Martínez, whilst Rodrigo De Paul, Roberto Pereyra and Milton Casco also start.
Prev.
Paraguay: Fernández; Piris, Gómez, Alonso, Arzamendia; González, Sánchez, R Rojas, M Rojas; Almirón; Santander.
Prev.
Argentina: Armani; Casco, Pezzella, Otamendi, Tagliafico; Paredes, Pereyra, Lo Celso; De Paul, Messi, Martínez.
Prev.
With just 45 minutes until kick-off, let's take a look at the lineups for tonight's game...
Prev.
Good evening (morning) and welcome to our live coverage of Argentina's crucial Copa America clash against Paraguay!!