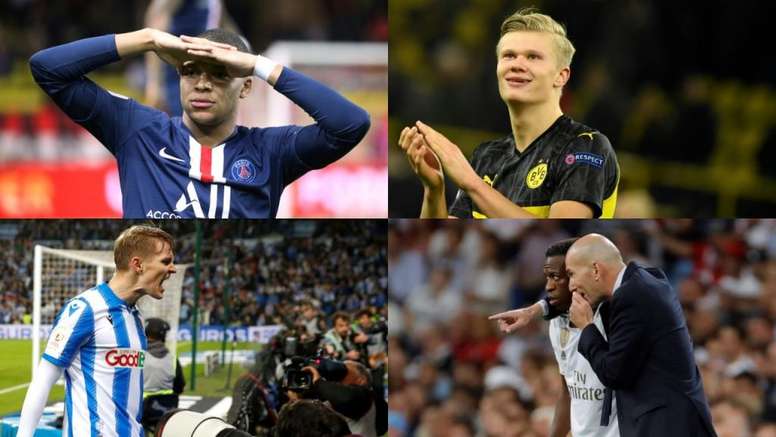 Another 'galáctico' Madrid in 2022: Mbappé, Haaland, Vinicius, Odegaard...
Florentino Pérez became the Real Madrid president in 2000. After a break between 2006 and 2009, he took charge again. Under his command, greatness has been his trademark. In the sporting side of things, in the tyranny of the Champions League, and in the economic side of things, almost every year at the top of Forbes magazine's most powerful club in the world. But there is an ambitious project in the making...
Although there is constant talk of players who he falls in love with and wants to sign, today, as 'Marca' recalls, the most exciting plan for the Pérez is the remodelling of the Santiago Bernabéu, which is currently taking place. Not only will it make it more attractive and functional, but it promises to further improve the income that the stadium leaves in the clubs' coffers.
The work is scheduled to end in Summer 2022. Then, Florentino wants to revamp his new toy with another top squad that marks another 'galáctico' era. From the likes of Figo, Beckham, Zidane and Ronaldo, many stars have arrived, but he intends to add some other names into history, another distinguished group of unforgetful stars.
In fact, even more so since the departure of Cristiano Ronaldo. The Madrid squad is also great without him, but Florentino hopes the fans in the upgraded stadium devote themselves to other exciting names. Some are already there, others would come.
A dream with Vinicius
Two years later, Vinicius, the president's right-hand man, is already settled and lifting the Bernabeu. The quality of the Brazilian with the right amount of experience is seen as one of the calls to lead the future.
The same happens with Odegaard. It is not clear if he will return next season or the next, but he can be seen leading the midfield for years to come. Other youngsters like Fede Valverde, Achraf or Rodrygo may be more than settled in the team by 2022.
The cherry on top would be the glowing transfers. At the top, of course, is Kylian Mbappé. It also keeps looking like it won't be until 2022 when he pulls on the white of Real Madrid. Bringing him before would be really expensive, therefore wating until his contract ends in Paris and signing him on a free would be a sporting and economic bargain.
And if they have to wait two years, in the meantime, there remains the option of Haaland, who is compatible with the Frenchman and who would not only make the wait for Mbappé more pleasant, but together they could compose an epochal attack.
Today, in the middle of the coronavirus, any medium or long term plan sounds somewhat unreasonable, but Florentino's project is very clear in his head: make Real Madrid great again.