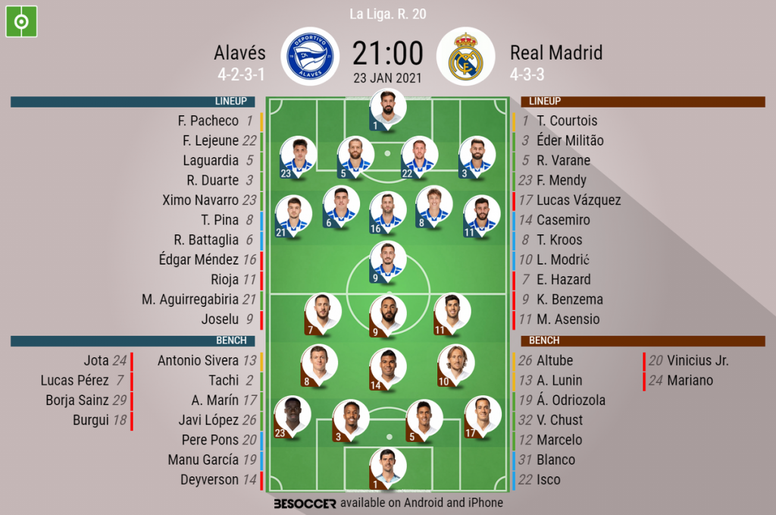 Alavés v Real Madrid - as it happened
Alavés

Real Madrid

Post.
That's all from us. Thanks very much for joining us and we hope to see you again soon!
Post.
FT: Alaves 1-4 RM!! All over in Vitoria and it was no contest, to be honest. After five good Alaves minutes, RM picked up and Casemiro made it 0-1. Benzema and Hazard struck just before half-time and despite Joselu scoring for the Basques in the second half, Benzema ended any hopes of a comeback. RM were brilliant after the shocking performance at Alcoyano while Alaves were outplayed on their 100th anniversary.
92'
Pons fouls Varane and it's all over!!
92'
Mendez catches Vinicius and is booked. He misses the trip to Getafe as well.
91'
This will be Alaves' fourth defeat in a row and they have just five points from their last nine matches. They've been well beaten here.
90'
Two added minutes. Little has happened here in the last few minutes.
87'
Benzema is deservedly carded after stepping on Mendez's foot.
86'
Mendy catches Mendez in the face and sees yellow.
85'
Sainz is booked now for a late challenge.
83'
Alaves!!! Perez looks to find a teammate in the middle, it beats everyone and goes just wide of the far stick, Alaves wanted a corner, but it wasn't given.
82'
Perez goes down wanting a penalty, but the ref isn't interested.
81'
Lucas Perez tries to volley home a pass, but it goes well off target.
79'
Laguardia is booked for clearly barging Vinicius off the ball. Cynical.
78'
Alaves sub: Joselu is replaced by Deyverson.
77'
RM double sub: Odriozola and Isco on for Asensio and Modric.
76'
Free-kick to RM after Vazquez is pulled back.
74'
RM go forward through Asensio down Alaves' left and Benzema is unable to connect with his attempted volley.
72'
Bettoni was spotted on the phone while Benzema was celebrating that goal. He was presumably talking to Zidane.
72'
Alaves sub: Pons on for Pina.
70'
Benzema scores again on the counter and this is done!! Modric sends a long pass to Benzema on the far side, the Frenchman cuts inside and then slots into the far corner past Pacheco's outstretched hand. No chance now.
70'
Mendez volleys Perez's ball and Courtois stops the ball going into the net.
67'
RM get themselves a corner, but it comes to nothing.
66'
Joselu!! He scuffs an attempted volley from a long pass and it's offside.
65'
Modric!! The Croatian goes for goal from 25 yards out and it's saved by Pacheco. May have taken a deflection.
63'
RM sub: Vinicius on for Hazard.
60'
Alaves pull one back!!! Perez delivers the free-kick into the box and Joselu heads in from just outside the six yard box!! Courtois had no chance. Half a chance here for the Basques?
59'
Militao sees yellow for a foul on Lucas Perez.
56'
Another foul and another free-kick to RM. A good five minutes for Alaves, but RM comfortable again.
55'
Militao is in pain here after running into Pina. Didn't really seem much in that, but he seems injured. It's his chest.
54'
Kroos is caught by Garcia, who's on a yellow. Just a free-kick.
53'
Sainz has a go from 25 yards and it's regulation for Courtois.
50'
RM go forward now, but Alaves clear.
49'
Argument between Manu Garcia and Mendy and the ref comes in and calls for calm. He also books Garcia. Mendy gets nothing.
47'
Chance for Joselu!!! He shoots and Courtois has to make a fine save to his left! Another corner.
46'
Sainz gets into the box almost immediately and his pass is cut out! Alaves end up getting another corner.
46'
Alaves triple HT sub: Sainz, Lucas Perez and Garcia on for Battaglia, Navarro and Rioja. Battaglia was at fault for the third goal, Navarro was on a yellow and Rioja had picked up a knock.
46'
Alaves get us going again!!
45'
HT: Alaves 0-3 RM!! Half-time in Vitoria and it's been all RM after the first five minutes. Benzema was denied by Pacheco, Lejeune and the post early on, but Casemiro opened the scoring with a header from a corner after 15 minutes. Benzema made it two on 41 minutes and Hazard got a third right on HT. Modric has also had a brilliant game. Alaves are being outplayed here and have no chance now in this one. Back shortly for more!
45'
45+1: Goal again by RM!!! Hazard scores after a terrible Alaves error!!! Battaglia loses the ball playing games in his own half after being dispossessed by Kroos, he sends a lovely pass for Hazard who controls and beats Pacheco. Game over.
44'
Benzema looks to find Eden Hazard, but to no avail.
42'
They were cruising against Alcoyano, but they didn't get that crucial second. They have tonight and they should pick up the three points here.
41'
Benzema makes it two!!! Kroos gives the ball to Vazquez whose pass is flicked on by Hazard and Benzema beats Pacheco from the edge of the area! One way traffic here.
39'
Navarro is still limping here. It makes you wonder why he decided to cut his socks to expose the lower part of his leg. It left him unprotected.
38'
Alaves claim a handball in the RM box, but the ref isn't interested. It was outside the box actually.
37'
The Alaves man has blood on his leg as he plays with his socks cut.
36'
Navarro is brought down by Mendy and no card is given. It was a poor challenge by the RM man which came 30 minutes after Navarro fouled Mendy.
35'
Casemiro sends a long ball forward for Hazard which just bounces into the hands of Pacheco.
33'
Mendez looks for Joselu with a cross into the box, Mendy slices the clearance up in the air and Courtois catches.
32'
RM attack again down Alaves' left, but Vazquez's effort is simple for Pacheco.
30'
Alaves were on top in the first five minutes, but after that, it's been all RM.
28'
Hazard!! Hazard plays a one-two with Vazquez and then hits the the ball just wide of the far post.
27'
RM get themselves another corner here. Very comfortable.
25'
Back playing now while Rioja is on the touchline.
24'
Rioja has picked up an injury to his right shoulder and he's getting treatment.
21'
Modric again!! He finds Mendy who is clean through and instead of shooting, he tries to square for Benzema and the defender cuts it out. Should have shot.
19'
Free-kick to RM after Hazard is stopped in his tracks.
17'
Pacheco!!! Modric picks out Benzema and his powerful effort is well saved by the goalie. Was off though.
17'
Alaves started well, but RM picked up and are now ahead.
16'
Alaves were protesting something, but it was all clean. Alaves coach Abelardo was far from happy with his team's defending.
15'
Casemiro puts RM ahead!! Kroos' corner is headed by Casemiro and the ball goes right in Pacheco's bottom left hand corner. Poor marking.
14'
Benzema!!!!! Off the post! Modric sends a lovely through ball for Benzema, he chests down and sees his shot saved by Pacheco. On the rebound, Benzmea sees his second effort deflected by Lejeune onto the post.
13'
Aguirre!!! Rioja's cross in bounces and then Aguirre hits it wide on the half-volley!
12'
Modric has a pop from distance which goes well over the goal.
10'
Navarro catches Mendy late near the by-line and he's deservedly booked.
9'
RM go forward, but the move ends with a Benzema cross being easily caught by Pacheco.
7'
Pina goes down in the box, but there's no penalty there.
5'
Alaves again!! They threaten again through Mendez and Joselu and the latter's shot is deflected behind for a corner. Courtois is unable to stop it going out.
3'
Joselu!!! Rioja runs onto a pass on the far side, he gets there before it goes out of the play and his cut back is headed over by Joselu!
2'
Another attack from the home side and Mendez fouls Casemiro in the RM area.
1'
Battaglia gets into the box, but RM quickly stop him.
1'
RM get us going in white from right to left! Alaves in their usual blue and white stripes!
Prev.
The players are out on the field here!
Prev.
Nine degrees in Vitoria and it's pouring down with rain.
Prev.
A reminder that David Bettoni, Zidane's assistant, will take charge of RM tonight as Zidane has coronavirus.
Prev.
RM were beaten 1-2 by Athletic Bilbao in the Spanish Super Cup SF the last time they fielded a full strength side. Militao in for the injured Ramos is the only change from that team.
Prev.
Militao, Casemiro and Lucas Vazquez are the only ones who started against Alcoyano.
Prev.
Alaves are unchanged from the loss to Sevilla.
Prev.
Alaves lost 1-2 to Sevilla last time out while RM were embarrassingly knocked out of the Copa del Rey by third tier side Alcoyano. They were beaten 2-1 despite playing against ten men. Zidane played a weakened team, but not enough some of the starters could save the situation later on.
Prev.
Alejandro Hernandez Hernandez is the referee for this one while Santiago Jaime Latre is the VAR.
Prev.
17th v 2nd. 18pts v 37pts.
Prev.
It's a special night for the home side as the club was formed exactly 100 years ago today! They also beat RM 1-2 in a controversial match earlier in the season so the Basques could do the double over 'Los Blancos' this season.
Prev.
RM XI: Courtois (GK); Mendy, Militao, Varane, L Vazquez; Kroos, Casemiro, Modric; Hazard, Benzema and Asensio.
Prev.
Alaves XI: Pacheco (GK); Duarte, Lejeune, Laguardia, X Navarro; Rioja, Pina, E Mendez, Battaglia, Aguirregabiria; Joselu.
Prev.
Hello and welcome to live coverage of the La Liga match between Alaves and Real Madrid!