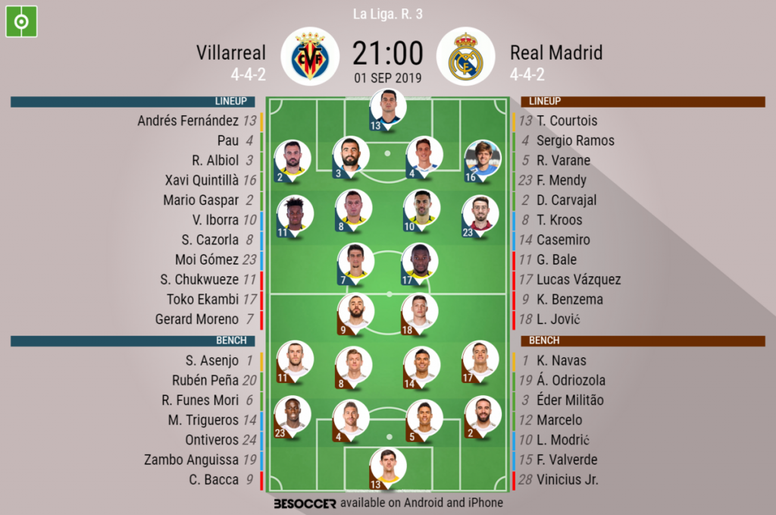 Villarreal v Real Madrid - as it happened
Villarreal

Real Madrid

95'
FT: Villarreal 2-2 Real Madrid!!!! Full-time in a fabulous game at La Ceramica!! Bale cancelled out Moreno and Moi Gomez's goals before being sent off, but Villarreal played very well and RM were not at their best. They were the better team, but some weak defending cost them dearly. RM draw for the second time in a row. That's all from us. Thanks for your company and see you again soon.
94'
Another foul by Bale in Villarreal's own half and he gets his second yellow. Down to 10 RM. Frustration clearly showing. Poor challenge on Iborra.
93'
The home side put in the free-kick and it's offside.
92'
Villarreal force another foul to eat time off the clock. Bale brings down Quintilla.
92'
Villarreal are playing intelligently now. They are trying to keep the ball.
91'
Bale gets the ball on the far side and tries to create an opportunity. Nothing comes of it though.
90'
Casemiro is carded for fouling Albiol. Looked like Albiol kicked him rather than anything else. Bit harsh I think.
88'
Relentless stuff this. From end to the other. Vinicius wanted a pen a minute back, but it didn't look one.
88'
It's end to end now! It seems like both teams are trying to win it. I'm not sure Villarreal should be trying to.
86'
Bale makes it 2-2!!!! Modric shoulder charges Ontiveros off the ball, Villarreal want a foul and then he plays in Bale who shoots past the goalie. 2-2!!! Will Villarreal choke again at the death? They did that many times last season.
85'
Double chance for RM!! Modric is denied by Fernandez from outside the area and then Benzema from close range also saves, but he was offside.
82'
RM sub: Valverde on for Kroos.
81'
Moi Gomez is down after clashing with Ramos.
79'
What are Villarreal doing? They play a pass across their own box and RM almost get on the end of it!
78'
Courtois watches Ontivero's free-kick goes harmlessly by.
77'
Mendy is booked for a huge shirt pull on Moi Gomez.
76'
Vinicius' cross is poor. That Villarreal goal came totally against the run of play.
75'
Real almost score straight away! Villarreal manage to get it away though.
74'
Moi Gomez puts Villarreal in front!!! Extraordinary!!! Gaspar's cross in flicked by Bacca, Moreno is denied by a sensational Courtois save, but Ontiveros squares for Gomez to tap in.
73'
RM sub: Vinicius joins us while Vazquez has left the park.
73'
Villarreal sub: Bacca replaces Cazorla.
71'
If anyone's going to score, it will be Real, but it could end in a draw.
70'
Mendy sees his cross comfortably knocked out of play.
69'
RM have a corner. Nothing comes of it thougjh.
68'
RM sub: Modric on for Jovic.
67'
Casemiro's ball into the box is dangerous, but Cazorla is fouled.
62'
The offside call is confirmed.
62'
Villarreal sub: Ekambi goes off and Anguissa is on.
62'
Maybe a Villarreal foot could be playing him on. Not an easy call this.
61'
It looks offside to me, but VAR are still checking.
60'
Benzema scores, but he's offside!! VAR checking, but it looks clear. The corner was taken short, Mendy's ball in was flicked on by Ramos and Bale before Benzema hits in.
57'
Double save by Fernandez! Benzema plays in Kroos in the area, the German shoots, Fernandez saves, Gaspar stops Bale getting to the rebound and then Kroos is denied by the GK again.
55'
Villarreal sub: Ontiveros on for Chukwueze.
53'
Kroos' free-kick into the box is claimed comfortably by the goalie.
52'
Quintilla gets the first card of the game after grabbing Vazquez round the waist. Clear.
50'
Ramos heads over the set-piece!
50'
Real Madrid get a corner, but Vazquez and Quintilla get injured after bumping into the hoardings. The RM man holds his hand.
48'
Real Madrid having more possession in the first few minutes of the second period, but nothing notable has happened yet.
46'
Welcome back everyone! Real have got us back underway.
45'
HT: Villarreal 1-1 Real Madrid!!! That was the last act of a thrilling first half! Villarreal started better before Real Madrdi woke up. Gerard Moreno gave the home side the lead after 12 minutes thanks to a VAR review before Real's dominance told right on half-time when Bale levelled it up. Back in 10 for the rest of this one!
45'
Bale scores right on half-time!! Casemiro passes to Jovic, he nutmegs the defender with a lovely backheel to play in Benzema and he squares for Bale to tap in. A big blow for Villarreal, but it was definitely coming.
45'
Benzema strikes the post! So nearly an equaliser for Zidane's men!
44'
Ekambi makes a brilliant move and beats Varane, but his long range effort is poor.
44'
62% possession for the away side so far.
43'
Kroos gives the ball to Benzema after preventing the ball from going out, it is cleared and then Vazquez is penalised on the return cross for handball.
41'
Real lose the ball, Chukwueze passes to Moreno and his strike is straight at Courtois. The tiredness from his run showed in the shot.
39'
Real Madrid are penalised after Casemiro collides with the keeper.
37'
Villarreal need a few minutes of calm now because the RM storm in the last 10 minutes has been relentless. They could do with half-time really.
35'
How did that not go in?? Carvajal and Benzema combine on the counter, there is pinball inside the box after the Spaniard looks for Benzema and Vazquez smashes it against the side netting.
33'
And now Ramos heads a corner over! Real are really pressing now.
32'
Carvajal crosses, the GK comes out for no reason and completely misses the ball, but Casemiro at the far stick heads wide.
30'
Kroos tries his luck from distance now! Can't find the target though.
29'
Still 1-0 here. The last few minutes have been a bit calmer.
25'
Jovic shoots wide of Fernandez's right hand post after he gets the ball from Casemiro!
23'
Scramble in the Real Madrid box!! Cazorla puts it into the dangerous area and Bale and Ramos between them knock it away! Panic stations.
22'
Corner for the home side now! It's half cleared before Villarreal's cross back in is sent out for a throw.
21'
Bale hits the free-kick over the bar! Just over! Fortunately, nothing comes of that. The officials are having an awful game.
20'
Free-kick to Real Madrid in a dangerous area for handball after Ramos plays it straight onto Cazorla's arm. Poor decision. Never a handball.
20'
Real Madrid win a coener after Albiol clears.
17'
Real Madrid are all over the place at the moment. That goal has really knocked them.
14'
Villarreal are caught offside after a great move again! This one was off.
12'
Villarreal score through Moreno, but it's chalked off!!! Ramos makes a terrible error as he's dispossessed by Moreno, Ekambi is played in, his shot is saved and Moreno then taps in. The VAR gives it as there's no offside. Ekambi was onside by a good 2 yards! That was a shocker by the lino. Good job there's VAR.
10'
Gerard Moreno hits wide of the target. Should have done better.
9'
Villarreal not happy as Vazquez fouls Cazorla quite cynically. Lucky not to get a booking.
7'
The corner is headed over the bar.
6'
What a cross in by Bale!!! The cross goes into the corridor of uncertainity and Albiol heads out for a corner as Benzema was there ready to tuck home.
5'
Quiet start to the game so far. Villareal had started better, but Real have picked up.
4'
Carvajal's cross in is cleared away by a defender.
3'
Mendy tries to make a move down the far side and Chukwueze gets into a physical match with him.
1'
Villarreal get us underway in the yellow and are shooting from left to right! Rma in the white.
Prev.
The players are out on the pitch here!
Prev.
Villarreal make one enforced change. Alberto Moreno is out injured for two months and 23 year-old Xavi Quintilla comes in at left back.
Prev.
New signing Ferland Mendy replaces Marcelo in defence, Lucas Vazquez and Luka Jovic replace James (injured) and Isco up top.
Prev.
It's 26 degrees in Villarreal with some rain currently falling.
Prev.
Jesus Gil Manzano is the ref for this one and Jose Luis Gonzalez Gonzalez is the VAR. Gil Manzano is the man who as VAR ordered Levante's penalty to be retaken against Villarreal last week. The Yellow Submarine are therefore unhappy with his appointment for this fixture.
Prev.
Real Madrid were held 1-1 by Valladolid last weekend while Villarreal lost 2-1 at Levante last weekend.
Prev.
Real Madrid team: Courtois (GK); Mendy, Ramos, Varane, Carvajal; Bale, Kroos, Casemiro, Vazquez; Benzema and Jovic.
Prev.
Villarreal team: Andres Fernandez (GK); Quintilla, Pau, Albiol, Gaspar; Gomez, Iborra, Cazorla, Chukwueze; Ekambi and Moreno.
Prev.
Good evening and welcome to live coverage of the La Liga clash between Villarreal and Real Madrid from the Estadio La Ceramica. It should be a good one!