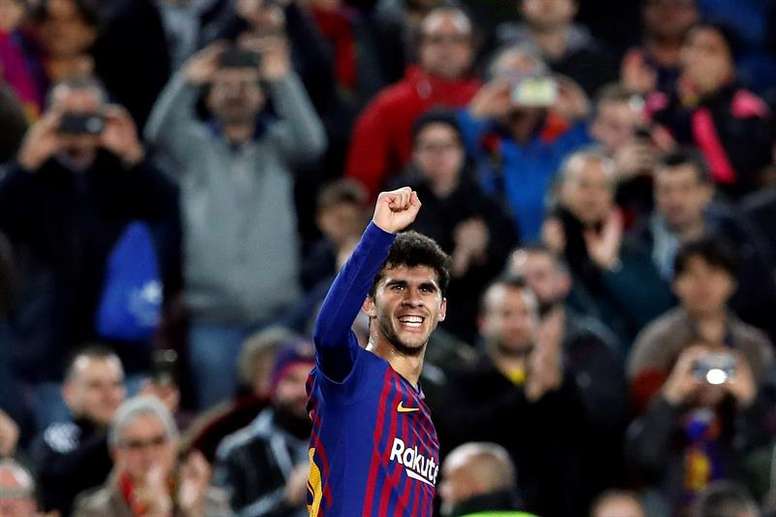 'There are no comparisons: Messi is number one'
Aleña highlighted the level of competition within the Spain U21 side: "We are one of the favourites to win the European U21 Championships. The expectation is huge, but it makes us better and it is better for me. If I am among them it's because I have the opportunity to be there. There are players who I admire and I try to give my best".
He also spoke about several teammates: "I knew a lot of the U19 players, but I like to play with Borja Mayoral. I also like Ceballos, I have been at some camps with him and he is spectacular. Fabian as well. I could tell you so many things that I like about playing with them.
"I am not under pressure, yes there is a responsibility because I am at a club as important as Barcelona. My name has always been talked about, but now more than ever because I have been here for many years, I have climbed through the ranks and arrived in the first team. I like and hope to have this pressure throughout the rest of my career", he confirmed.
Barcelona
Aleña also spoke to 'Marca' about how he got to Barca's first team: "At first I couldn't settle because everything happened very quickly and I had no time to stop. I am enjoying it a lot.
"I have been at Barcelona for 14 years and I appreciate all my idols who I have seen a thousand times on the pitch or on the television, sharing the dressing room, the field and memories with them ... for me, it's a dream come true. I have learned a lot", he stated.
"I have been training with Luis for almost a year. I am forever grateful to him for getting me into professional football as well as Barcelona's first team", he said, speaking about the current coach.
On another note, the midfielder showered Messi with praise: "I have no words for Messi and I've been playing with him for less than a year. He leaves me speechless. He is the number one, there are no comparisons. That's it.
"People are seeing a bit of a joke really. He is the number one and he has been for 12 years. He has broken all the records", he stated.
"There are great players, but none like him", he added.
He also talked about the Argentine as a person: "He is spectacular. He acts like a captain. He helped me a lot when I arrived, he told me to relax when I play because to get up to the first team, there is always pressure, but at the end you get to play with the stars, he makes me feel like one of them. He is a lovely person".