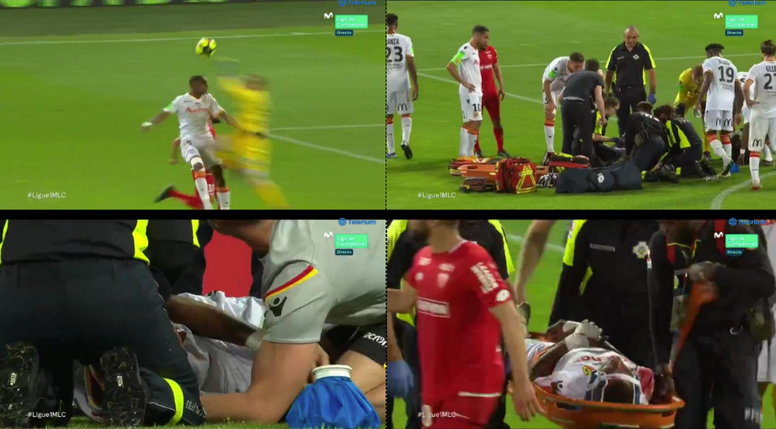 The unfortunate and frightening collision which killed off Lens' promotion hopes
Football had a very cruel ending in store for Lens. And especially for two of their players. Not only they were the protagonists of the most unfortunate incident of the season, but also the most dangerous. The Lens players were scared by what they witnessed.
Dijon were 2-1 up and Lens needed an equaliser to gain promotion to Ligue 1 right at the death. On a Dijon counter, it seemed like Fortes and Vachoux had the advantage over Sliti. However, calamity struck.
The central defender tried to close the gap so that the keeper could come out to clear. He made a mistake, he did it badly and the loose ball was picked up by the Dijon man who put the game to bed by putting it into an empty net. It was 3-1 with just a minute left to play.
But that was not the worst. Because the Lens goalkeeper caught his teammate's face as he tried to clear with his elbow. His landing was quite bad and his neck turned awkwardly which could have left him worse off rather that just the initial dizzyness he had.
The outfield player though, came off much worse. He had an obvious cut and was bleeding quite a lot. He was motionless on the floor, at times unconscious and he was being treated on the ground for various minutes. In fact, they put a neck brace on Fortes, immobilised him and he had to go off on a stretcher.
The dream of Philippe Montanier's team could not have ended worse. Especially for Vachoux, who also made a major error in Dijon's second goal.
June 2, 2019