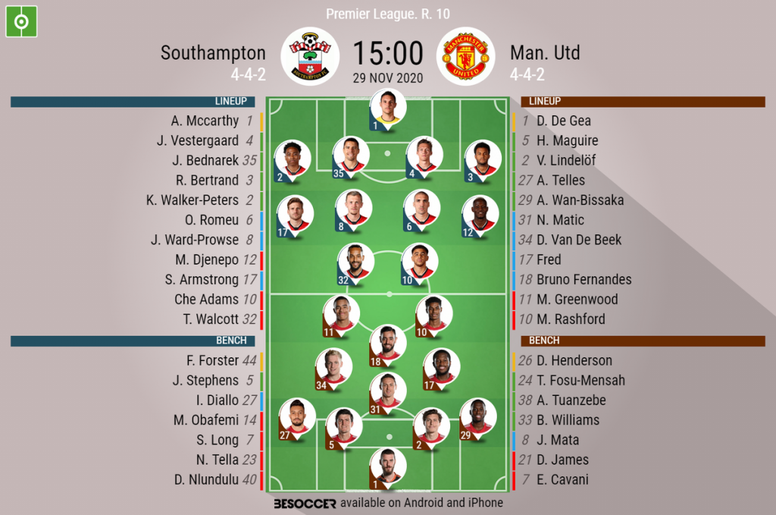 Southampton v Man Utd - as it happened
96'
FT: Southampton 2-3 Man Utd!! All over at St Mary's in a dramatic finale!! Southampton were 2-0 up at HT thanks to Bednarek and JWP, but Cavani's introduction in the second half made all the difference. Cavani assisted Bruno Fernandes and then scored two himself (the second in stoppage time) to give Man Utd the win. That's all from us, thanks for your company and see you again soon!
94'
Bruno Fernandes fires over now!
93'
Southampton sub: Walker-Peters is replaced by Nlundulu.
93'
It's a bit cruel on the Saints, but it's been a different United with Cavani on the pitch.
92'
Cavani has done it!!! Can you believe it!!! Two goals and an assist for the Uruguayan!!! A free-kick is passed to Rashford on the left and Cavani heads in past McCarthy. United were looking more dangerous.
91'
Bruno Fernandes goes for an ambitious effort from distance which lands on the top of the net.
90'
Southampton sub: Diallo on for Armstrong.
89'
Wan-Bissaka is claiming a penalty for handball by Bertrand and the ref says no! That could've been given, but the VAR says play on.
88'
Maguire's cross is knocked out for a throw in by the defence.
87'
Van de Beek wins a corner off the defender.
86'
Free-kick for the hosts and is JWP's free-kick is headed away.
85'
Fred!!! Southampton lose the ball, United counter and Fred is unable to turn in Rashford's pass. He was offside anyway.
84'
Man Utd sub: Telles is replaced by Williams.
81'
Free-kick to Southampton here.
79'
Adams!!!! He goes for goal and his shot goes wide of the goal.
75'
United are pressing and pressing and could easily win this now.
73'
Cavani makes it 2-2!!! It's been coming!! The corner is only batted away by rhe keeper, Fred passes to Fernandes and his deflected shot is headed home by Cavani!
72'
Southampton sub: Djenepo is replaced by Long.
71'
United win a corner now and are pressing for a leveller.
69'
Cavani!!!! Wan-Bissaka's cross is headed by Cavani and it goes narrowly wide of the post. United are much better going forward with Cavani.
66'
Saints win a corner now and they get a second one.
63'
Djenepo!!!! He has Walcott to his left, but he goes for goal instead and can't find the target.
61'
Cavani has made a difference since coming on and United could well draw this match.
59'
Bruno Fernandes makes it 2-1!! Saints lose the ball to Wan-Bissaka, he plays a one-two with Fred, the ball then goes to Cavani whose cross is well finished by Fernandes. Game on!
57'
Bednarek is in real trouble here as Djenepo slides in to try and block Cavani's shot, but he takes out his teammate.
56'
Cavani!!! United win the ball back, Fernandes' cross from the by-line is tipped by McCarthy to Van de Beek, the ball is then passed to the Uruguayan who fires over.
52'
McCarthy!!! Rashford is played in Bruno Fernandes, the Englishman could be offside but play continues, and his shot is well saved by the GK!
51'
The Saints win a free-kick which is headed away by United.
49'
Walcott has another pop and it's easy for Henderson.
47'
Walcott!!! Djenepo finds Walcott on the far side and his shot is well held by Henderson.
45'
Welcome back here!! The big news is that De Gea hasn't come out for the second half. Man Utd are making a double change. Henderson replaces De Gea and Cavani is on for Greenwood.
45'
HT: Southampton 2-0 Man Utd!! Half-time on the south coast! United started the game well and could've had a penalty, but then Saints took charge. Bednarek headed home a corner and then JWP scored a brilliant free-kick to make it two. United have to improve in the second half. De Gea still doesn't look happy as he goes off and he may not come back out for the second period. Back in a bit!
45'
Two minutes added time. Djenepo looks to foul Rashford on the edge of the box, but no foul is given.
45'
Rashford and Van de Beek combine in the Saints area and get a corner.
43'
Southampton press again through Djenepo and United have to scramble it clear.
41'
Adams has picked up a knock after a collision with Fred.
40'
A pass by Fernandes finds Van de Beek who controls, but the ball then goes to the GK.
39'
Man Utd have a lot of work to do here.
36'
De Gea is in trouble as his knee hit the post in trying to save the free-kick.
35'
Double chance for Saints!!! The first chance is saved by De Gea and then Armstrong miscontrols it.
33'
JWP makes it 2-0!!!! What a free-kick!! De Gea is down in his own net. The ball is well hit over the wall, De Gea runs after it and De Gea gets a hand to it, but he can't keep it out. Brilliant free-kick by JWP and De Gea has picked up a knock to his leg after colliding with the post.
32'
Fred is penalised for a pull back on Djnepo.
30'
McCarthy!!! How did you save that? McCarthy passes the ball straight to Greenwood, but he then redeems himself by denying Greenwood and then Fernandes on the rebound.
28'
Great play by Djnepo to get into the box and he wins the corner.
27'
Off the post!!!! Walker-Peters' effort deflects off Telles and cannons off the base of De Gea's right hand post for a corner.
26'
51% possession for the Saints.
26'
Rashford sends a ball forward for Fernandes, but the Portuguese can't reach it.
24'
We said they were picking up and United are now behind.
23'
Bednarek makes it 1-0 to the Saints!!! JWP's corner comes in, De Gea comes out to try and claim and Bednarek heads in at the near post!
22'
Lindelof has to head behind JWP's free-kick behind for a corner.
22'
The home side are picking up here.
21'
Maguire!!!! Theo Walcott sends a dangerous cross in for Adams and Maguire has to clear away. The home side then win a free-kick 30 yards out.
19'
A Man Utd free-kick goes into the box and it's easily caught by McCarthy.
17'
JWP is booked for a foul on van de Beek in a previous move.
16'
Off the post!!!! Bruno Fernandes gets the ball 25 yards out and his powerful strike clips McCarthy's right hand post. It's a corner as it took a deflection.
14'
Bruno Fernandes is getting treatment after Romeu steps on his foot. That was nasty. He seems ok though.
13'
Romeu brings down Fernandes in the Saints half and the free-kick is awarded.
12'
United definitely the better side so far.
10'
A Saints attack sees a ball goes into the box and Lindelof clears the danger.
9'
The VAR says play on, but that was close to being a pen.
8'
Rashford goes down in the box under contact by JWP and the Saints man takes a chance there. It could well be a pen. VAR is checking.
7'
What a chance for Greenwood!!! A hopeful pass forward is left by Vestergaard, Greenwood picks up the loose ball and strikes the sidenetting from a tight angle. Lack of communication there between Vestergaard and the goalie.
4'
Quiet start to this one so far.
4'
Man Utd attack and Telles' ball into the area is headed away by Hassenhuttl's men.
1'
Walker-Peters looks to find Adams, but he miscontrols and it's a goal kick.
1'
Southampton get us going in red from left to right!! United in black.
Prev.
Minute's applause for Diego Maradona first.
Prev.
The players make their way out here!
Prev.
Jonathan Moss is the referee here while Martin Atkinson is the VAR.
Prev.
It's 10 degrees in Southampton this afternoon. This is the Saints' final home game without spectators as 2000 fans will be allowed for the next one.
Prev.
Man Utd make two changes from the 4-1 win over Basaksehir on Tuesday night. Matic and Greenwood come in for Cavani and Martial.
Prev.
Southampton drew 1-1 at Wolves back on Monday night and they are unchanged from the game.
Prev.
5th v 13th. 17pts v 13pts. Man Utd host PSG in an important Champions League match on Wednesday.
Prev.
It's a special day for Oriol Romeu as he makes his 200th Saints appearance this afternoon.
Prev.
Man Utd XI: De Gea (GK); Telles, Maguire, Lindelof, Wan-Bissaka; Van de Beek, Matic, Fred, B Fernandes; Greenwood and Rashford.
Prev.
Southampton XI: McCarthy (GK); Bertrand, Vestergaard, Bednarek, Walker-Peters; Djenepo, Romeu, JWP, Armstrong; Adams and Walcott.
Prev.
Hello and welcome to our live coverage of Southampton v Man Utd in the Premier League!