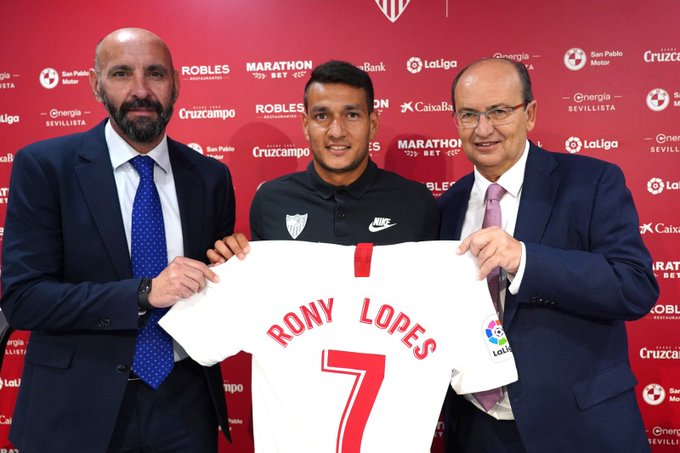 Rony Lopes arrives with a title-winning desire
"My first training session went really well. I am here to support the team and work with a very big club in Spain and in Europe. We have a very good team, a very good coach- Julen Lopetegui and we are all motivated for a big season ahead" assured the Brazilian-originated attacker, during his press-conference, which took place in the sporting city of Sevilla.
Rony Lopes has signed a deal until June 2024, meaning that Sevilla will pay AS Monaco 20 million euros, he considers himself an appropriate player "to score and to assist goals" although he expressed his aim was to "improve day by day" alogn with "the big footballers" with who he will be sharing the dressing room with.
The new Sevilla reinforcement said that Julen Lopetegui "has told me his way of playing and the way he wants me to play" and he explained that "since he was a boy" his nickname came from Ronaldo because that's what his "first coach called him".
The Portuguese international was also satisfied with coming to one "of the best championships in the world" amd he "always" had "the ambition to play here" and believes that his "adapation period will go quickly"
The Sporting director of Sevilla, assured that the Rony Lopes signing is a "totally different operation" to the sale of Wissam Ben Yedder, also to Monaco, who made "an important offer" and allowed Sevilla to benefit from "a percentage of a future sale" of the French-Tunisian forward.
"We have signed Rony because he was on our list of possible reinforcements. I wanted him at Roma but he had an unaffordable price of 50million" stated the coach from Cadiz.
The president of Sevilla, also present in the footballer's presentation, informed of the existence of a "screenshot" with a series of possible signings for the Sevilla club, which "Rony Lopes will be included" and indicated that the transfer of Ben Yedder has been "an operation superior to that of 40 million" which was the amount of his termination clause.