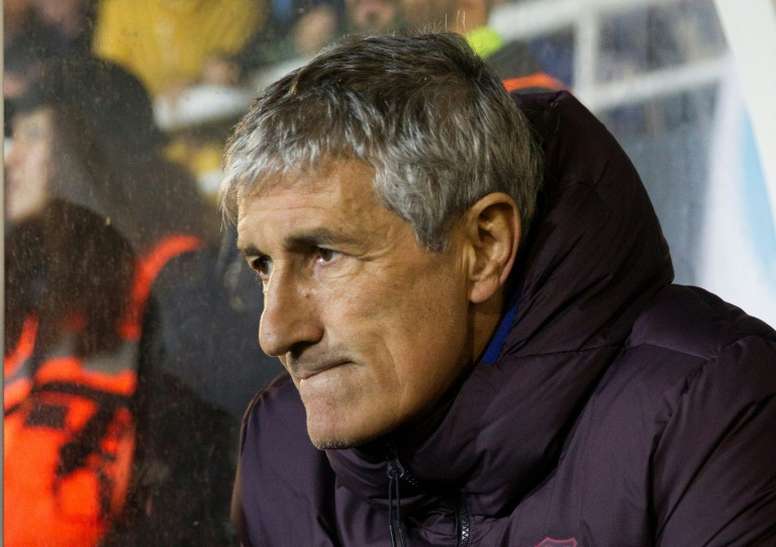 "Rodrigo? I like all good players"
In the last few days, Rodrigo has sneaked onto Barca's radar. The press didn't hesitate to ask him Setién about his possible signing. "Rodrigo? I like all good players" he said.
The manager explained how he sees his side after the disappointing performance against Ibiza in the cup. "Every match is going to be different. I already said in Ibiza that the team hadn't been good. We controlled the game and we did a lot of things that were already being done. The circumstances in which that game was played have nothing to do with the ones we played against Granada", he analysed.
Setién believes he has the potential in the squad to do great things. "Barcelona are a great team and always, under normal circumstances, have to compete to win everything," he said.
"There are things you can't control, like injuries, and that can influence whether you're going to have a strong enough squad. It's always good to be prepared in case they happen, but right now I'm not thinking about it," he continued.
The manager admitted that he doesn't want to see the Barcelona that played in Ibiza again. "I got a big scare, I'm not gonna lie. I already know there are a lot of people who only care about results, they're not going to care how we play. This is so and I think it's good, but there are many people who will know if the team have deserved to win or not, or if they have played well or not. You have to value how the games goes, how you win or how you lose, although I understand that there are people who only care about the other thing", he opined.
Setién admitted that there were things that he didn't do well. "We have realsied that there are things that we didn't explain well, there are points that we didn't make clear. This helps us to improve", he criticised himself.
Lastly, he spoke about the Copa draw: Leganés, their next opponent. Playing in our stadium is always an advantage, even more so when circumstances with other opponents would have been more problematic. We've already seen what's happened to other teams... Playing at the Camp Nou is a favourable stat", he concluded.