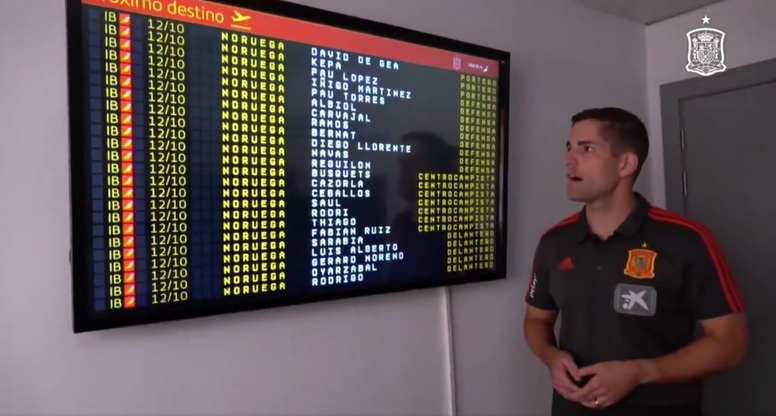 Revolution in Spain: Reguilon, Pau Torres, Gerard Moreno...
This is the second call-up made by Robert Moreno since he took over as the Spanish national team coach. The coach will have two important games to overcome in the Euro 2020 qualifiers.
After victories against Romania and the Faroe Islands, Spain are only a grasp away from entering into the next continental championship. It will be enough for him to win both matches.
At the moment, Robert Moreno's record as the Spanish national team coach is impeccable. He won against Malta, Faroe Island, two times, Sweden and Romania. Five wins in five games.
Robert Moreno has called up three players for the first time, these are Reguilon, Pau Torres and Gerard Moreno.
Up to four of the players play for Villarreal, including some of the new faces that he have entered Moreno-s call-up list for Spain's next few games. Calleja's team includes Pau Torres, Raúl Albiol, Santi Cazorla and Gerard Moreno.
Ansu Fati has not been called up. Despite having spoken about the possibility of the youngster being chosen, it is said that he could not be called up because of a lack of documentation needed for FIFA to approve him as a Spanish national team player. He will also not play for the Under 21's.
The position that has the most new names with respect to the previous call is defence. Up to four new players are in the back line: Pau Torres, Albiol, Bernat and Reguilón. The fact that Ramos cannot play due to a sanction from a yellow card has made the coach take up to five central defenders.
In the center of the field highlights the return of Santi Cazorla. The Asturian is performing at a high level at Villarreal, so he received the call up for the transcendental matches against Norway and Sweden.
Up front, Robert Moreno has named five men to fit into the offensive profile of his squad. Gerard Moreno, in his first call, stands out, as does Luis Alberto. The great form of Sarabia, Oyarzabal and Rodrigo Moreno has put them on the list.
Cazorla's return to the Spanish national team is not the only one. Players such as Raúl Albiol, Íñigo Martínez, Bernat or Luis Alberto also make it.
Important men were left out due to physical problems in the last call from Spain. Both Jordi Alba and Gayà left the left-handed winger uninhabited. Neither is Paco Alcácer present.
Other players that are not in the call-up list and that were in the previous one are Dani Parejo, Suso, Mario Hermoso and Unai Nuñez, who will have to fight to convince Robert Moreno. Isco and Morata have also not been chosen.
Spain will play their first game this window of selections on the 12th October, against Norway. Three days later, on the 15th, they will travel to Sweden to try to seal their pass to the Euro's 2020.
The official call-up list is as follows:
Goal Keepers: De Gea, Kepa y Pau López.
Defenders: Íñigo Martínez, Pau Torres, Albiol, Carvajal, Sergio Ramos, Bernat, Diego Llorente, Navas y Reguilón.
Midfielders: Busquets, Cazorla, Ceballos, Saúl, Rodri, Thiago y Fabián Ruiz.
Strikers: Sarabia, Luis Alberto, Gerard Moreno, Oyarzabal y Rodrigo.