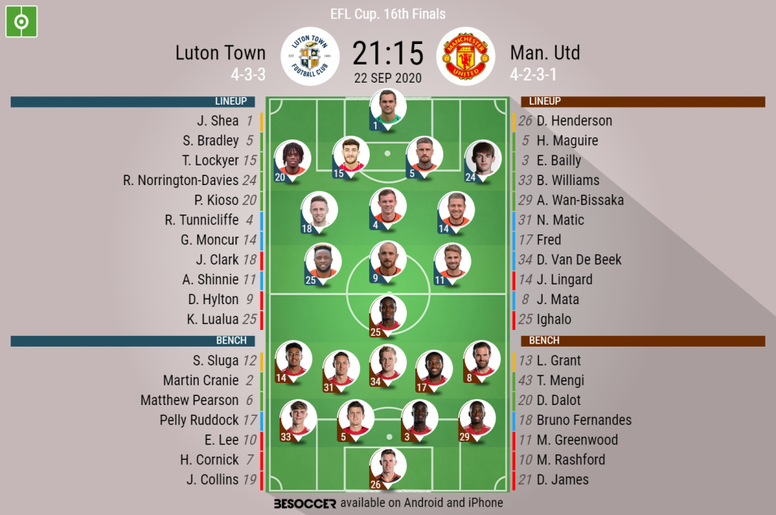 Luton Town v Man. Utd - as it happened
Post.
Thanks for joining me here tonight. See you tomorrow for more EFL Cup action.
94'
FT: Luton 0-3 Manchester United. United too strong in the end but Luton should not be disgraced. Could we be seeing them in the Prem next season?
93'
And Greenwood makes it 3-0. A lovely bit of stuttering in the box and he slots it past the keeper. 3-0.
91'
Rashford has a shot straight at Shea.
90'
Lingard has a shot that goes over the bar.
89'
Let's not forget that this game could have been different if Henderson hadn't made that great save.
87'
Greenwood lays it off to Rashford who slots its past Shea. 2-0 United.
85'
Hylton is booked for a foul on Williams.
82'
Shea parries a shot from Lingard behind.
81'
The rebound is then cleared off the line.
81'
WHAT A SAVE HENDERSON!!!!!!!!!!!!!!!!! The cross comes in, Lockyer gets up with a powerful header right in the corner, and Henderson claws it out. A Van der Sar save.
80'
Imagine being able to bring on three superstars like Greenwood, Rashford, and Fernandes when you want...
79'
United sub: Greenwood on for Ighalo.
79'
United sub: Fernandes on for Van de Beek.
79'
United sub: Mata off for Fernandes.
76'
Luton sub: Lee on for Moncur.
76'
Luton sub: Clark off for Cornick.
73'
The corner comes in and Maguire heads straight at the keeper.
73'
Van de Beek has a shot that is again saved by the keeper.
71'
Lingard has a shot from just inside the box that goes over the bar.
70'
Newport County, Brentford, and West Ham are all through to the next round.
68'
Kioso is booked for a foul on Bailly.
64'
Matic has a shot that the keeper gets down and parries. A good chance.
63'
Lingard has a volley that is blocked on the line.
62'
If the score remains like this then Luton always have a chance.
57'
Williams is booked for a foul on LuaLua.
55'
Just as I say that Lingard has an effort wide from outside the box.
50'
I wonder if Luton will get a goal back. No extra-time in these rounds.
45'
HT: Luton 0-1 Manchester United. A decent showing from Luton but Mata's goal before half-time seperates the sides.
45'
Mata steps up and sends the keeper the wrong way. 1-0 United.
44'
Moncur is penalised for a foul on Williams in the box.
39'
Luton will be very pleased if they can get in at the break level.
34'
Clark has a header but only gets a slight touch and it goes wide. That was a decent chance.
31'
Another chance for Luton. Clark has a shot that is deflected over the bar.
27'
Kioso has a shot from outside the box that goes well wide. Luton will be happy with their performance.
24'
A reminder that there is no VAR tonight.
17'
Hylton tries to beat Henderson at his front post instead of crossing it. He should have passed it.
14'
Good chance for Manchester United. Lingard cuts it back, Van de Beek dummies it and Mata's effort is parried by Shea to safety.
11'
United haven't won this trophy since 2017. City are going for four in a row.
10'
Maguire fires a shot from about 25 yards that goes well wide.
9'
United have started the better side but fair play to Luton who have lots of men behind the ball.
7'
Of course, we will not be seeing fans anytime soon after the announcement from the UK PM today.
6'
Three other matches currently going on at the moment. One shock with Newport beating Watford, West Brom are drawing against Brentford, and West Ham are beating Hull.
4'
First chance of the match goes to United. Mata has a shot from outside the box that Shea gets down and saves.
Prev.
Luton won this trophy in 1987-88 and were runners up the following season. Can they cause an upset?
Prev.
The winners of this match will play against Preston or Brighton in the next round.
Prev.
I don't see anything other than a Manchester United win tonight. If there were fans it could have been a different outcome.
Prev.
Dean Henderson is making his Manchester United debut tonight. The last time these teams played each other was in April 1992. Luton haven't beaten United since a 2-1 in 1987.
Prev.
Manchester United XI: Henderson, Wan-Bissaka, Bailey, Maguire, Williams, Fred, Matic, Mata, Van De Beek, Lingard, Ighalo.
Prev.
Luton XI: Shea, Tunnicliffe, Bradley, Hylton, Shinnie, Moncur, Lockyer, Clark, Kioso, Norrington-Davies, Lualua.
Prev.
Hello and welcome to Kenilworth Road for live coverage of this EFL Cup match between Luton Town and Manchester United. Team news to come.