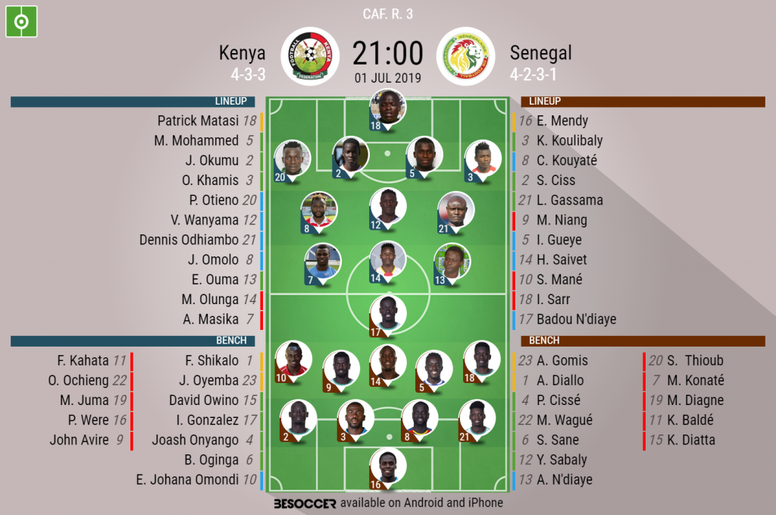 Kenya v Senegal - as it happened
Post.
As always, thank you for joining us folks!
93'
FT: Kenya 0-3 Senegal. The Teranga Lions had it in the end. Senegal's men were superior in the first half, but did not manage to get into the game up until the 60th minute when the score opened. Matasi gave a stellar performance for Kenya, but a mistake cost him greatly by giving Senegal the lead.
86'
Senegal are pushing for a fourth. Sadio Mane runs on to a clever pass inside the area and tries to cut it back across goal, but the Kenyan defence are alert to the danger. Less than five minutes of normal time remaining.
84'
What a save from Gomis! A clear on target shot from outside the box is beautifully stopped by the Senegalese goalkeeper.
81'
Bernard Ochieng replaces Ayub Timbe Masika for Kenya, and Krépin Diatta replaces Idrissa Gueye for Senegal.
78'
This time he delivers!!!! Sane makes 3-0 for Senegal in a penalty kick!
76'
Otieno is sent off for a terrible dive and tackle. Second yellow card. A penalty is awarded.
75'
Double substitutions. Moussa Konaté replaces M'Baye Niang for Senegal; John Avire replaces Dennis Odhiambo for Kenya.
72'
Sadio Mané's right footed shot from outside the box to the bottom right corner. Assisted by Lamine Gassama following a fast break. Great goal!
71'
GOAAAAALLLL FROM SADIO MANE!
71'
Senegal's Sadio Mane and Kenya's Joseph Okumu have both gone in to the book in the last few minutes for terrible tackles.
68'
M'Baye Niang wins a free kick in the defensive half.
61'
Brilliant from Ismaila Sarr. The Rennes forward volleys back over his shoulder into the top right corner but what was Patrick Matasi doing there? The Kenya keeper has been superb this evening but he went walkabout there.
60'
GOAAAAAAAAALLLLLLL!!!!!!!!! SENEGAL OPEN THE SCORING!
58'
Both goalkeepers have denied the opposite team in the last minute, in what would have been the opening goals of the match. Matasi is having a particularly good performance!
56'
Yellow card to Masika Ayub after essentially attacking a Senegal player... Unnecessary dive.
48'
Senegal win a corner down the right and Saivet drives it in, seeking Koulibaly, but Matasi hurls himself into a punch and does enough.
48'
Still all Senegal at the start of the second half but still no way through the red brick wall of the Kenya team in front of them.
45'
HT: Kenya 0-0 Senegal. The Teranga Lions have had the best chances, but Mane's failure to deliver that penalty might cost them in the future. The referees are not giving their best performances, as two handballs have been ignored and other fouls too. Kenya started off well, but it's hard to see them overtaking Senegal, who should be winning by at least one goal.
45'
Half time in the 30 June Stadium!
45'
Olunga's injury is caused after a jarring to his ankle. Didn't look too bad, but he still had to be carried out on a stretcher so the half time period will indicate how serious of an injury it is.
45'
2 min of added time in this first half!
44'
Olunga is injured and is carried out of the pitch. The reason behind his injury is unclear... He falls after a tackle, but there does not seem to be any blows to his legs. This will surely be cleared up during half time.
42'
Mane is trying to redeem himself, jigging down the left and crossing beyond the back post; the ball ends up behind for a goalkick.
39'
Gueye wins a free kick for Senegal.
36'
Kenyan goalkeeper Matasi, who's been delivering some great saves, is injured. He is seen limping but it looks like he will try to go on. Some delays in the match for him to get back into it safely.
33'
Dennis Odhiambowins a free kick on the left wing.
28'
PENALTY FOR SENEGAL! Sadio Mane is the chosen one, but it is completely wasted in shocking fashion. This is the same player who won the Champions League a little over a month ago...
24'
Corner for Senegal... Also, it's worth mentioning that there's been quite a few handballs going around. Not sure why the referee is choosing to ignore them. At least two could have resulted in penalties for both teams,
22'
What A chance! Senegal almost had it, but some good bits of defending have prevented the Teranga Lions from scoring!
17'
Robust would aptly describe some of the attempted tackles out here at the moment. Only Kenya's Philemon Otieno has been booked though as it stands.
11'
Delay in match because of an injury to Joseph Okumu.
10'
First yellow card of the game. Kenya's Otieno is booked for a bad foul.
8'
Another missed attempt! Kenya's Olunga misses the box to the right after a painful looking smash against the Senegalese goalkeeper.
4'
Missed attempt! Odhiambo's left footed shot from outside the box misses to the right.
2'
Alfred Gomis is now the goalkeeper for Senegal after that last minute change.
1'
Mendy has had to be taken out as a last minute change in the line-up, as he's injured.
Prev.
AND ANOTHER ONE!!!! This time it's Mane who delivers for Senegal with a superb shot after some bad defending from Kenya.
Prev.
Hymns are being sung! We are 5 min away from kick off!
Prev.
Senegal coach and former star Aliou Cisse is expecting a big improvement from Mane and his team-mates against Kenya after they were outfought by Algeria.
Prev.
Meanwhile, Victor Wanyama was full of bravado ahead of the jamboree, but the team is yet to live up to the hype.
Prev.
The Teranga Lions were considered one of the title contenders ahead of the tournament. That hasn't changed, but they need to get a shift on against Kenya.
Prev.
Sadly disappointing in their opening fixture, but much more inspired in their second – Kenya's journey at the 2019 Africa Cup of Nations has been in total contrast to Senegal's. Sadio Mane and his team started out like a house on fire, but were taught a lesson in their second outing against Algeria.
Prev.
Senegal starting XI: Mendy; Gassama; Kouyate; Koulibaly; Ciss; Niang; Gueye; Mane; Saivet; Sarr; N'Diaye
Prev.
Kenya starting XI: Matasi; Otieno; Omar; Okumu; Mohamed; Odhiambo; Wanyama; Omollo; Timbe; Ouma; Michael
Prev.
We are 15 min from kick off! Team news and line-ups to come.
Prev.
Hello and welcome to our live, minute to minute coverage of this decisive group C clash between Kenya and Senegal, where both teams could end up qualified if the game ends in a draw!