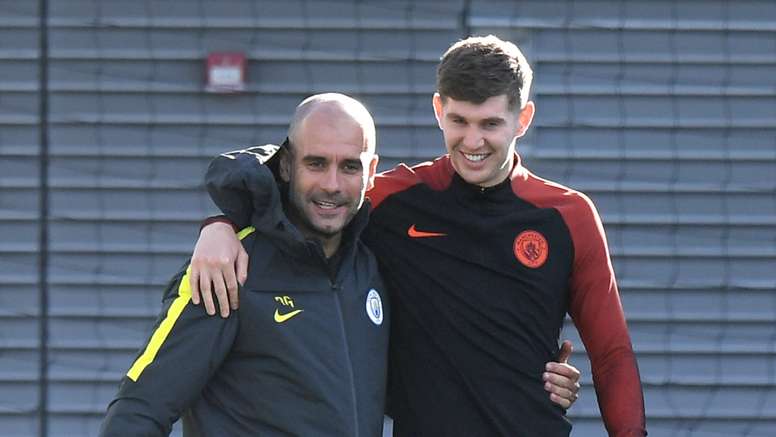 John Stones wants to be great, not good, and should not be derided for trying
Amid the swirl of criticism following Manchester City's bruising defeat at Leicester this weekend, the baby was thrown out with the bathwater.
Those who have been waiting desperately to write off Pep Guardiola as a failure have barely been able to contain their glee that City were so easily cut through by those brave lads who represent the Champions of England.
The performance was bad, yes. The defence was a mess, yes. Guardiola has either overestimated his defenders' ability or his own ability to make them better. You could even say he has made a mistake on that front.
But those firing the barbs are not interested in considering the rest of his work at City, whether the good or the bad, there has been little thought to what the ultimate goal is.
The reaction to his admission that he is "not a coach for the tackles" says it all: this is a man who needs to change his entire approach because he doesn't get it. Never mind that what he is working towards does not place too much importance on getting stuck in.
City may be in a difficult period - "I cannot defend that," Guardiola admits - and maybe the club would be better off at this moment in time if they had hired another manager, one who would play a back four and make simpler demands of his players.
But that misses the point. City don't want to be good, they want to be great. They didn't get Guardiola in to tighten up the back four and play the kind of football that Roberto Mancini and Manuel Pellegrini provided which may win you titles but won't be remembered. They want to dominate, not just while Guardiola is here but long after he has gone. They want to stand out.
Those critics would say City cannot begin to think about standing out unless Guardiola changes his ways, but the Blues can improve without their coach abandoning his principles.
Guardiola says he only fully realised English football's fondness for set-pieces when he watched Swansea City beat Crystal Palace 5-4 two weeks ago. "Nine goals, eight set-pieces," he says. He is still learning, which can only be expected. He says he will have to work out how to win the second balls better, and there is no doubt he will need to provide better cover for the defenders who are so clearly weak in one-on-one situations.
But he's not going to stop playing the positional game, he's not going to stop encouraging his team to play from the back. Why would he, and how could he? That's not who he is or how he coaches. It's not what the club want, either. He has been brought in to make City great, not good.
There are players who will have considered that when choosing which club to join in the summer. John Stones is one.
Following Saturday's defeat, it has been suggested that Stones should have signed for Chelsea instead, because they are top of the league, because they have a good goalkeeper and two shielding midfielders, because Antonio Conte has put together cohesive defensive unit.
The allegation is that Stones is being indulged by Guardiola, that he is being told that he can focus on passing the ball and not worry about defending. That is plainly not the case. Anybody who has been to a City game this season and seen Guardiola chiding Stones from the touchline can tell you that.
Just like City if they had hired another manager this summer, at this moment in time Stones may be better off if he had gone to Chelsea. He would have kept a lot more clean sheets, he would have had more reliable players around him and he may be on the path to becoming the next John Terry.
But is that what he wants? Does he want to be good, or very good, rather than great? There is no doubt he would be a very good defender in a Conte team, but he can become great with Guardiola. Or at least he will try to be, and who can begrudge him that?
This summer he will have weighed up the options and decided to work with the man who has vastly improved defenders whether they are young or old. Guardiola not only honed Gerard Pique's talents but also improved Carles Puyol. He turned Jerome Boateng into one of the best around. In fact, you don't even need to have been a centre-back for Guardiola to turn you into one: ask Javier Mascherano, David Alaba and Javi Martinez.
Stones did have a poor game against Leicester and his back-pass for the Foxes' fourth goal was inexcusable - he just didn't look. He has been exposed on many occasions this season by a lack of support, and he has not covered himself in glory.
But in these last few days it seems to have been accepted that there is no capacity for City to improve, for Guardiola and his players to learn from mistakes (unless the manager changes, of course).
City will work on improving but there will be no abandoning of ideals. Guardiola will continue teaching his players in his way. If he stopped now - because his defenders aren't good enough - the rest of the squad would stop learning. That's what this is, a learning process.
If everything comes together, these ugly performances will be more than worth it.
The players know how to be good - they have the titles to prove it - but they're learning to be great. They may get there, they may not, but Guardiola should be applauded, not derided, for trying.