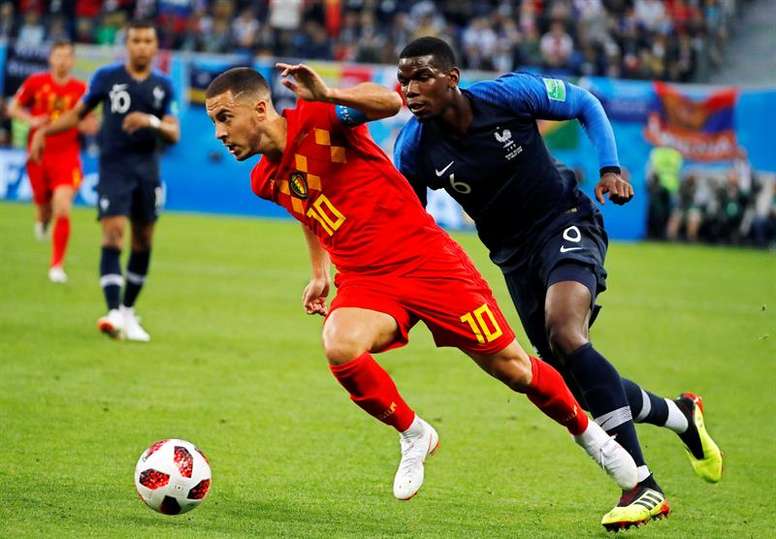 Hazard could be on his way to Madrid, but how would he fit in the team?
The Belgian captain had an excellent World Cup, particularly in the quarter-final match against Brazil, and as a result of Cristiano Ronaldo's decision to move to Juventus, he is seen by a large section of fans as a good option to replace the club's all-time record goalscorer.
Of course, Hazard and Ronaldo are very different players. While Ronaldo's priority over the last few years has been a come more central and to shoot from distance, Hazard is much more of a traditional winger. The latter will also run a lot more off the ball than the Portuguese does, and favours going on silky dribbles through defences rather than rifling home a shot from 30 yards in to the top corner.
Chelsea are reportedly looking for between £150-200 million for their star man, but should Madrid be willing to pay that their problems would only just be beginning.
Gareth Bale has recently spoken about his disappointment at not starting the Champions League final and said after the game that he needs to be getting more minutes on the pitch. With Florentino Perez having just lost his biggest star, he would surely not risk losing the Welsh international as well, and so Bale will probably figure on the right flank in the post-Zidane team.
So if Hazard is to play on the left, that means that wingers such as Marco Asensio and Lucas Vazquez would have to be sacrificed. Both were favourites under Zidane, and Asensio in particular is a fans' favourite as he is seen as the future of the Spanish national side after their inevitable shake-up after the World Cup disaster in Russia.
Isco is also another key player that will need to be factored in to the equation, as he showed last season and during the World Cup for his country that he is one of the best attacking midfielders in the world. But with him playing more on the wing for Real, does that mean that Hazard would force him to move centrally?
If that is the case, then the place of Toni Kroos or Luka Modric may come under question. Kroos had a disappointing World Cup with his German team, while his Croatian midfield partner is playing some of the best football of his career. He could even be in with a chance of winning the player of the tournament award in Russia for his performances, as his team has reached their first ever World Cup final.
The problem would be is that the two players have formed a partnership over the last few years, and have been an ever-present duo in the last three consecutive Champions League wins.
And while Modric is in better form than Kroos at the minute, the Croatian is 32 and may not have more than 2 seasons at the top left, while the German is 28 and therefore has more years left in him. Neither would tolerate prolongued periods on the bench.
Whatever the outcome, Real fans will demand that a world-class player comes in to replace Ronaldo, while the stars that remain at the Bernabeu will expect CR7's departure to be their time to become centre-stage.
Either way, Julen Lopetegui will have to ruffle some feathers. Luckily for him, his choice to join Real just before Spain's World Cup campaign, and the chaos that ensued, means that he's more than capable of doing that.