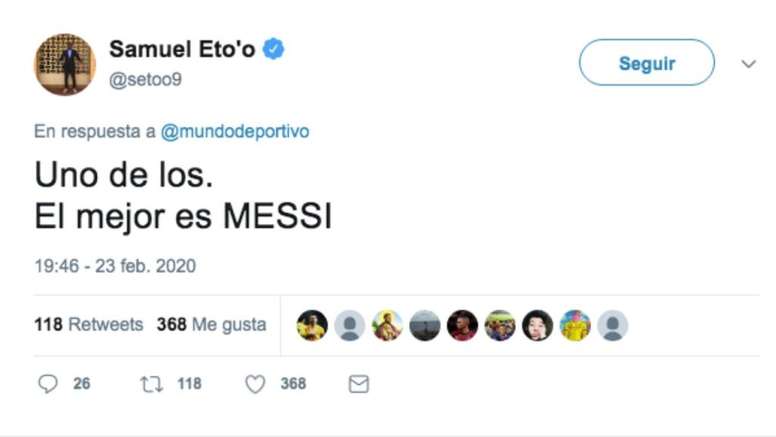 Eto'o rectifies about Ronaldo: "The best is Messi"
It was surprising that Samuel Eto'o, in his interview with 'Sky Sport', placed Cristiano Ronaldo as "the best of all time". But his words thus circulated after 'La Gazzetta dello Sport' replicated them. When it went viral, the Cameroonian himself made things clear
He published a tweet citing the information in which he corrected the Italian newspaper to compose a more logical message taking into account his great history with Barcelona and his historical declarations.
"One of them. The best is MESSI", the ex-forward wrote, with the Argentine's name in capitals so that was no doubt about his preferences in football.
"I see Juve... and I don't know. They have Cristiano Ronaldo, the best of all time, or Dybala, another phenomenon, but I'd like to see the Sarri of Empoli again", that's how Eto'o's statements had been written in Italy.
In fact, when the Cameroonian announced his retirement recently, Messi himself made clear his good relationship with some beautiful words towards him.
It wasn't long ago that the anecdote of what Eto'o said to the Argentine in his early days when he didn't look like a goalscorer transcended.
February 23, 2020