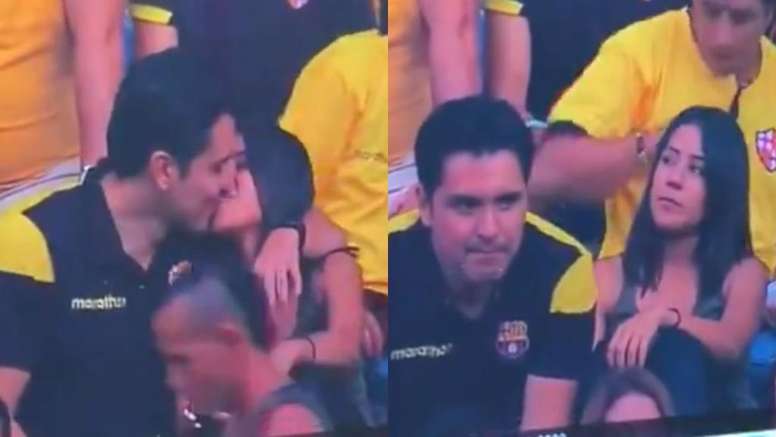 Cheating Barcelona fan furious: "You are hurting a son of God"
The incident, during the match between Barcelona and Delfin in the Ecuadorian league was both comical and dramatic. A man and a lady were watching a football match when they kissed each other on the lips.
The result was disastrous: the cameras caught them and even though they tried to make out as if nothing had happened, the man's guilty face said it all: they had made a massive mistake. The man, who had a girlfriend at the time, has reacted to the incident on Facebook and was absolutely fuming.
"People are always looking for bad things to happen to others, they've destroyed my relationship. What more do you want? I hope this serves a purpose because they are just hurting a son of God," he wrote.
The man continued his explanation on social media: "In my defence, I want to make clear that in no moment did I go out to kiss my friend to death... and furthermore, you can't see any kiss in the video. I don't know why they are saying we kissed each other passionately when our lips did not even touch."
"I'm just judged and criticised, but nobody has stepped in my shoes. God doesn't want the same thing to happen to you. I'm innocent. And if it had been a woman instead of me? What would you have done then? Several videos have appeared of women being unfaithful, but they are not mocked as much as me," he added.
And he ended up confessing that he will have to get professional help to get over it: "At the moment, I'm only thinking about getting psychological therapy because of everything that has happened. I was not prepared for this." What seems sure is that he has learnt his lession after so much commotion.