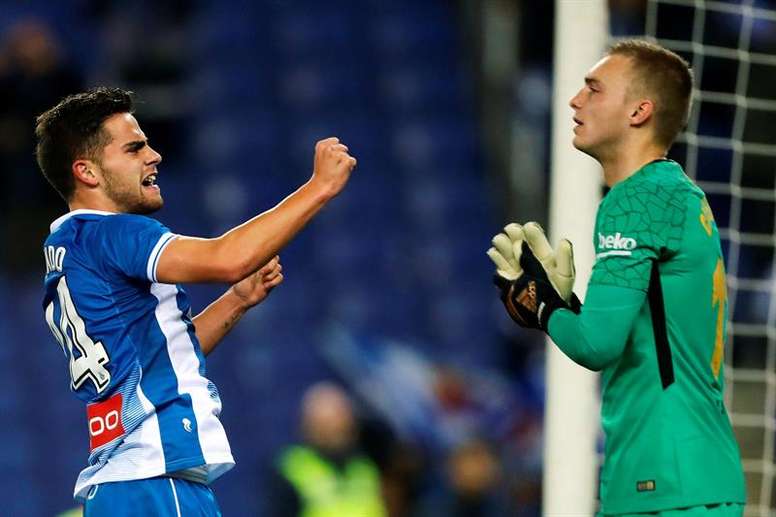 Barcelona overcome Espanyol in shootout
The tournament was conceived for the top two Catalan teams in the Spanish system to play each other, as La Liga teams do not enter the regular Copa de Catalunya.
Ernesto Valverde took eight senior players with him to Lleida, the venue for the game, along with 12 players from Barcelona B. Among them was Mark McGuane, the Englishman who left Arsenal for Barcelona in the January transfer window.
Yerry Mina was given his second start in Barcelona colours and Ousmane Dembele was the biggest name on the pitch, but the latter failed to impress. Mina looked composed at the back and showed no signs that he is still adapting to his new team.
The match itself was played at a slow pace, with neither side looking to take the initiative. Jasper Cillessen made a handful of saves, the most impressive coming from a Javi Lopez effort, while Barcelona's best effort came inside the opening 60 seconds. Alcacer was played in one on one with the goalkeeper but fired his effort high over the bar.
A 0-0 draw looked inevitable as the game wore on and so it came to pass. There is no extra time in this competition so it was straight to a penalty shoot out to decide the winner. Barca scored a perfect four from four so it was unfortunate for Darder and Jurado, who saw their efforts fly over the bar and be saved, respectively.
Barcelona won 4-2 but there was more than a little feel of a pre-season friendly to this game. Both teams will now set their sights firmly on the competitive fixtures to come, with Barcelona in particular facing a key period in their season - Chelsea are due at Camp Nou next week.