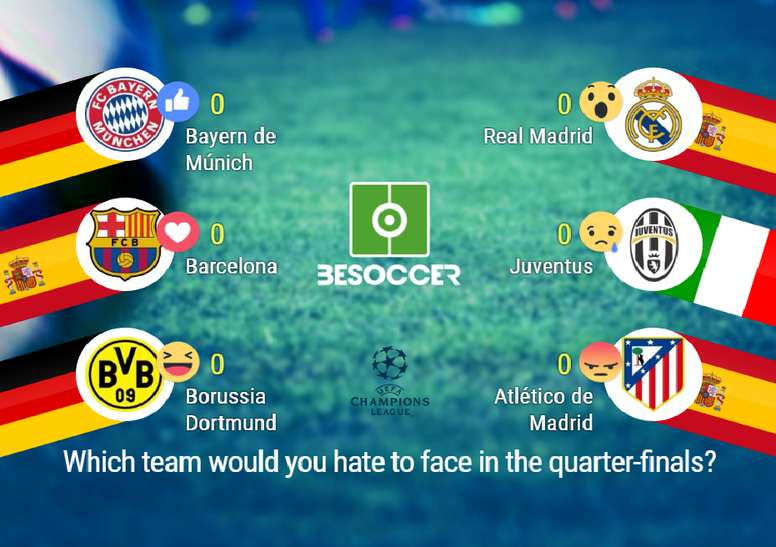 Which team would you hate to face in the quarter-finals?
Nobody ever wants to play against Bayern Munich. They have Carlo Ancelotti, who knows what to do in the competition, having won it with Real Madrid and Milan. They also have first-class players, such as Lewandowski, Thiago, Muller, Robben, Neuer, Douglas Costa...
Barcelona, following their momentous comeback, are another difficult team to beat. The 'MSN' is enough to make them serious title contenders, as well as the fact that they have lifted the trophy four times in the last decade.
Borussia Dortmund is, at first glance, the weaker side of the six. They have top players such as Reus or Aubameyang, but they are not up to previous seasons' standards. In fact, they are third in the Bundesliga, 16 points behind Bayern.
Real Madrid have taken the trophy home more than any other team, and twice in the last three years. If that was not enough, they have the 'BBC', who are always dangerous.
Juventus have dominated Italy for the last few years. It seems they are eager to extend their power to the rest of Europe. Dybala, Higuain, Buffon, Pjanic, Bonucci or Chiellini are just some of the men that make Juve a huge threat.
Atletico Madrid have come close (twice in the last three years) to winning the competition, but Real Madrid have stood in their way. This year, their entire focus is on the Champions League.
Who would you not want to come across? Vote now on our Facebook page!