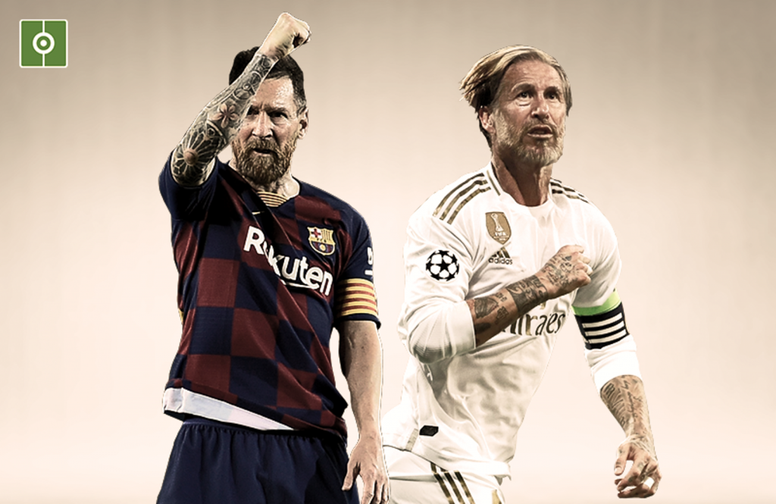 Two giants eroded by time
Time is a declared enemy of football and it was not going to pass by Barça and Madrid. The two giants of Spanish football are facing, with their logical differences, forced renovations that already started in the summer but were left half-finished.
There are quite a few players from Barca and Madrid that were playing for them ten years ago: Benzema, Messi, Ramos, Marcelo, Piqué, Busquets... Legends of both teams that are still hugely important for their respective side but that are either showing the first signs of decline, or are relatively close to the final stages of their careers.
A report from ProFootballDB, BeSoccer's resident statisticians, highlight the ageing that both Barcelona and Madrid have suffered and that they have also failed to tackle. It is enough to compare two eras, to take a look at what the two were like just a decade ago.
Sergio Ramos (11 starts), Karim Benzema (10 starts), Gareth Bale (6), Marcelo (5) and Luka Modric (2) have all played for Real Madrid at the age of 30 or over this season. A decade ago, in the 09-10 campaign, only two players over the age of thirty started for them: Guti, starting ten, and Raul Gonzalez Blanco, starting eight. The trend a decade later is significant.
At Barça the change is not so pronounced, although it is certain that nowadays there are more important players who are 30 or over than back then. In other words: the stars of Barcelona 09-10 were insultingly young, almost in their twenties... and now this is not happening.
Carles Puyol, with 31 starts in the league, was the veteran of that Barcelona (his maximum age being 32.1 years). He is followed by Xavi, with 16 starts (he started the campaign at 29 years old and hence the apparent low figure), Eric Abidal and Thierry Henry with 15, Seydou Keita with eleven (another who started the season at 29) and Rafa Marquez, with seven, according to the ProFootballDB database.
The previous roster of players consists of six players with 30 years or more, while at present there are seven, and all of them stars, starters, regulars or new luxury substitutes, such as Ivan Rakitic, who has started once, against Granada. Above him are Gerard Pique, starting ten games, Luis Suarez with eight, Sergi Busquets with seven, Jordi Alba with six, Leo Messi with five and Arturo Vidal with three. And both Alba and Messi have suffered injuries. They will easily exceed the number of starting players over 30 in the 09-10 season.
Footballing problems apart, Barcelona and Madrid go hand in hand towards old age (football, of course). A golden old age, however, because both clubs have shared the leagues and Champions Leagues of recent times, but the need for titles devours everything. Both Barca and Madrid need new sap if they want to continue winning more trophies. The start of the campaign confirms the warnings already suffered against Liverpool and Ajax in the Champions League a few months ago: quality and past success is not enough. Barça and Madrid lack vigour, youth, intensity and legs in their key positions.