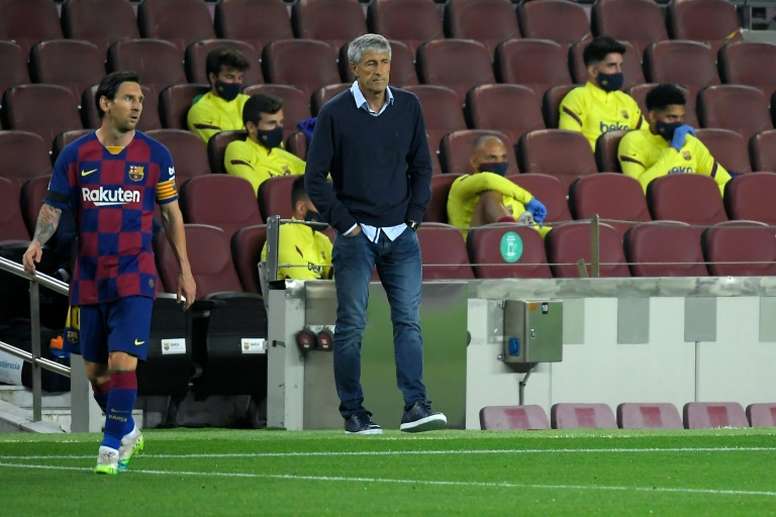 "Nothing happened between Messi and Sarabia, we all have to give in"
Barcelona coach Quique Setién held a press conference to analyse the match his team will play for LaLiga's 33rd matchday, where the club will be hosting Atletico Madrid.
The difficult rival was the main concern: "The games against Atleti are very difficult, it's a great team. They are a great team. They are very identified with their way of doing things and will make things very difficult for us. I think the rest of the games were just as important as this one. Winning has become a decisive issue for us because anything can happen. The margin we have is getting smaller and smaller. We are going to give the importance of life to this match as well as the previous ones."
Setién was asked about Sarabia's controversy following the 2-2 draw with Celta: "It's true that there are always controversies, as everyone has their own way of thinking. That's the norm, it's what's always happened. I wasn't an easy player at the time either. We have to try to convince everyone that we have to all go in the same direction. I understand this as something natural, there is a good communication and it's just a punctual subject to which I don't give importance".
"When there are no victories, everyone gets the upper hand. The relationship with the players is good, I don't see any major problems. We have many meetings. We focus on football issues. Situations are normal, it can change immediately if we get a more comfortable victory and solve some situations on the pitch better," he added.
Returning to the debate generated in Balaídos, he explained: "We all have to give in for the good of the team. It's a team and it knows it has to act as a team. Sometimes you have to sacrifice certain personal things for the benefit of the team, which is what is going to get us the victory many times. I have no problem admitting that this situation I'm experiencing is new. You learn a lot of things and you learn to do what you really want to do.
"Nothing happened between Messi and Sarabia"
"This has nothing to do with the players, because it also happened to me when I arrived in Las Palmas and in Seville. Time puts everyone in their place. Nothing happened between Messi and Sarabia. An indication, that you want me to answer...", he added.
Setién was also questioned about the comment made by Arthur's mother on Twitter: "I'm not paying attention to what Arthur's mother says I don't have the slightest doubt about his commitment until the last day. He has committed himself and will devote himself fully to achieving the goals. I have no doubt about that, nor do any of my colleagues. "
And he explained about his options in the upcoming matches: "It depends on the circumstances of the matches. The important thing is that he has said that he will be able to play until the last day. That's what he said and that's what I think".
"The results do not depend on me"
As for his future at the helm of the bench, he said: "I feel just as important as when I arrived and I'm going to feel that way until the last day. I'm doing everything I know and everything I can because this is going well and we're going to win games. This is what reassures me the most. The results sometimes don't depend on me, football doesn't work like that. Defeats always bring this and I've experienced this everywhere. When you win, you enjoy it, and when you lose, you take your chances.
And he added about his continuity in the team: "Noise is your business... I'm on the sidelines. I focus on what I have to focus on, I know how it works. I don't wear myself out on things... The players do the same."
Asked about the possibility that Real Madrid already has the league title assured, he said: "We cannot control what our opponents do, only what we can do. We only have to think about ourselves until the last day, if only everything else could be controlled.
Setién also had time to talk about the importance of Griezmann: "The reality is that only eleven can play. You're constantly asking me why one or the other doesn't play. I've already talked about what each one is like, but the reality is that only eleven can play. Everyone is important, everyone has options. There are players who have a hierarchy, but everyone has a chance to play and not to play. "