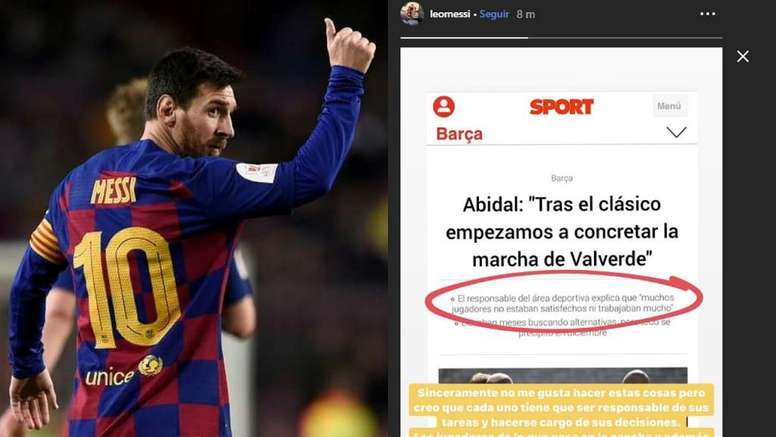 Messi replies to Abidal: "Give names or your tarnishing everyone"
The Barcelona star did not hesitate to speak about Éric Abidal's words. "I think everyone has to be responsible for their own tasks and take charge of their own decisions," the Argentinian began.
"We players know what's going on out on the pitch and we're the first to recognise when we're not doing well. Those responsible on the board must also take charge and, above all, take responsibility for the decisions they make," he added.
Messi's criticism of Abidal's words did not stop there. "Finally, I think that when we talk about players, you should give names, because otherwise you're tarnishing us and feeding things that are said and that aren't true," he said.
February 4, 2020
Everything came about as a result of Abidal's words in 'Sport', in which he spoke of the reasons that led to Ernesto Valverde's dismissal and blamed the players for part of it.
The Barcelona sporting director defended the reason for his dismissal. "Bartomeu decided to renew his contract. We took it on because it was a club decision, but we saw that there was a problem internally. After the 'Clásico' we started to arrange his departure," Abidal said.
Messi, in his publication, circled Abidal's words in red. "Many were not satisfied and did not work hard. There was an internal communication issue that worried us. The coach/club relationship was always good, but there are things that, as a former player, I can smell. I told the club what I thought and we made the decision," Abidal explained.
It was that statement that made Leo Messi so angry. The Argentinean, not given to use his social networks and even less to criticise Barcelona, dropped the bomb two days before playing the Copa del Rey semi-final. The Argentine did not like what the Barca sporting director said about the dressing room.