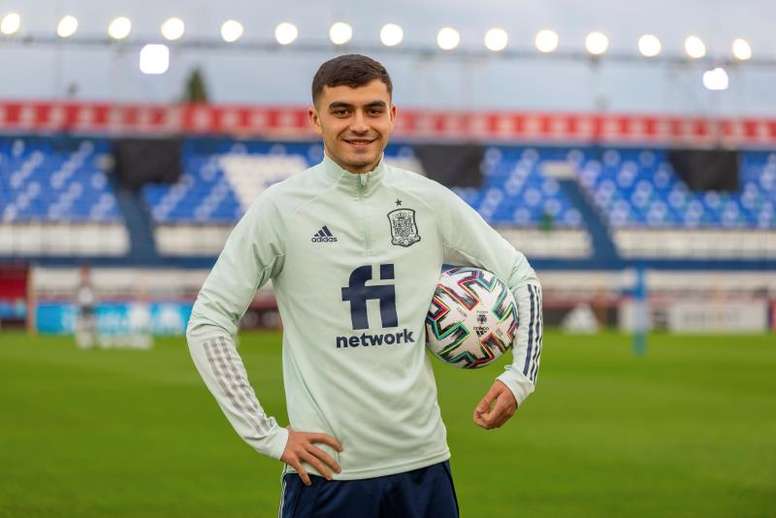 "I thank Madrid, now I am where I always wanted to be"
In a season of renewal in Barcelona with some new faces, young people have taken centre stage in Ronald Koeman's plans. Pedri and Ansu Fati have become fundamental pillars of the club. Pedri talked about it to 'El Larguero' on 'Cadena SER'.
His signing with Barca led him, as he always wanted, to play with Leo Messi: "You don't get used to seeing his moves. Everyone surprises you and being able to learn from them is a luxury. Of course Messi imposes, you see him on TV and on the PlayStation and seeing him in real life is impressive. It's a prize that life has given me".
"I get on very well with Trincao, we arrived at the same time. With Ansu Fati very well too. Now he has had the injury and has to work to be at his best. We've got on well. He has goals, quality, one against one. A lot of future," said Pedri.
His chance in the 'Clásico': "Two days before the match I was told that I was going to be a starter and I said... "Oh Sh**, this is serious!". He recalled when he was on trial with his now rival club, Real Madrid.
"I tried out for a week there. They told me I didn't have the level. They took me to an office and told me that. I thank them because now I'm in the team I've always wanted to be in," said the Canarian.
One of his dreams is to wear the red shirt in the Spanish national team: "I don't like to give myself limits, but I have always said that I would like to play a World Cup with the national team".