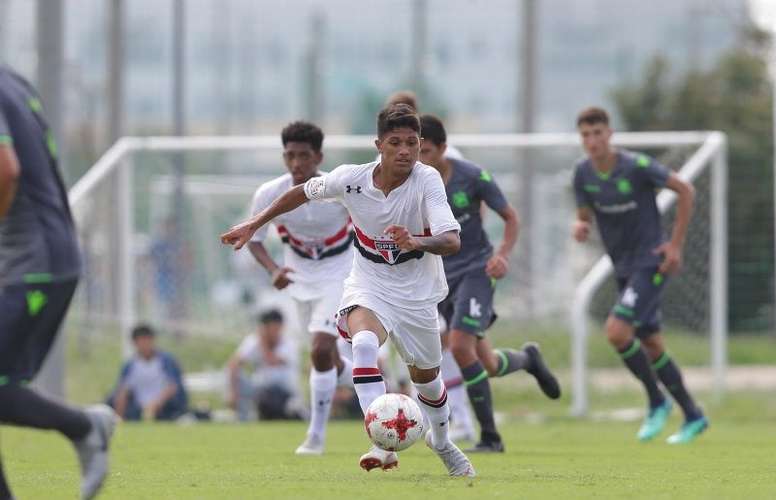 Gustavo Maia's agent takes for granted he will join Barca
Will Gustavo Maia be Neymar's replacement? There are those who think so and the young footballer's agent said he was convinced Barcelona would make the signing.
Gustavo Maia is one of the most promising young talents at the moment in Brazilian football. The 19 year-od, has been linked with Liverpool and Atletico Madrid, but it seems like Barcelona will beat everyone to him.
This pacy, small and talented winger is on Barca's agenda and the club have an option to buy him before anyone else can have a sniff. According to the player's agent, the La Liga outfit will take up that option.
"We are sure that Barcelona will complete the purchase," Danilo Silva, his agent, told 'GloboEsporte'.
Silva also explained that Barca gave Sao Paulo a hint that they wanted to keep him. "There was a hint from the club and Maia began having private Spanish classes on Monday to be more prepared," he continued.
"Other clubs came to us in recent months, but we never had any doubt, Barca always wanted him," Danilo Silva added.
But for now, Sao Paulo do not know anything on the matter. "Whether he goes to Barcelona or not, we can't be sure because they have until 30th June to let us know and they still haven't done that," Alexandre Passaro, Sao Paulo's sporting director told 'Goal'.
"The last time I spoke to them they said it was all very uncertain. La Liga set a restart date of 11th June. Who knows, they have 30 days to tell us whether Maia is leaving or not," Passaro concluded.