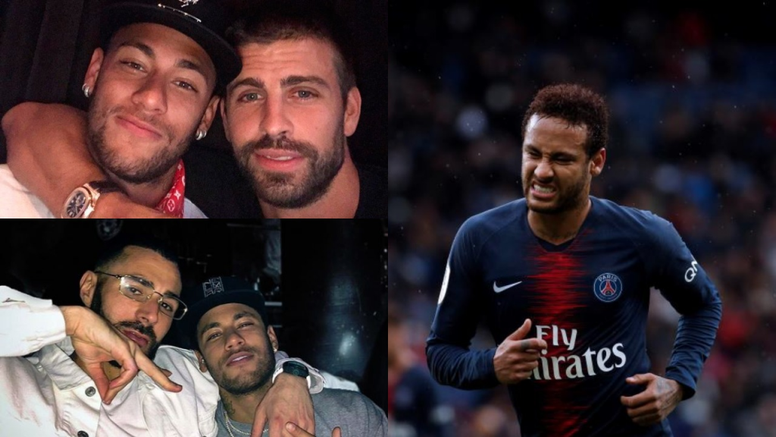 From "he's staying" to "he's coming"
Just when we talk more about Neymar's interest in joining Barcelona and the club's manoeuvres to bring him back, Benzema surprises us with this photo that reminds us of Gerard Piqué's famous "he stays" post.
That is the story of football, the internet and social media. While Neymar negotiated his signing for PSG and Barça players tried in vain to convince him, Piqué uploaded a photo grabbing Neymar and the following message: "He stays".
Piqué's attempt to make Neymar change his mind did not work. It was July 23, the team was in preseason. On August 3, the Brazilian signed for the French club with a world record fee of 222 million euros.
Almost two years later, the image of Benzema in his Instagram profile is very similar to that of the one that Piqué put up. At that time both appeared with a casual gesture, now Karim Benzema and Neymar Jr. appear to pose in a more serious way, like two bad boys.
What is unknown is the history of the photo, whether it is current or the French striker has pulled out an old photo. Neymar, injured and until recently in Brazil to give evidence for allegations of alleged rape, did not share the photo.
"Nine/Neyney", wrote Benzema, who usually refers to him with the number he wears on his Madrid shirt. He added the hashtag #cracks. The post also coincided with information that puts Neymar back on Real Madrid's radar, also highlighting the tricks of agent Pini Zahavi to take him to the Santiago Bernabéu. All this going on at the same time as Barcelona are looking to sign him again.
From "he stays" to the hypothetical "he comes". The photo has generated a torrent of comments, speculations and almost a million 'likes'.