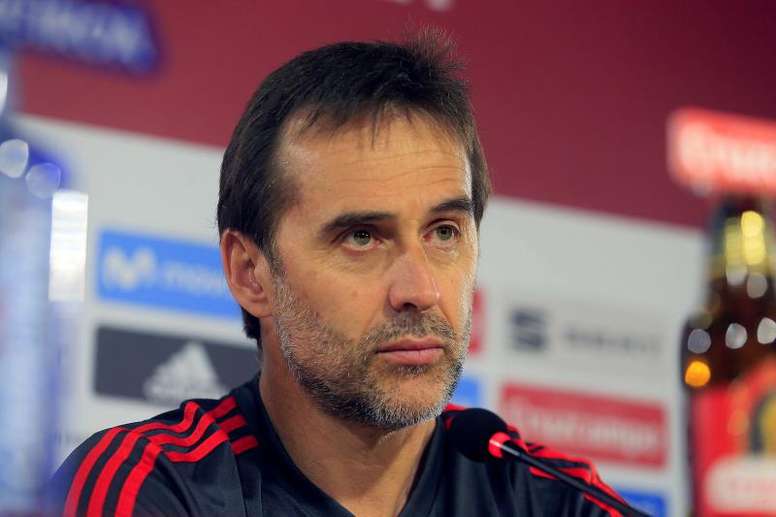 Lopetegui fired from Spain job 48 hours before opening game
Spain dramatically sacked coach Julen Lopetegui on Wednesday, just two days before the team's opening game against Portugal at the World Cup.
In a surprise announcement on Tuesday, Real Madrid appointed Lopetegui as Zinedine Zidane's successor to take over after the tournament in Russia, sparking outrage among the federation and Spanish fans at the timing of the announcement.
At a severely delayed press conference at Spain's World Cup base in Krasnodar, Spanish football federation (RFEF) chief Luis Rubiales expressed his dismay at the timing of events that threaten to derail Spain's World Cup chances.
"We have been forced to fire the head coach, remembering all the good that he has done," Rubiales said. "We have found ourselves in unexpected circumstances. There has to be a clear message sent on the part of the RFEF".
The FA chief recognised that the decision puts Spain in a complicated situation, and that there is a lot of work ahead: "Now, with two days until the start of the World Cup, we have to get to work straight away, there is a lot to do."
He also stated that he does not feel that he has been betrayed by Lopetegui, as rumours had stated. "I don't feel betrayed," he said. "Lopetegui has done impeccable work, but things have been done without the participation of the RFEF and we can't let this pass."
That being said, despite the departure of Lopetegui, there is no intention to make much change to the technical staff. "We are going to touch the technical staff as little as possible," he said.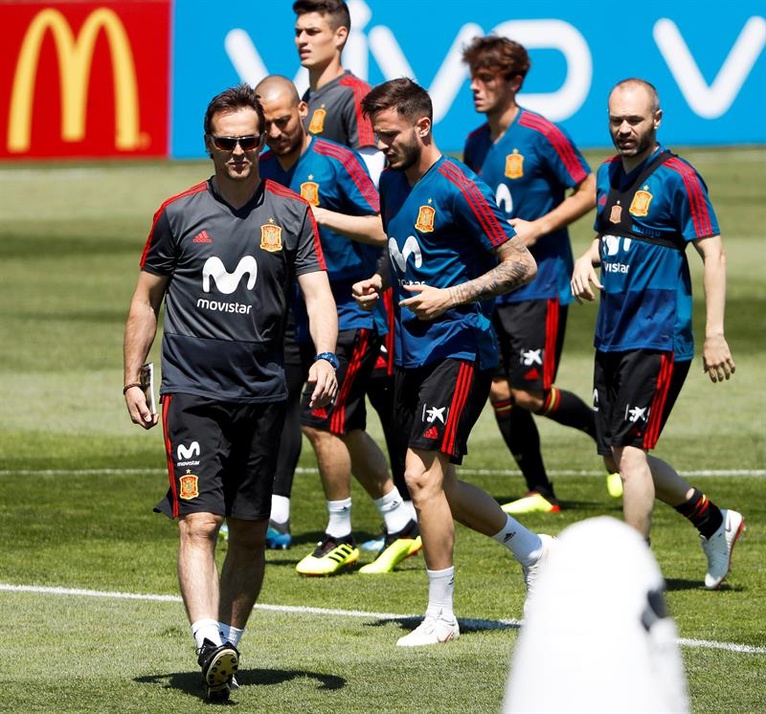 "I have a close relationship with the players, I feel very close to them, but it's a very complicated situation. I have talked with them and I guarantee that they are going to do everything to take the team as far as possible."
"This isn't the best situation, and it leaves us in a very complicated position."
Rubiales didn't want to comment on Real Madrid's behaviour in the affair, however. "They are looking for a manager and they are looking for the best," he said. "I am sure that if it was up to Lopetegui all this would not have happened."
"We have been forced to make this decision, and I am not going to judge the actions of whatever club, but they kept us in the dark until the last minute and this can't be permitted."
Despite everything, he had good words to describe Lopetegui. "I admire Lopetegui a lot," he said. "He's a top trainer, and this makes the decision more difficult. Winning is very important, but above all else is how things are done."
He then explained how he found out about Real Madrid's decision. "Was I informed by Real Madrid? I was informed five minutes before and I asked that nothing be done. I took a plane and came."
"This subject is the most important but five minutes before I saw it in the press and we had to react. We are doing it out of responsibility. I know that there will be criticism. I know full well, but the RFEF needs to maintain its own values."
"The RFEF cannot be excluded from negotiations over one of its employees."
Rubiales refused to be drawn on the topic of who could replace Lopetegui. "I don't want to talk about possible replacements," he said. "What we are going to do is to touch this set-up as little as possible."
"Would I have fired Lopetegui if the announcement hadn't been made? It's useless to talk about the hypothetical. We have to start to think that in two days there's an important game."
He went on to say that it is important for the RFEF to not betray themselves in the face of those who will criticise the shambolic nature of the decision. "What is the image of the Spanish side? What we can't do in the RFEF is to not represent our values."
"It wasn't us who decided how this all played out."
"We are all affected. We have to think about what is best for the team. It's a tough blow, but from this afternoon onwards, with the new staff, we will all work together."
There had been reports in the Spanish media that the players tried to intervene at the last minute to prevent Rubiales sacking Lopetegui, however he insisted that the squad were with him.
"I have spoken with the players and what I can guarantee is that they will do everything in their power, along with the new technical team to take the team as far as possible," said Rubiales
"The players are also hurt, but they have conveyed their agreement to me."
Rubiales isn't thinking about Lopetegui's contract right now. "We are coming from an economic situation in the RFEF that is what it is," he said. "The portion of the €2million in the clause that we have paid is less now."
"The boss wanted to say goodbye to the players, but at the moment we all need to pull together."
He also insisted that the RFEF didn't have any prior knowledge. "I asked that they didn't make the announcement public once I found out, but they were already moving forward," he stated. "Who spoke with the players? This is obvious no? We didn't have any knowledge of this within the RFEF."
"Obviously there was some sort of problem with communication but we can't be expected to find out about something like this five minutes [before the announcement] and not take the necessary decisions."