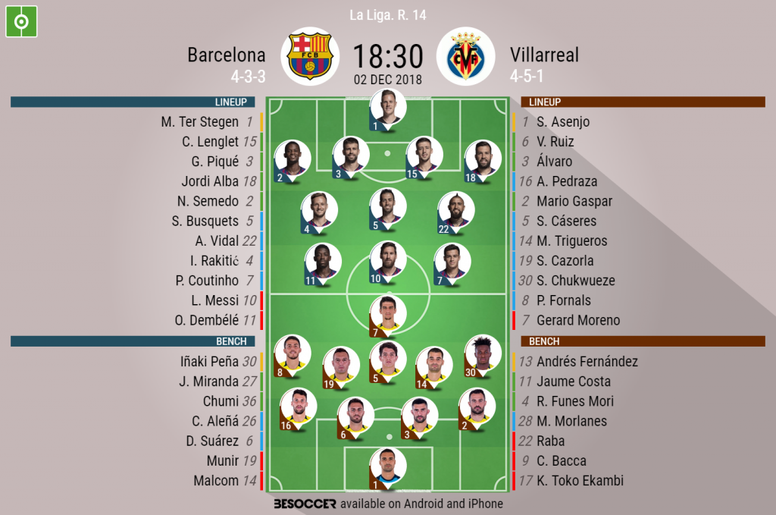 Barcelona V Villarreal - As it happened.
Barcelona

Villarreal

94'
And that is that! Barcelona win on the night, and they temporarily return to the top of the league!
87'
GOAL! Now they are home and dry! Carles Aleña has scored! It's his first league goal.
86'
It has been far from convincing from Barcelona, but they are almost home.
81'
Into the final 10 and this one is still in the balance.
78'
Coutinho curls one just wide.
74'
Dembele does very well to keep the ball in play and initiate a counter attack, but his pass is cut out.
69'
Alba stays on, and is booked. He looks dazed.
67'
It's difficult to see what happened to Jordi Alba there. In the mean time, Carlos Bacca has come on for the away side.
64'
Jordi Alba is down with a serious looking injury here. The staff are having a look at him.
60'
Still 1-0 to the home side at the hour mark. The game is looking a little flat.
54'
It's all Villarreal at the moment. Barcelona holding firm.
49'
Villarreal with a sustained spell of possession to begin the half.
46'
And we're back up and running. No changes to either side at the half.
45'
And that is half-time! Barcelona go in at the break with a slender lead.
41'
Not much by way of reply from the 'Yellow Submarine' so far.
36'
GOAL! Barca have the lead! Pique the one with it.
31'
Barcelona with another spell of pressure, but little doing so far. Valverde not impressed on the day of his 400th first division game in management.
26'
Villarreal starting to come into this a bit more, but Barcelona have another free kick in a good position.
23'
Asenjo saves an easy one from Dembele
17'
Rakitic fires just wide of the post from range.
13'
Moreno hits the post! It has been all Barcelona but down the other end we now have the best chance of the game.
12'
Messi fires a free kick into the wall.
9'
First shot of the game, as Messi brings a save from the 'keeper with a curling effort from range.
7'
Dembele's cross goes out for the first corner of the game.
5'
Not much for either side in the opening exchanges.
Prev.
The teams are in the tunnel now, and we are almost ready to go!
Prev.
Few surprises in either side, but Santi Cazorla gets a start!
Prev.
Here is how Barcelona line up:
Prev.
And we have some team news.
Prev.
The away side are sitting precariously close to the relegation zone in LaLiga, while Barcelona would go top with a win!
Prev.
It's a big one at both ends of the table...
Prev.
Good afternoon and welcome to our live updates for Barcelona's home clash against Villarreal...