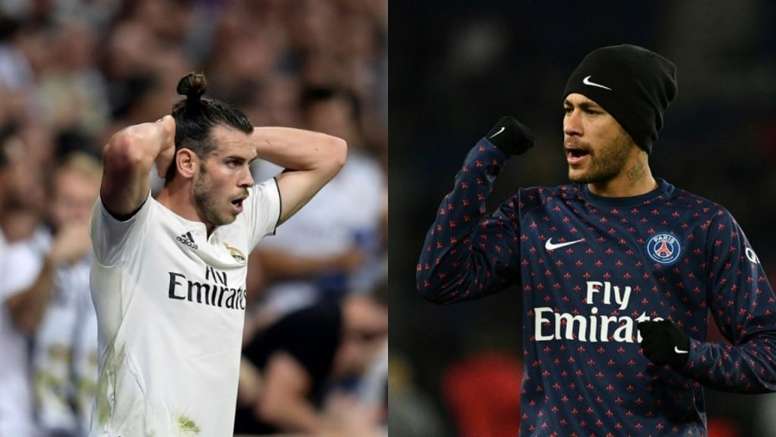 Bale-Neymar: a swap deal no one expected has reportedly started
What if Neymar ends up at Real Madrid and Gareth Bale at PSG? What might have sounded like just another just a couple of days ago is beginning to take hold in the intricacies of the football market. Zidane made it clear after Madrid's preseason debut that he does not count on the Welshman. He does not want him in his team, and he even slipped that his exit could happen in the next 48 hours. Bale is sentenced.
"Bale did not play because he is very close to leaving. We hope he leaves soon, it would be best for everyone. We are working on his transfer to a new team. I have nothing personal against him, but there comes a time where things are done because they must be done, I have to make decisions, we have to change. The exit is the coach's decision, and also of the player, who knows the situation", he added.
These unexpected statements led to a swirl of rumours and new information regarding his future. The Chinese League is watching him, but his agent, the peculiar Jonathan Barnett, said that his future is in a top-level team. Barnett also unashamedly attacked Zidane.
If and when Gareth goes it will be because it is in the best interest of Gareth and nothing to do with Zidane pushing. He continues to be one of the best players in the world, one of the best five and his future will continue to lie at a big club,"
Which is why Neymar's entourage, who have been pushing for a comeback to Barcelona but have been met with resistance by PSG, started getting interested. According to 'The Independent', sources close to PSG's '10' have started considering that conversations with Madrid to get a swap deal with Gareth Bale could become a positive for the Brazilian star. In addition, Madrid would have to put money on the table.
The source also says that the PSG values the possibility positively, as would Neymar and Real Madrid. And it seems that this could be a solution for all parties involved: Real Madrid are desperate to get rid of Bale, all while Neymar is doing everything he can to show he wants out. PSG wants to shut out the Neymar controvery as soon as possible while Zidane wants to lose sight of Bale.
A person close to Neymar stated a sentence to 'The Independent' that serves as the situation's summary: "It's hard to see who would say no". On the one hand, PSG would find in Bale a player of high quality and the piece of the missing puzzle, while Madrid, without waiting or looking for it, would leave Barça without Neymar, which in the blink of an eye could mean Neymar has changed alliances between the sworn rivals.