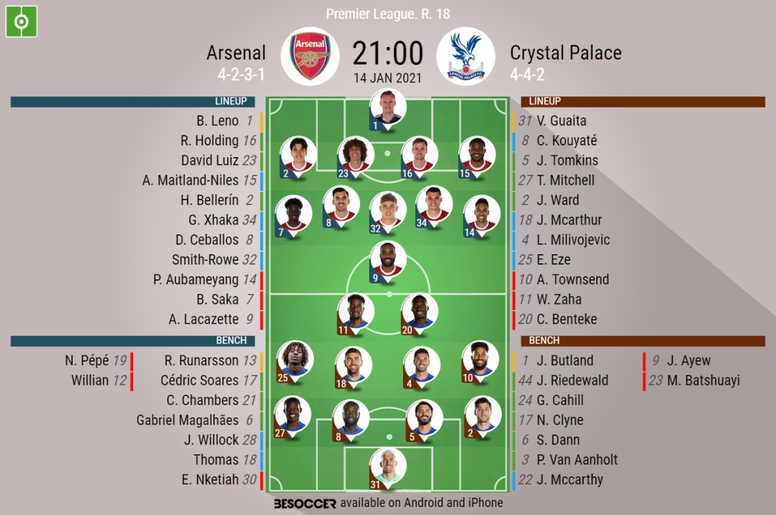 Arsenal v Crystal Palace - as it happened
Arsenal

Crystal Palace FC

94'
FT: Arsenal 0-0 Palace!! All over at the Emirates and neither side were able to score. I think that's a fair result. Arsenal were the better team at the beginning of each half, but Palace were better for 30 minutes in the first half and also had their chances in the second. Palace fully deserved their point and Arsenal were below par for most of the contest (apart from the beginning of each half). That's all from us, thanks for your company and see you again soon!
94'
Free-kick to Arsenal which is conceded by McArthur.
94'
Eze's ball in is headed away by D Luiz.
93'
Saka's lovely delivery can't find Auba or Holding, Palace counter and Ayew wins a corner off Bellerin.
92'
Free-kick to the Gunners in a dangerous position.
91'
Arsenal attack, but Saka can't keep the ball in play and it's a Palace throw.
89'
Palace sub: McCarthy on for Milivojevic.
89'
Saka's free-kick is knocked away by Guaita and Pepe hits off target from distance.
88'
Free-kick to Arsenal 25 yards from goal!
88'
Still 0-0 here and we are edging towards the first 0-0 in the PL of 2021.
85'
Zaha goes down in the box under a challenge from Holding and Marriner says no penalty. Not enough in that for me.
84'
Arteta and Townsend have words after Arteta puts his foot there once the ball goes out of play.
82'
Arsenal earn themselves another corner here. Smith-Rowe's loing range effort strikes a Palace man and the Eagles deal with it.
81'
Arsenal sub: Nketiah on for Lacazette.
81'
Palace double sub: Benteke is replaced by Ayew. Eze is staying out there for now.
80'
76% possession for Arsenal in the second half, but that's deceptive. They haven't dominated.
79'
Palace attacking as well and the Gunners are running out of time. I think this will end 0-0.
78'
We're back underway, but Eze looks in some trouble. Ayew is preparing to come on.
76'
Eze has taken a knock and is getting treatment here on his leg.
76'
Tomkins again makes a vital intervention to deny Arsenal.
73'
Chance for holding and his header goes wide of the goal!
73'
Arsenal attack and Kouyate concedes the corner.
71'
Benteke's strike hits D Luiz and then Ward is penalised for a foul.
70'
Chance for Benteke, but his header is strikes McArthur on the leg and Arsenal clear!
70'
Arsenal sub: Partey on for Ceballos.
69'
Vital defending by Xhaka!!! Palace counter through Zaha and Benteke, the former's cross is aimed at Benteke and Xhaka slides in to concede the corner.
67'
D Luiz is booked for a foul on Zaha. The Palace is not at all happy at being kicked from behind and has to be pulled away by a teammate. I think Luiz's knee also goes into Zaha's face. Luiz accepts the yellow from the ref without a fuss.
66'
Pepe looks for Smith-Rowe and Tomkins clears the danger.
64'
Arsenal sub: Pepe is on for Maitland-Niles.
63'
Maitland-Niles!! He goes inside and out, but then his shot is straight at Guaita.
62'
Arsenal go forward, but Palace deal with it. The Eagles have weathered the storm.
60'
Still scoreless and little to report in the last few minutes in terms of meaningful chances.
57'
Free-kick to Palace after Xhaka breaks down an attack just on Palace's side of halfway.
56'
Mitchell is getting treatment on his left leg.
55'
Off the sidenetting by Lacazette!! Xhaka plays for Maitland-Niles, who is offside, he plays for Auba and then Lacazette whose effort goes wide.
52'
Palace attack through Townsend and Benteke. There's an offside in there though.
50'
Maitland-Niles tries to win a corner, but the ball bounces back off him and it's a goal kick.
49'
Palace are having to defend for their lives right now. This is more like it from Arteta's men.
48'
Holding heads the corner wide of the goal now.
47'
Arsenal mean business here! Auba's cross in is headed away by Kouyate. The move continues and Guaita denies Saka from a tight angle. Corner.
46'
Auba sends a ball for Lacazette, Guaita punches out to Bellerin who pulls his effort wide!
46'
Arsenal resume proceedings here!
45'
HT: Arsenal 0-0 Palace! Half-time at the Emirates and I'd say it's fair, but Palace will be much happier. The Gunners were on top in the first 15 minutes, but Palace have been better since then and could have easily taken the lead twice. Tomkins saw his header strike the bar while Benteke was denied by a brilliant Leno. The Gunners need to up their game in the second 45. Aubameyang had one decent chance, but they've struggled to test Guaita recently. Back for more shortly!
45'
Another corner for the home side. One added minute.
44'
Arsenal win a corner and Benteke clears away Xhaka's set piece.
42'
Tomkins sees yellow for a foul on Saka.
42'
The rain is coming down now at the Emirates.
42'
What a tremendous save by Leno!!! Mitchell's cross finds Benteke in the middle, he rises higher than D Luiz and Leno makes a fine save to the left.
39'
The visitors are playing really well here!
38'
Palace strike the bar!!!! Eze's free-kick is headed by Tomkins onto the bar from six yards out, McArthur sees a second effort blocked and then 20 seconds later, Benteke curls one wide.
37'
Arsenal get a free-kick. but Palace deal with it.
35'
Zaha attacks down Arsenal's right, the cross hits Bellerin on the leg and then the Palace man again. It's a goal kick.
34'
Bellerin!! What did you do?? Smith-Rowe's cross from this near side is deflected by Kouyate into the area, Lacazette is perfectly placed to shoot and Bellerin gets their first and miscues it! Lack of communication there.
32'
Saka's corner is headed by David Luiz at the back stick straight into Guaita's hands.
31'
Xhaka passes to Auba and he gets the corner.
29'
Benteke again!! Zaha finds Mitchell and his cross is fired over by Benteke!
28'
Bellerin picks out Auba at the far post and despite heading the ball back into the middle, Roy Hodgson's men clear it away.
28'
The game's much more even at the moment.
27'
Benteke is played in by Eze, he gets into the box and shoots, but it's routine for Leno.
24'
Shots: 2-3, on target: 2-0.
23'
Vital defence by Xhaka as Zaha and Benteke combine in the box and the Swiss slides in to block!
21'
Saka tries his luck from 25 yards which is straight forward for the GK.
20'
Aubameyang!! The Gabonese's strike from inside the area, Guaita bats it up in the air and then he claims the ball after it hits the ground.
19'
Bellerin wins a corner off Mitchell.
16'
Maitland-Niles!!! He passes the ball back to Leno at some speed from halfway and the ball goes out for a corner before Leno can reach it. A gift.
15'
Arsenal counter after Zaha goes down wanting a free-kick at the other end, but a poor pass by Aubameyang sees the chance go.
15'
Eze goes for goal and the ball flies well over the bar.
14'
Free-kick to Palace just outside the box after a shirt pull by Xhaka on Zaha. I think that's a generous call.
12'
The Gunners get the free-kick here, but nothing comes of it.
10'
Free-kick to the Eagles after Milivojevic is fouled just outside his own half.
9'
Eze lays the ball off for Townsend and he hits it well wide of the goal.
7'
Lovely one-touch play by the Gunners comes to nothing, but Arsenal have been the much better side after the first 30 seconds.
5'
Maitland-Niles is give the ball on the far touchline, but his ball in is poor and goes behind for a goal kick.
4'
Arsenal have some good possession now, Xhaka finds Smith-Rowe and the back post and the youngster's effort is easy for Guaita.
2'
Palace had the first attack of the game, but nothing came of it.
1'
Palace get us going from right to left in the black!! Arsenal in their normal colours.
Prev.
The players make their way out here!
Prev.
Hodgson's men beat Sheff Utd 2-0 in their last league meeting which was also on 2nd January. Eze in for the injured Schlupp is the only change tonight.
Prev.
Palace lost 1-0 at Wolves last Friday in the FA Cup, but that was a second string line-up as well. Only Tomkins, Eze and Benteke remain from that line-up.
Prev.
Arteta makes just two changes from the side which beat WBA 0-4 back on 2nd January in the league. Tierney and Mari are replaced by D Luiz and Maitland-Niles.
Prev.
Only Leno and Aubameyang retain their places from the 2-0 win over Newcastle in the FA Cup last weekend.
Prev.
There's no Kieran Tierney for the home side tonight due to "muscle tightness" and a tight calf sees Pablo Mari miss out as well.
Prev.
3 degrees in North London this evening.
Prev.
Andre Marriner is the referee for this one while Graham Scott is the VAR.
Prev.
11th v 13th. 23pts v 22pts.
Prev.
C Palace XI: Guaita (GK); Mitchell, Kouyate, Tomkins, Ward; Eze, McArthur, Milivojevic, Townsend; Zaha and Benteke.
Prev.
Arsenal XI: Leno (GK); Maitland-Niles, Holding, D Luiz, Bellerin; Aubameyang, Xhaka, Smith-Rowe, Ceballos, Saka; Lacazette.
Prev.
Hello and welcome to live coverage of the Premier League match between Arsenal and Crystal Palace!