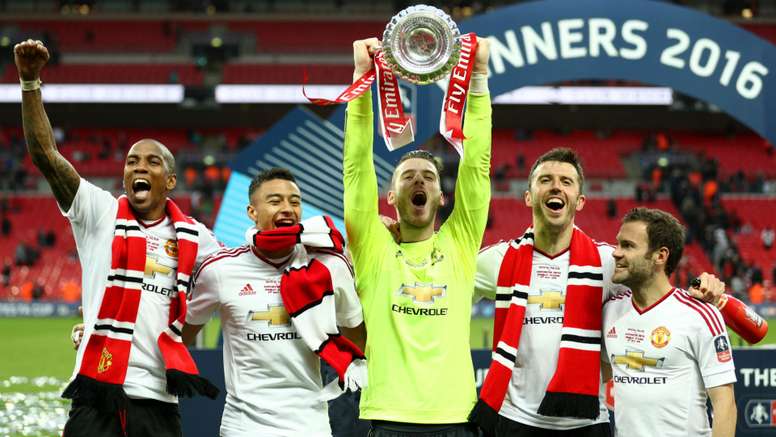 Young reveals Rojo STOLE his 2016 FA Cup winners' medal
Ashley Young has revealed that Manchester United team-mate Marcos Rojo accidentally stole his medal during the celebrations which followed victory over Crystal Palace in the 2016 FA Cup final.
The Red Devils edged their way to a 2-1 win over the Eagles at Wembley Stadium in May, with Jesse Lingard snatching a dramatic extra-time winner.
United had been reduced to 10 men by the time the England international struck, following Chris Smalling's red card, and had already recovered through Juan Mata after falling behind.
Understandably, the Red Devils were in party mood afterwards, with Louis van Gaal having helped put major silverware back in the Old Trafford trophy cabinet after a two-year wait.
Young, though, feared that he had lost his winners' medal among the flurry of activity which greeted the final whistle.
He was already back on the bus and heading away from Wembley by the time his frantic search came to an end, with Argentine defender Rojo conceding that he had mistakenly ended up with two mementos.
Young told Kicca's Dressing Room DJ: "I'd gone off and done a drugs test and come back in and it [the medal] had disappeared.
"I remember that Marcos Rojo had been sitting close to me but at the time I didn't realise where the medal had gone. Is it underneath? Is it above? Is it in the kit? Couldn't find it. I think I was still on a high and I thought: 'It's all right. It'll turn up'.
"I was thinking 'Oh, it'll turn up'. But when we got on the bus – still no medal.
"I was getting a bit concerned here. This is the FA Cup – I want the medal. I want to be able to walk in when we get back to the hotel and show everyone – this is the medal.
"So I was going round all the other guys, saying: 'Look, can you just see if you've got an extra medal? There must be one extra one, as I'm missing mine'.
"We'd literally just got out of the stadium when I heard a voice from the back: 'I've got two medals here'.
"It was Marcos Rojo. He'd picked up mine, put it away in one of his kit bags, then put his own one away in his washbag as well.
"I'm very grateful Marcos decided to find my medal for me. It's back in my possession, in my house, so I'm more than happy."