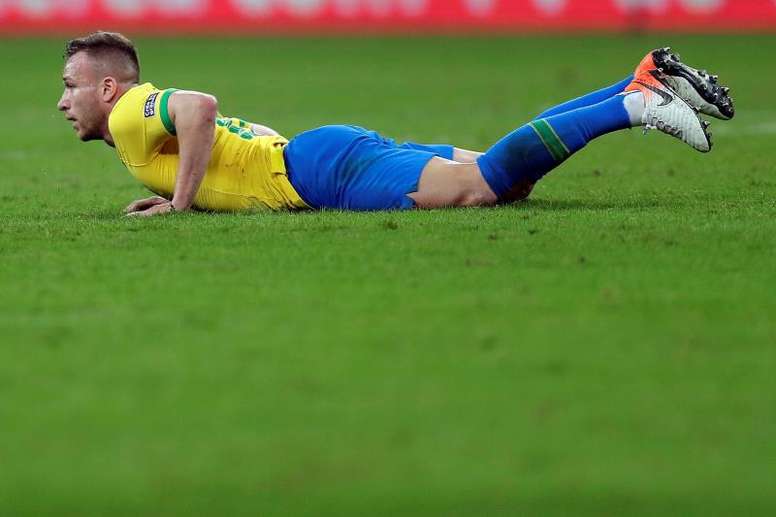 "With Brazil I'm not going to measure efforts"
"I understand Barcelona, but for me and for everyone it's an honour, an enormous pride. It's no different with me. Whenever I can, I'm not going to measure efforts and I'm going to do what I can to go," the midfielder said at a press conference in Singapore, where Brazil will play two friendly matches against Senegal and Nigeria.
Arthur said the players, at this professional level, are "well prepared" to "control loads and flight hours" and defended the technical committee led by coach Adenor Leonardo Bacchi 'Tite'.
"Here they do the best possible job for the footballer's health." The 23-year-old added: "They are careful everyone makes a good return to their club."
The physical wear and tear produced by the FIFA friendlies, in which the big European clubs like Barcelona have a lot of international players traveling, in some cases, great distances, has become a recurring theme in the appearances of Tite's pupils.
The 23 called up by the Brazilian coach are already in Singapore to prepare the friendly matches against Senegal and Nigeria, scheduled for Thursday and Sunday.
Arthur, who is a regular in the midfield for Tite but has not yet managed to score a goal, said that he is "feeling better in the physical aspect, more confident" and, in that sense, is pushing himself to become more of an attacking force and score goals.
October 7, 2019
"I'm anxious about that. Working hard, giving the maximum to get the goal as fast as possible," he added.
The Brazilian national team still doesn't know what it's like to win since they lifted the Copa America last July against Peru (3-1) at the Maracana in Rio de Janeiro.
In friendly matches in the United States in September, they drew 2-2 with Colombia and lost 1-0 to Peru in the replay of the final of the international tournament.