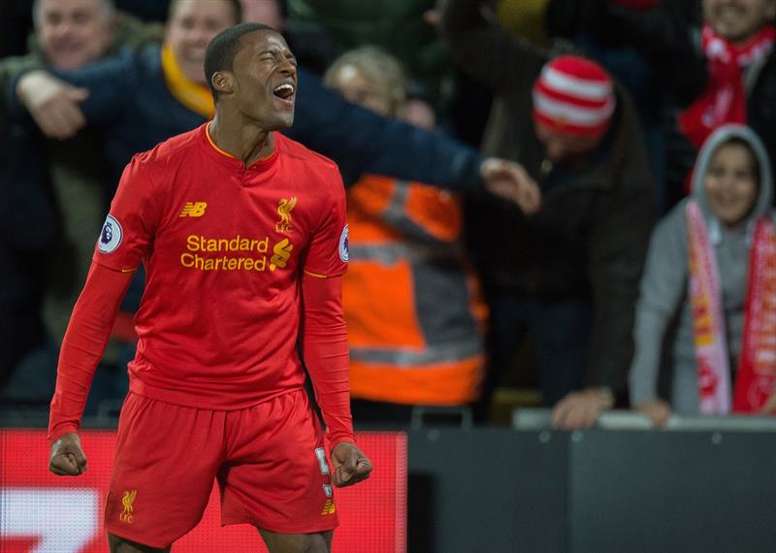 Wijnaldum: Manchester City have been lucky this season
Speaking ahead of the game, the Dutch playmaker was praising City's consistency when he suddenly added: "I also think they have had more luck than us this season."
The former Newcastle man then expanded upon his comment by saying that City have been fotunate to avoid having to face the creative talents of Philippe Coutinho after the Brazilian completed his move to Barcelona.
"Every top team is probably happy Phil has left for another team in another country. Yeah, I think that's also luck," he explained.
"He wanted to go to his dream club. As players we were all happy for him because he was a good guy. But it's also sad because with Phil in the team, you are better.
"To be fair I think we still have to realise that he's gone. It's still strange. We can't think a lot about it because we can't control it."
Back to the topic of City and Wijnaldum was eager to praise their consistency, saying that their ability to grind out results has been key to their strong start.
"They have been the most consistent all season That is the big difference between them and us, and them all the top teams," he said.
"City barely give away any games. Even if the performances aren't good, they still win. They focus until the last minute because they know with their quality they can always make a goal.
"We've played well certain games but didn't always get the result we wanted."
Much has been made of Sadio Mane's sending off in the reverse fixture, which City went on to win 5-0, and Wijnaldum says that those incidents are simply a case of subjectivity on the part of the referee, but also joked that keeping 11 players on the pitch on Sunday would be a good start for the 'Reds' as they look to inflict City's first league defeat of the season.
"It was an accident. Sometimes the referee gives a red card, sometimes a yellow," Wijnaldum pointed out. "The week after there was a game between Newcastle and Swansea in a similar situation with (Matt) Ritchie and the ref gave the yellow card. In that situation you have to be lucky.
"Of course, it's also quality to score five goals and we did a few things wrong. On Sunday we play 11 against 11. If it stays like that, it will give us more chance to win!"
Finally, the Netherlands international explained that Liverpool's players will be under no more pressure than normal from boss Jurgen Klopp to get a result on Sunday, despite the desire for revenge following their humbling at the Etihad.
"The only pressure the manager puts on us is to give 100 per cent. He is hardly ever upset in a game if he sees you giving everything. Only if you don't try to do the things you're good at, or if you're scared. Then he'll get angry," he concluded.