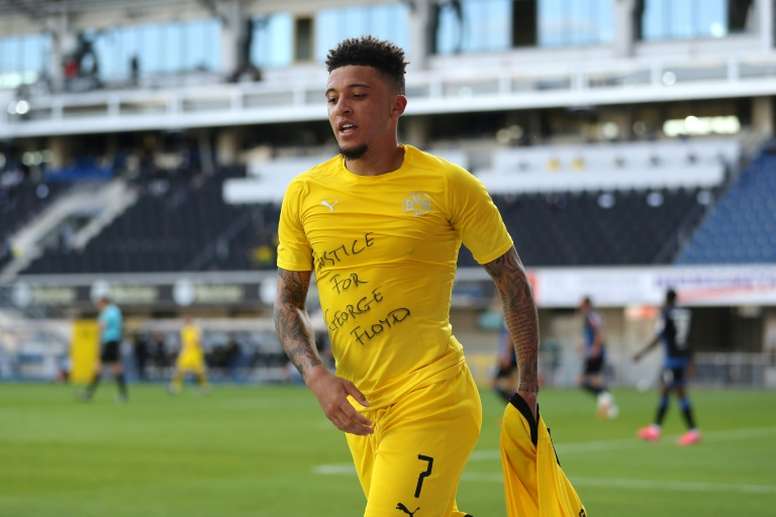 Why is Jadon Sancho the ideal signing in Europe?
The interest of an important side in a player can be for many reasons. The footballer in question could be very young and have shown huge signs of quality, he could be having the season of hsi life, he might be very mature. Jadon Sancho, sought after by many top European clubs, meets all these critieria. According to a BeSoccer report, 'ProFootballDB', the Englishman is the best signing at the moment and he has numbers which are better than Messi and Muller when they were 21.
Only Kylian Mbappe, another great European talent, is better than him, but it will be very difficult for him to leave the French capital this season. In the 2019-20 season, Sancho's stats in the league are not beaten by anybody. Of the young Under-21 players who have played more than 1000 minutes, the Dortmund footballer has been the best by far. He has scored 17 goals and given 16 assists, with an average of 1.5 goals generated per game.
At 20, only Mbappe is close to him and Ligue 1's termination prevented him from getting better stats. The PSG striker ended the campaign on 18 goals and five assists, with an average of 1.37 goals.
There is a huge gap to third. Despite the distance we find three players who are making themselves well known in Europe. Real Sociedad's Alexander Isak has seven goals and eight assists. He began having a mixutre of starts and substitute appearances so that is even better. He has an average of 0.68 goals per game.
Very close to the Swedish attacker are Victor Osimhen and Kai Havertz. The Lille man has 13 goals and four assists and, like Mbappe, those stats will not change this term. He scored 0.67 goals per game. The Leverkusen striker can still improve his figures. 11 goals and five assists at an average of 0.66 goals scored or assisted per game.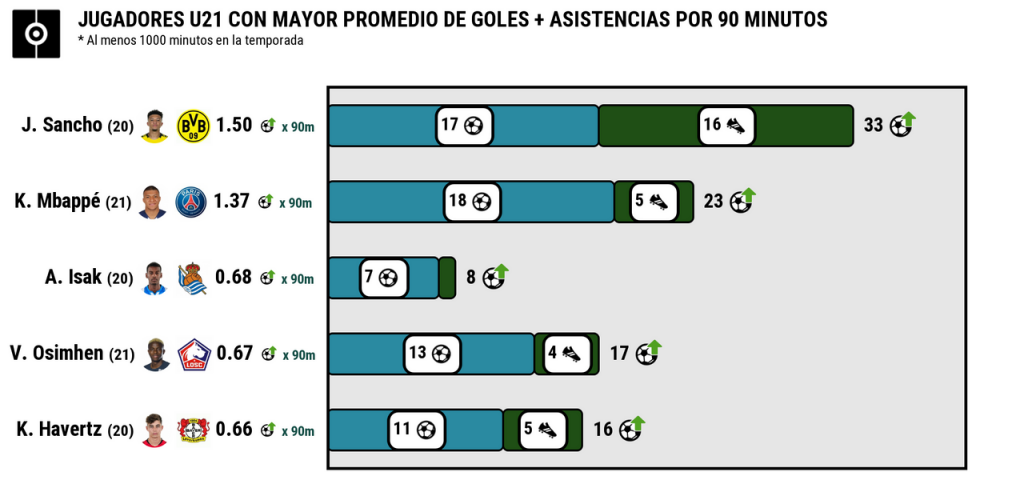 Always Haaland
But it is not all about Sancho and Mbappe. If we add European competition into the equation, there is a player who is guaranteed to appear in the list. Erling Haaland. The Norwegian leads the way if we include European competition.
The striker has an outstanding Champions League group stage for Salzburg and therefore, his performances when you look at goals and assists both in the league and in Europe are unbeatable. The Dortmund forward is the best with 20 goals and three assists (1.57/game).
Mbappe is just behind him at 1.47 goals per match (23 goals and 9 assists). Sancho is still third although his European form is not the best: 1.27 goals (19 goals and 18 assists).
Addng Europe to the list is also good for Man Utd. They have two other star players under the age of 21. Mason Greenwood, 18, has scored 10 goals and set up one (0.9 per game).
Marcus Rashford is the other with five goals and three assists (0.72 average), but he has been injured for part of the campaign.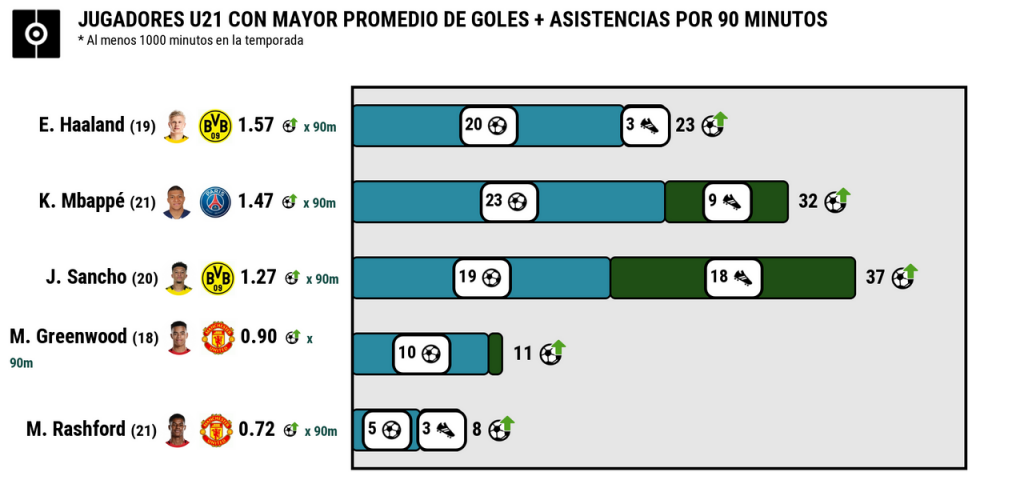 Sancho, better than Messi
To understand what Kylian Mbappe or Jadon Sancho are doing, it is enough to look at their performances when they were young. Mbappe and Sancho are doing better than Messi and Muller at that age.
The Frenchman is on top and that is why his signing for PSG has been the best in recent itmes. He has helped both PSG and Monaco with 80 goals and 29 assists for a total of 109 goals scored or assisted (0.96 average).
Mbappe's numbers are better than Messi's and Muller's when they were 21. And by quite some way. The Argentine had scored 54 goals and got 25 assists (0.73 per game) while Muller had 25 goals and 25 assists (0.66 per match).
Sancho has also got a better average than both of them and not far behind Mbappe. In his time in the elite, the Englishman has scored 30 goals in the league and given 34 assists. A total of 64 which gives him an average of 0.88 goals generated per match.
Domenico Berardi completes the top 5. The Italian, not valued enough in Europe yet, has 38 goals and 22 assists in th league and he is just 21. Very similar to what Muller had at his age (average 0.67).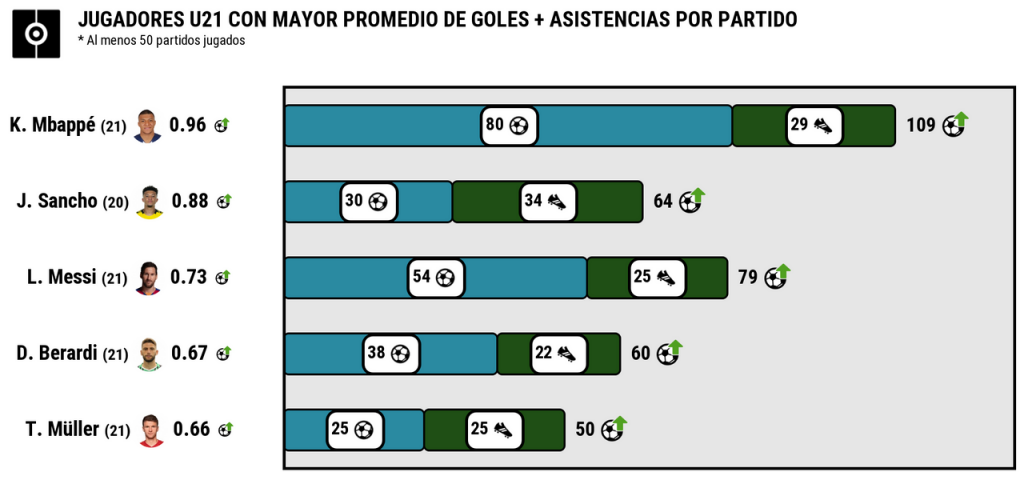 Nobody can knock Mbappe off the top
If we include Europe again in our analysis, Kylian Mbappe stays at the top and even increases his historic dominance. The PSG player has 99 goals and 41 assists in Ligue 1 and Champions League combined. He has generated almost a goal per game (0.95) since he shone at Monaco a few seasons back.
Sancho is again second (0.80 and 33 goals, 37 assists) and is better than Messi at the age of 21 (0.73 and 54 goals, 25 assists), than Berardi whose numbers remain the same and than Muller (0.64 goals or assists, 32 goals and 30 assists).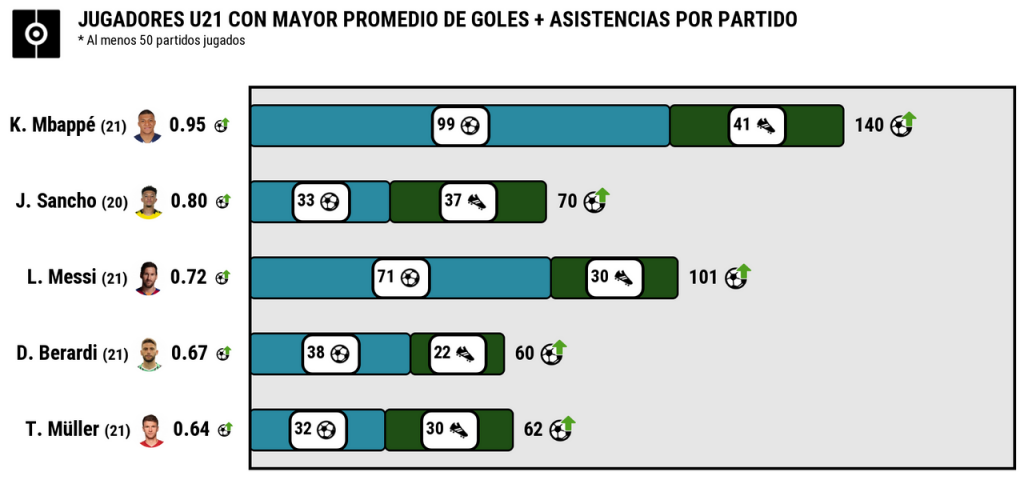 In short, as it is impossible to sign Kylian Mbappe and very difficult to get Haaland, the big clubs can trust Jadon Sancho if they decide to sign him. And maybe Domenico Berardi should also gt more attention. He is an Italian with a great future ahead of him and has fantastic numbers at Sassuolo. Could he be the steal of the summer?