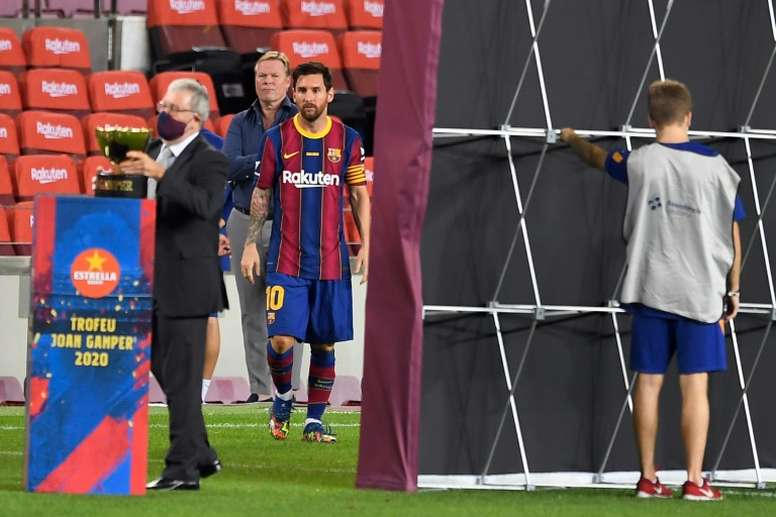 "When I signed with Barca I went to Messi's house"
Barcelona came to a standstill when Leo Messi sent that famous fax with which he asked to leave the club. The Argentinean, after a tug-of-war and the arrival of Koeman, decided to stay, but has not renewed his contract which ends in 2021.
The Dutch coach knew perfectly well what to do as soon as he signed his contract with Barcelona and went talk to the team's star. And so it was. Koeman revealed in an interview with 'NOS' that he was at the Argentinian star's home in the midst of the crisis.
"After signing up as a coach, I immediately contacted Leo. I went to his home and told him about his future. I was clear about his dissatisfaction. In the end it went well and from the moment he indicated that he would continue has done everything I expect of him," he said.
One of the subjects that angered Leo Messi was the exit of Luis Suárez and the way in which it took place, something which Koeman also wanted to speak with the forward about.
"If you have someone in the locker room that you, your wife and children also hang out with outside of football, then that reaction makes sense. I also told Messi: 'I understand you are disappointed and I think it is a terrible shame that he is leaving, but these are the club's choices,' he continued.
As for the manager's phone call to communicate the decision to Suarez, Koeman explained that he was always on Luis Suarez's side, but that it was Barcelona who wanted to play with a younger team.
"Suarez had found it very difficult to play and I let him know honestly. He found it difficult, but I never had any problems with him. He just trained well and I'm with Luis, but the club thought we had to rejuvenate the team and you can see that now in the group. Juan Ansu Fati, who is 17, Pedri, Trincao, Dest.... Those are all players for the future," he finished.