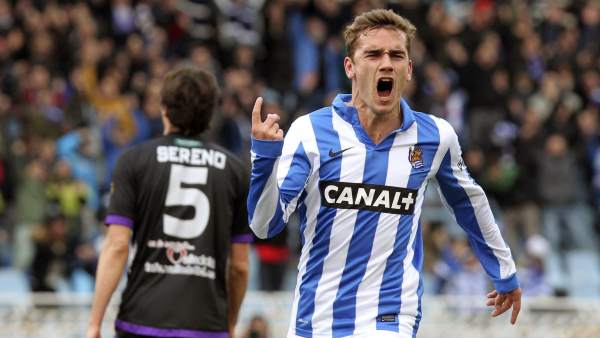 When Griezmann said no to becoming the next Bojan
By now, everyone knows about Griezmann's rejection of Barcelona in his highly controversial documentary known as 'The Decision' last summer. However, there was also another, lesser-known occasion in which the Frenchman said no to the Catalan giants.
It happened almost a decade ago, when Griezmann was still playing at Real Sociedad and Pep Guardiola was in charge at Barça. The legendary coach wanted to bring in the young Frenchman to reinforce his attacking line, which at that point consisted of Messi, Villa and Pedro but was only backed-up by Bojan and Jeffren - with neither of the two fitting in to Pep's liking.
Griezmann, who was 20 at the time, was just finishing his first season in Spain's top flight with Real Sociedad, having participated in their promotion from the Second Division the season before. He played 39 games and score seven goals, catching Barcelona's eye.
A youngster with potential and talent, he had it all. He would fit in perfectly at Barça B and was touted to be the fourth choice striker of the first team. But Griezmann had other ideas and rejected the offer, as 'AS' have recalled.
The French forward told the tale in his biography, "Antoine Griezmann: Behind the Smile". "When I was at Real Sociedad, Pep Guardiola wanted to sign me at Barcelona", he remembered.
""I was 20 years old and it was exciting. But I had only played one season in the elite and it was to join their second team, in the Second Division, in order to familiarise myself with their style of play. I turned it down," he added.
Griezmann was determined not to become another Bojan or Jeffren, and decided to stick with Rael Sociedad. Time has proved he made the right decision. Barça would go on to sign Alexis Sánchez, and after three more years in San Sebastian, the Frenchman joined Atlético Madrid. The rest, as they say, is history...