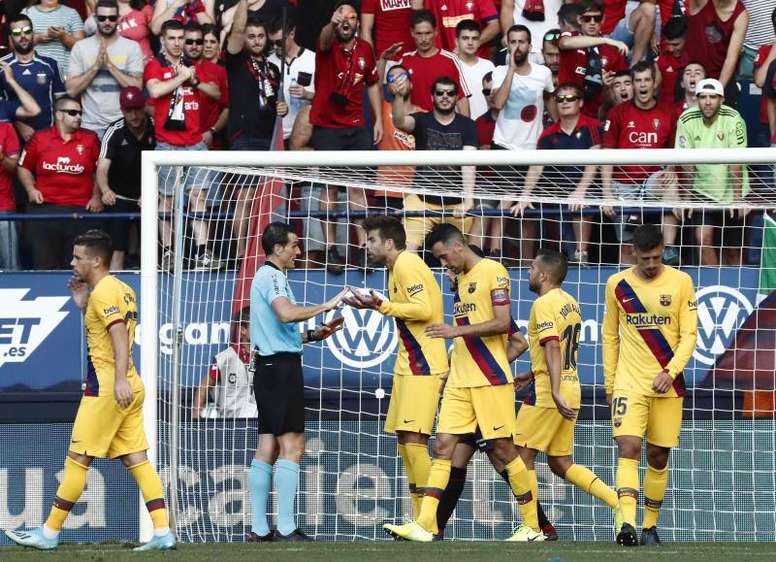 What if VAR actually works? No penalties in favour of Madrid and Barça yet
Little by little, Spanish football is becoming accustomed to coexisting with video assistant referees. After a first campaign in which there were more controversies than usual, the system seems to have convinced even the most doubtful, as there is no longer so much talk of flagrant errors, but instead just conceptual ones or millimetric mistakes.
In the first eight matchdays of the league, the resolution of the matches has left a surprising fact: neither Real Madrid nor Barcelona have yet received a penalty in favour.
Interestingly, they are the only two teams from La Liga along with Sevilla and Espanyol that have not yet had the chance to shoot from the eleven-metre mark. An anecdotic detail for some and for others a fact that reinforces the theory held by several experts that the biggest teams were often the ones who benefitted the most out of the refereeing.
Out of the 20 teams in LaLiga, Valencia is the club with the most penalties in favour this 19-20 season, with a total of five penalties. The club has undergone some change recently, with former coach Marcelino getting sacked, and the instability seems to have affected their results but certainly not VAR's checking.
after Valencia, Villarreal, Athletic, Real Sociedad, Granada and Levante, all with three, have strongly benefitted from video-assisted referees.
On the opposite side, next to Mallorca, Alaves has seen teams have been awarded up to four maximum penalties in these first eight rounds against them. Penalty shootouts against the likes of Barcelona (two), Real Madrid (one) and Atletico (one), who have accumulated more statistics of teams from the lower-middle zone than of giants fighting for the league title.
Finally, only Celta and Osasuna have been spared from seeing their opponents throw a penalty this season. Perhaps by simple chance or perhaps because since the the start of VAR, players are much more careful when they're near the opposite team's box.