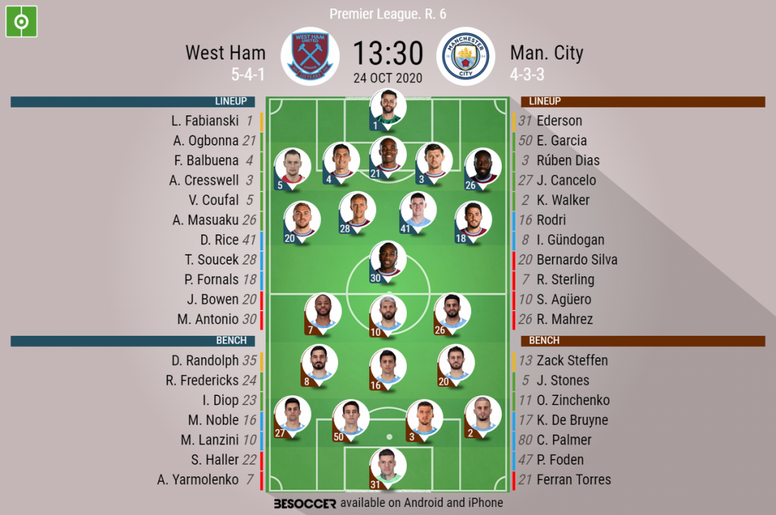 West Ham v Man City - as it happened
Post.
FT: West Ham 1-1 Man City!!! All over at the London Stadium! Phil Foden levelled for the Blues early on in the second period, but City couldn't kick on after that early pressure despite being the better team. The game ended up being very open towards the end and Fornals could have won it for the hosts while Mahrez saw his shot tipped onto the post in the dying seconds. City not to lose was a fair score here. Thanks for joining us and join us now for 'El Clasico'!
94'
The corner is taken short, nothing comes of it and it ends in a draw!
93'
Off the post!!!! Gundogan passes to Mahrez, he shoots from an acute angle and the ball is tipped onto the post! Corner.
93'
KDB launches one into the box, the Hammers clear.
91'
Balbuena is cautioned for a foul on R Dias.
89'
What is Sterling doing? Yarmolenko makes a howler at the back, Sterling takes an eternity to decide what to do and the Hammers get back to clear.
88'
Mahrez attacks down the near side, but he runs out of pitch. Goal kick.
87'
Rodri hits one from distance and it goes well over the goal!
86'
Fabianski!!!! Masuaku loses the ball in his own half, Sterling is played in and the Pole makes a superb stop with the odds stacked against him! End to end!
86'
A free-kick into the box by the Hammers comes to nothing.
84'
Fornals!!! What did you do? The Spaniard is clean through on goal and he tamely hits the ball straight to Ederson. He was in two minds at to whether to chip or fire past Ederson and he did neither.
84'
Masuaku!!! KDB sends a perfect pass for Mahrez who controls and the West Ham knocks it away for a corner.
83'
Soucek is penalised for a handball.
82'
Fornals wins a free-kick on this near side, but it seems the Spaniard was looking for that.
80'
KDB goes for goal, it goes over the wall and it's caught!
79'
Ogbonna brings down Sterling.
78'
City win another corner after Haller heads behind, but it comes to nothing.
78'
Man C sub: Zinchenko on for Walker.
78'
Cancelo!!! He puts a cross into the box and Balbuena nearly concedes an own goal.
77'
Pinball in the Hammers box, but the Hammers keep City at bay.
74'
Man City are the better team, but it looks like this match will end in a draw.
71'
Sterling gives the ball to KDB, but the Belgian goes for a cross instead of a shot.
69'
Man C sub: KDB is on for B Silva.
69'
West Ham sub: Bowen is replaced by Haller.
68'
Yarmolenko!!! The Ukrainian has a strike which goes over the goal.
66'
Man City are still the much better team, but the Hammers are holding on.
64'
Cancelo shoots from distance and it goes wide!
61'
Walker has a pop from distance and Fabianski catches.
60'
Lovely play by the Hammers sees Bowen attack and Rodri blocks for a corner.
59'
Walker sends a cross from this near side which goes behind for a goal kick.
57'
Man C are absolutely dominating here.
56'
Foden looks to play in Sterling, but he can't quite reach it. 80% possession for the Sky Blues since the break.
54'
Cancelo!!! A spectacular pass by Gundogan finds Cancelo in open space, but he miscontrols and it's a goal kick.
53'
City have been a different team since Foden came on. Great sub by Pep.
52'
West Ham sub: Yarmolenko on for Antonio.
51'
Foden levels!! What a substitution!!! Cancelo gets down the far side, he passes to Foden in the middle, who gets a bit of luck after controlling the ball and his shot beats Fabianski low to his right.
50'
Coufal picks up the first card of the game after Cancelo is caught.
48'
Rodri!!! The Spaniard's shot deflects off Soucek and it goes for a corner.
46'
Foden wins a corner after just 30 seconds.
46'
Man City HT sub: Foden is on here for Aguero.
45'
City are still not happy about that handball. The accidental attacking handball rule does not apply here as it was not "immediate". The question is whether he made himself bigger. Difficult to say.
45'
HT: West Ham 1-0 Man City! Half-time at London Stadium! The Hammers lead at the break after a lovely overhead kick goal by Antonio. There was a possible handball by Soucek in the build-up, but it wasn't given. Man City have tried, but they are struggling to break down the West Ham defence. Gundogan and E Garcia have come the closest for them. Back for more in a bit!
45'
Walker's ball in is headed by Gundogan into the air and Fabianski catches.
45'
What was that from Soucek? Coufal's cross goes to his compatriot in the box and he tries to score with his heel!
44'
West Ham are playing really well here. I think a draw would be fair, but the Hammers took their big chance.
43'
Masuaku and Soucek have efforts on goal and the City defence block them!
41'
Soucek may have handled the ball in the build up. As he wasn't the goalscorer or the assister, the accidental handball rule doesn't apply. It hits his thigh and then looks to touch his arm, but not sure his arm was out. Debatable.
40'
Sterling is penalised for a foul when it's actually Coufal who fouls Sterling.
38'
Eric Garcia looks to find Gundogan, but the ball runs through to the goalie.
35'
Cresswell looks for Antonio and Walker has to concede the corner. The Hammers' first of the match.
34'
E Garcia has a go! He cuts inside and his shot from outside the box goes wide of the goal!
32'
City are having possession, but struggling to create clear cut opportunities.
30'
Gundogan makes a very clear shirt pull on Rice, the ref plays advantage, but then doesn't book the German! Very strange.
28'
Free-kick to the away side in the Hammers' half.
25'
Cancelo makes a lovely run past Bowen on this near side, the Portuguese plays the ball to the far post and Mahrez slides in to get a touch to it.
25'
Antonio goes down! He is played in and Eric Garcia uses his strength to dispossess him!
24'
A ball is sent forward for Ilkay Gundogan and he can't get there in time.
22'
City win a corner and the Hammers head it away.
20'
And the Hammers go again! Cresswell launches onto in the box and Antonio is penalised for a foul on Cancelo.
19'
Absolutely amazing goal. You should get two for that!
18'
What a goal by Michail Antonio!!! That's a beauty!!! City claim handball in the build up, Soucek gives the ball to Coufal, the pass goes into the box for Antonio who overhead kicks it into the goal! Unbelievable.
16'
The ball is played to Aguero who passes for Mahrez, the Algerian thinks he's won the corner, but the ref thinks otherwise.
16'
74% possession for the visitos so far.
14'
Spectacular pass by Gundogan for Dias, who chests the ball down and that allows Coufal to knock the ball out for a corner.
14'
Balbuena heads a Mahrez pass intended for Aguero behind for a corner.
13'
Gundogan!! The German has a pop from 25 yards and the ball goes wide of Fabianski's right hand post.
12'
City passing the ball amongst themselves in West Ham's half.
9'
Rodri!!! Lovely play by the Hammers down this near side through Bowen and the Spaniard clears the cross! The hosts are picking up.
8'
Moyes' men are having some good possession, but City are keeping them away from goal.
6'
Cancelo!!! Pep's men threaten again, the Hammers half clear and then Cancelo hits one wide from outside the box.
5'
Balbuena! City looking sharp and Mahrez's ball in is headed away by the Paraguayan.
2'
Great defending by Coufal!! Sterling plays for Aguero and Coufal slides in to concede the corner.
2'
West Ham attack and Fornals is offside. The ref plays the advantage as City have the ball.
1'
West Ham get us going from left to right in their usual kits! City in black.
Prev.
The players are coming out here!
Prev.
West Ham are unchanged from the draw at Spurs and Man City are unchanged from the Porto match. In other words, two changes from the Arsenal win. Eric Garcia in for Nathan Ake and Gundogan replaces Foden.
Prev.
Man City won this fixture 0-5 last season.
Prev.
Man City beat Arsenal 1-0 in their last Premier League match and then came from behind to win 3-1 against Porto in the Champions League in midweek. West Ham drew 3-3 at Spurs last weekend in dramatic fashion after being 3-0 down after 81 minutes. A superb Manuel Lanzini strike in stoppage time got them a point.
Prev.
It's 14 degrees and cloudy in East London this lunchtime.
Prev.
Anthony Taylor is the referee for this one while Peter Bankes is the VAR.
Prev.
A reminder that Man City have another Champions League game on Tuesday away to Marseille.
Prev.
Man City XI; Ederson (GK); Cancelo, E Garcia, R Dias, Walker; Gundogan, Rodri, B Silva; Sterling, Aguero and Mahrez.
Prev.
West Ham XI: Fabianski (GK); Masuaku, Cresswell, Ogbonna, Balbuena, Coufal; Fornals, Rice, Soucek, Bowen; Antonio.
Prev.
Hello and welcome to our live coverage of the Premier League clash between West Ham and Man City!