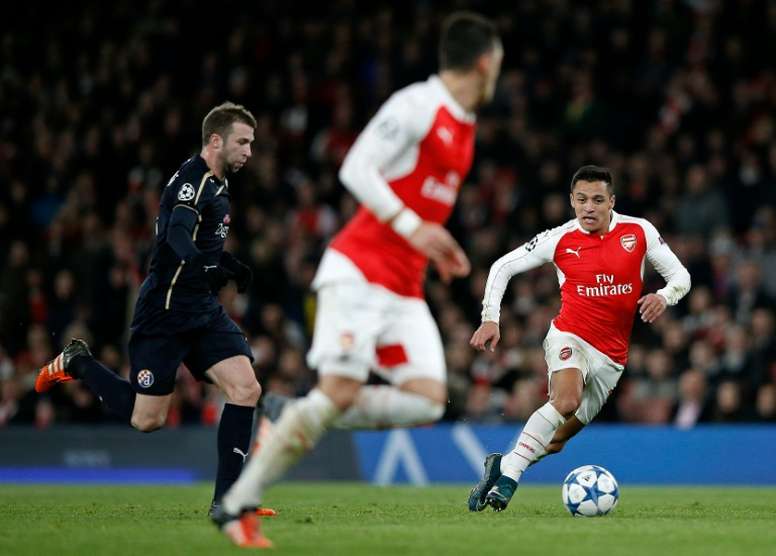 Wenger backs Arsenal to complete great escape
Wenger's side kept alive their hopes of qualifying for the knockout stages for the 16th successive year thanks to an inspired display from Alexis Sanchez in Tuesday's crucial 3-0 win over Dinamo Zagreb.
The Gunners would have been eliminated if they had failed to beat the Croatians at the Emirates Stadium, or if Olympiakos got a draw against Bayern Munich.
Fortunately for Wenger, both results went Arsenal's way and they now head to Greece for a qualification shoot-out with Olympiakos in their final Group F fixture on December 9.
The north Londoners must win by at least a two-goal margin or win by a one-goal margin having scored three or more goals, and Wenger is convinced they will rise to the challenge.
"What we wanted is to come out of the game with a chance to qualify. We had to do our job and Bayern had to do theirs," Wenger said.
"How big the chance to qualify is I don't know but I believe we can do it.
"First of all we need to win. It might not be enough to just do that, but if you lead 1-0 you can win 2-0.
"One advantage is the task is very clear. Of course it is vital to score the first goal."
While Wenger is confident of Arsenal's progress, he knows his team have lost on their last three visits to Olympiakos in the Champions League and this time the always volatile Greek fans will be even more fired up.
The Gunners boss expects a hostile atmosphere, but he doesn't believe it will get out of hand despite the recent cancellation of the Panathinaikos against Olympiakos clash due to serious crowd trouble.
- Masterclass -
"Sometimes we have been there already qualified. This time we need to qualify. It's tough but I believe we can do it," he said.
"You have to trust UEFA and the organisation over there to ensure it is handled well.
"It is the Champions League and there are never any problems on that front usually."
If Arsenal are to silence the Olympiakos crowd, they will need another influential performance from Sanchez, who set up Mesut Ozil's opener against Dinamo and then scored twice himself.
Wenger was delighted with Sanchez's latest masterclass and he claimed he had no qualms about leaving the Chile forward on even when the result was long since decided.
"Alexis is a very important player," he said. "I would have loved to take him off, but I needed to give Olivier Giroud a breather.
"Once it is 3-0 you are in a position where Sanchez doesn't need to work back so you can save his energy a bit by playing him up front.
"We played at a good pace and produced a game of quality that we wanted.
"The speed of our passing and movement gave Zagreb a problem. We had a game of quality and control."
Dinamo manager Zoran Mamic admitted his side had been out-classed and he backed Arsenal to get the result they need in Greece.
"We tried to do our best. We opened the game very well, but when they put the pace on it was very hard," he said.
"They were really pressing. They were good on the counter-attack. They really controlled the match and I can only congratulate them.
"We have to be honest. There is a big difference in money and quality of players between ourselves and teams like Arsenal.
"I'm sure they can go through. They have much more quality than Olympiakos in my opinion."