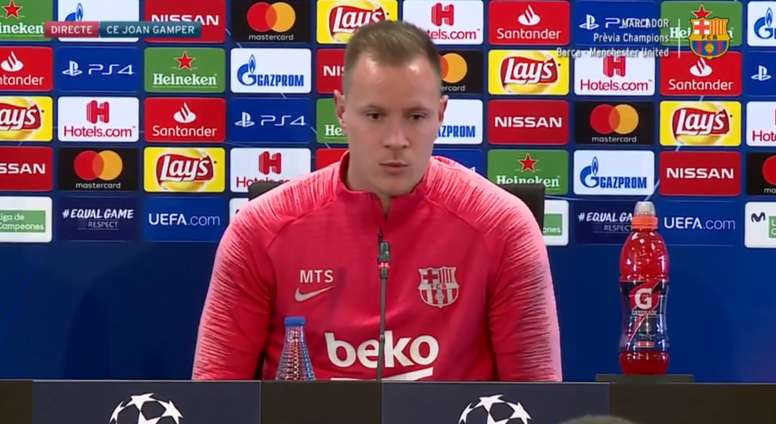 "We want to show that we are superior to United" - Ter Stegen
From his response to the first question, Ter Stegen quickly made clear that Barcelona have nothing but a victory on their mind heading into the second leg of their quarter-final clash. "We have to face a team that is determined, just like us", the German goalkeeper started by saying.
"They usually score away from home and our advantage is minimal. We want to show that we are the better team over both games", he added.
For Ter Stegen, the experience of the team is a factor. "Players who won the triple in 2015 are still here, we have that experience, but the feeling is never the same. In the Champions League anything can happen, we have seen it in the last three years".
"We want to show that we are superior to United, and for this we need to beat them and do it our way", insisted the goalie.
He will be a starter, as he was against Huesca when Valverde rotated half the team. "It is always my intention to play in every game. The feeling here is good, we are focused on tomorrow and those that played at Old Trafford are rested", he answered.
The German international refused to reveal any details regarding the lineup or planning of the team, saying "I have no idea if there will be changes - that is the manager´s decision. We are all ready and at 100%, we hope that we can win".
He also praised the form of defender Gerard Piqué - "Piqué is playing really well, he is experienced and is really important for us. It is key to have a strong spine of the team, and Piqué is one of the key pieces to our success. He needs to be congratulated, because since I have been here he´s had excellent seasons, let´s hope it continues".
"To be the captain of Barça means a lot, it is an honour. It is the second time I have been it. That reminds me that I have been here for five years, and you can see that there have been many changes in that time", he continued in reference to his captaincy against Huesca.
In La Liga he is competing with Oblak for the ´Zamora' award, but insisted "I prefer to win titles, although personal accolades are important".
"Oblak has been winning the award for years. In some parts of the season we have struggled a bit and have conceded goals, but now we are in a good moment, and I hope that we can keep it up in the Copa del Rey and in the Champions League".
Ter Stegen avoided speaking about what happened against Roma in the Champions League last season. "There´s no point wasting words on what happened in the past. It was tough, but now we are a year ahead, in the good moment we are currently in".
"We don´t want it to happen again. Tomorrow is a good day to get a good win. With the crowd on our side, I hope that we can beat them", added the German.
The goalkeeper denied, however, that it is easier to be a goalkeeper at Barcelona than at other teams. "The biggest task for the goalkeeper of Barça is that you have to adapt to this club´s style of play, you always have to be alert during games".
"I know that I can trust my teammates and that they can trust me. You need to be ready for any shots throughout the ninety minutes, that is when you have to shine", he explained.
In the opposing goal will be David de Gea, for whom Ter Stegen was full of praise. "De Gea is one of the best goalkeepers in the world. He's having a great season, he's been at the top level for many years and is one of United's most important players. It will be a difficult day for both of us, but we both have the same objective - finish the game without conceding a goal".
When asked about the opponents, he acknowleged their physical advantage, saying "they have very quick players, we will have to be vigilant. They know how to play calmly and they will want to make life difficult for us. We want to dominate and we will have to defend like we did in the first leg".
"We have a very small advantage, we don´t have to go out to defend, instead we must go out and win - it´s our way of playing and understanding football", he assured the journalists present at the Camp Nou.