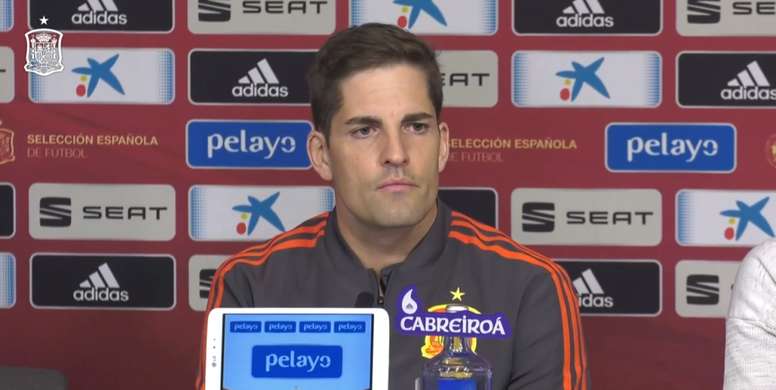 "We had Ansu Fati on the list, he broke the age system"
The first question was his hypothetical renewal if Spain qualify for the European Championship, something he has a shot at. "I hadn't even thought about that," he replied, honestly.
"They haven't spoken to me and I haven't thought about it. We're only focused on qualifying for the Euro's," he added.
It's been a crazy year for him. "This is a lot of fun and every week something new comes along to entertain you. Winning always helps, when we lose is when I will really see myself. I'd like to qualify by winning every game," he said, to lower expectations.
Then they asked him about his next opponents. "Both Sweden and Norway have been known for maintaining a way of playing that has helped them to have a high standard. We'll try to solve any difficulties we encounter. We want to have the ball to avoid surprises," he explained.
Robert Moreno reviewed the possible casualties, Ceballos and Fabián. "Both are available to play. They've had different situations. They're going to be able to play against Norway," the coach replied.
Odegaard was an obligatory question, and Robert Moreno praised him. "Now he's playing as a midfielder and at Real he's giving a great level of quality. In the end they are a great team and we will try to be effective to win," he said.
"He's doing very well but there's no specific plan to stop a player. Neither he nor any player in the world would make a specific plan to stop him. Odegaard is making it incredible," he added, consulted on this occasion by the local press.
He was also consulted, as expected, by Ansu Fati. "I like that Ansu Fati is in the Under-21s. We had him on the list. He has broken the system of ages that are stipulated," he said.
"I hope that he can help the Under-21s qualify. I cannot rule out that Ansu Fati won't play at the Euro's. It would be silly to say that he won't go if we qualify" continued the coach.
He definitely left the door open. "It's true that when the time comes you'll have to do the puzzle and see who you're competing with. All good players are welcome in the Selection", he said, to put an end to the topic.
Another of the questions to be answered was Ramos' intention to play the Olympic Games. "I have not spoken to him about this. He's a great champion. I've heard it from the press," he said, about the captain of 'La Roja'.
"He has ambition and a desire to be motivated. It's really hard to keep up and he does it. About the comment I made in September, I said that if I lowered the level, it's not going to lower it. Luis de la Fuente will be the one who decides if Ramos goes to the Games or not", he answered.
He highlighted the level of those who have been left out of this call. "It may be more open than ever. The criteria is to see what the players do at all times," he replied, to be consulted by it.
"We take into account the history of each and then try to be fair if the player is at a very good level. That increases competition and I think it's good," he added, arguing his choice for these games.
And he ended up being asked about the possibility of lining up Martin Odegaard in his starting eleven. Robert Moreno was categorical. "I'm sorry but I'm not. Our players are above them," he replied.
Aware of how hard that phrase had sounded, he nuanced it. "I do not want to disrespect anyone, I think we have a great selection," said Robert Moreno, to finish, after what began the intervention of Kepa Arrizabalaga.