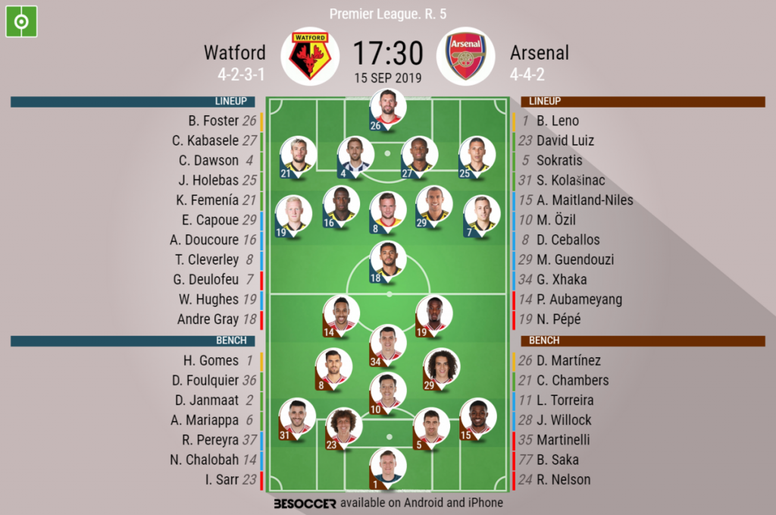 Watford v Arsenal - as it happened
Watford FC

Arsenal

94'
FT: Watford 2-2 Arsenal!!! It's all over!!! Watford fought back brilliantly to get a point from this one to claim a point after being 0-2 at half-time. Arsenal though will be gutted as they shouldn't have let that one slip, but the Hornets deserved something from the game. Thanks for joining us and see you again soon.
94'
Cleverley is penalised for a foul on Maitland-Niles.
92'
What an opportunity for Doucoure!!! Doucoure gets the ball on the counter, plays a one with two with Sarr and his shot goes straight to Leno. Had it been either side of him, it was 3-2.
91'
Capoue is carded for a cynical foul.
91'
Willock beats 5-6 players and ends up near the D before he finally loses the ball.
91'
Doucoure's shot is blocked as four minutes go up on the board. It's end to end!
90'
Shots: 28-7, on target: 9-4.
89'
Willock crosses to Xhaka inside the box, but he miscontrols it for a goal kick.
87'
Janmaat skews his shot well wide.
86'
David Luiz!!!!!! What a vital header to prevent Cleverley giving the home side the lead! It's just a corner instead. Corners: 7-1.
84'
Deulofeu!!!!!!! Cleverley's shot is blocked and Deulofeu hammers the rebound wide.
83'
David Luiz heads away another Watford cross.
80'
Pereyra himself will take it. He steps up and he sends Leno the wrong way!! Leno dived to his left, but the wasn't there! 2-2!! It's deserved in my view.
79'
Penalty to Watford! Pereyra is brought down by Luiz. It's a penalty and is just inside.
78'
Watford sub: Janmaat comes on for Holebas.
77'
Leno booked for wasting time.
76'
Luiz wins a foul in his own area and gets booed by the Watford faithful.
74'
Leno catches Deulofeu's effort.
72'
Nelson is denied by Foster now!
71'
Arsenal sub: Ozil goes off and Nelson is on.
70'
Controversy over the Watford goal. Deulofeu had just stepped into the area before Leno kicked it and he was key in the ball. VAR should have disallowed the goal. It's a new law this year, but I believe the VAR can judge on that.
68'
Deulofeu turns past Maitland-Niles and his deflected strike doesn't find the target.
67'
Arsenal sub: Torreira replaces Guendouzi, who has had a really poor game.
66'
Femenia makes a move down the flank and Pereyra backheels inside the box, but to nobody.
65'
Sarr!!!! He gets the ball and turns inside the box before firing wide.
64'
52% possession for the hosts in the second half.
63'
Watford sub: Pereyra on for Hughes.
62'
Deulofeu gets a corner off Guendouzi.
62'
Aubameyang's tame effort rolls harmlessly to Foster.
60'
Arsenal sub: Ceballos is subbed and Willock comes on.
59'
Femenia takes a touch before hitting over.
59'
Arsenal still passing it out from the back. They don't seem to have learned from their mistake.
58'
Deulofeu cuts inside before smashing it just wide of Leno's left hand post.
57'
That goal has given Watford real hope of a fightback.
56'
Femenia is carded for a clear pull back.
53'
Leno passes to Sokratis to his right and he tries to play it to Guendouzi on the edge of the area, but Deulofeu sticks his foot out to deflect it to Cleverley and he hammers home!! What were they doing? Absolutely ridiculous.
53'
Watford score after ridiculous defending!! They lost the ball stupidly twice and got away with it, not a third time.
52'
Doucoure cue ends one from inside the box and it goes out for a throw in!!
51'
Ceballos shields the ball brilliantly for a goal kick despite having Deulofeu on his back. That was good stuff.
49'
Xhaka goes for an incredibly ambitious effort which flies high and wide. Was never going to score from there.
47'
Hughes then fired wide of the goal.
47'
Guendouzi loses the ball again near his own box and Xhaka has to bail him out this time! Guendouzi played a shocking lateral pass.
46'
Kiko Femenia crosses into the box from this near side! Leno claims easily though.
46'
Welcome back everyone!! Watford get us going again. No changes it looks.
45'
HT: Watford 0-2 Arsenal!! Aubameyang's brace has given Arsenal a two goal cushion, but Watford haven't played badly at all. Deulofeu is looking dangerous for them. The problem is they aren't as clinical as Arsenal and their defensive errors have been punished. Watford aren't out of this one so stay with us for the second period!
45'
Holebas is complaining of an elbow.
45'
Holebas and Guendouzi see yellow. Nothing for Pepe. Holebas got upset with Pepe for sticking his leg out.
45'
One extra minute and Holebas and Pepe get into a fight!!! Their heads went together and Guendouzi was also involved in some pushing and shoving!
45'
Deulofeu picks up the ball thirty yards out and charges towards before Luiz forces him out wide and he runs out fo room.
44'
Leno catches the free-kick easily. That was wasted.
43'
Kolasinac is carded for bringing down Hughes.
39'
Xhaka concedes a corner, but nothing comes of it.
38'
David Luiz clears away a Hughes cross. Arsenal are making the odd mistake in defence, but Watford aren't clinical like Arsenal. That's the difference.
36'
Guendouzi loses his ball on the edge of his own D!! Deulofeu is then denied by Leno before Gray fires wide on the rebound when he goes for it first time.
35'
Hughes fires wide of the goal. Not a very dangerous hit.
34'
Watford win a free-kick which leads to ironic cheers from the home crowd.
32'
Aubameyang!!! Ozil plays a lovely pass into the box for Maitland-Niles who squares for Aubameyang to tap in. The Hornets want offside, but it isn't.
30'
Maitland-Niles weaves his way past three or four defenders into the box before a defender dispossesses him.
27'
Deulofeu makes another run, but Xhaka halts his progress.
25'
Watford lose the ball again! Ceballos feeds Ozil and his ball into the corridor of uncertainty narrowly misses Aubameyang. It's a corner though.
24'
Kolasinac's cross into the box, but he can't find a teammate. That goal has lifted the visitors.
21'
Aubameyang scores!!!! Kolasinac makes a great run down the middle, he finds Aubameyang and he takes a touch before turning to fire home. Watford want a foul in the build up, but it looks like Hughes was already on the way down.
20'
Pepegets the ball and cuts inside before hitting wide.
19'
Watford attack and a defender heads back to Leno.
16'
Watford are penalised for a handball from the corner.
16'
Watford win a corner here now.
15'
Arsenal attack and Pepe's ball in is cleared.
13'
Deulofeu receives a long pass, beats Maitland-Niles and cuts back for Holebas who fires well over.
12'
Cleverley shoots from outside the box and Leno catches easily.
11'
What a save by Leno! Cleverley is played in and his powerful strike forces Leno to dive to tip over.
10'
Gray is penalised for a foul on Kolasinac.
8'
The free-kick is easily defended by the home side.
7'
Arsenal have a free-kick just to the right of the area after Holebas catches Maitland-Niles late.
6'
Deulofeu goes for a curling shot from 25 yards out and Leno catches at the second time of asking.
5'
Cleverley sends in a cross from Arsenal's left and David Luiz is there to knock it away. Watford playing well.
3'
Arsenal going on the attack and a defender cuts out a dangerous looking pass.
2'
Deulofeu darts past Guendouzi on this near side before Xhaka prevents him from going any further.
1'
Arsenal get us going at Vicarage Road. They are shooting from left to right and both teams are in their usual kits. Sanchez Flores has been given a standing ovation, by the way.
Prev.
The players make their way out here at Vicarage Road!
Prev.
It's a hot afternoon in Watford. 26 degrees and bright sunshine. Perfect conditions for a football match.
Prev.
Watford drew 1-1 at Newcastle last time out while Arsenal drew 2-2 with Spurs.
Prev.
Watford make three changes: Holebas, Capoue and Deulofeu replace Cathcart, Janmaat and Pereyra. Cathcart has a thigh injury.
Prev.
Ozil and Ceballos replace Torreira and Lacazette from the 2-2 draw v Spurs last time out. It's great to finally see Ozil on the field after all what he has been through this summer and Lacazette is out with an ankle injury.
Prev.
Arsenal have Europa League on Thursday away to Eintracht Frankfurt.
Prev.
Anthony Taylor is the referee and Chris Kavanagh is the VAR.
Prev.
Arsenal XI: Leno (GK); Kolasinac, Luiz, Sokratis, Maitland-Niles; Ceballos, Ozil, Guendouzi; Aubameyang, Xhaka and Pepe.
Prev.
The teams are in! Watford side: Foster (GK); Holebas, Kabasele, Dawson, Femenia; Deulofeu, Capoue, Cleverley, Doucoure, Hughes; Gray.
Prev.
Good afternoon and welcome to our live coverage of the Premier League clash between Watford and Arsenal from Vicarage Road. Will Watford finally get a win? Stick around to find out!