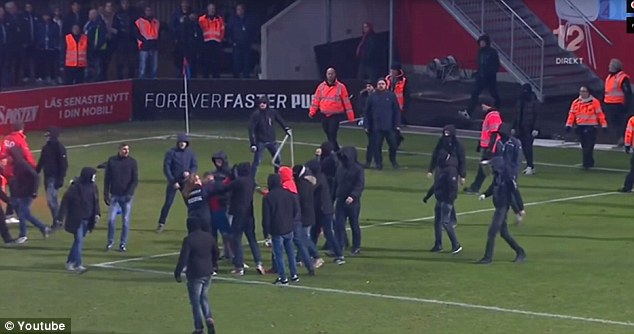 WATCH: Henrik Larsson's son Jordan attacked following Helsingsborgs' relegation
Jordan Larsson scored a goal eight minutes from time in the match against Halmstads in their relegation play-offs - a goal which looked to have kept Helsingborgs in the division.
However, Halmstads' Marcus Mathisen scored twice in the 87th and 90th minute to condemn Helsingborgs manager Henrik Larsson's side to relegation.
After the match, fans of the Swedish side ran onto the pitch and ripped the shirt off Larsson Jr.
Manager and father Henrik said he did not see the incident, but was upset with the fans' reaction.
"I didn't see that they attacked Jordan but if I had, I would have gone in there towards him. I was not going to run from there," he said. "If they turn on me, they turn on me. I had been beaten".