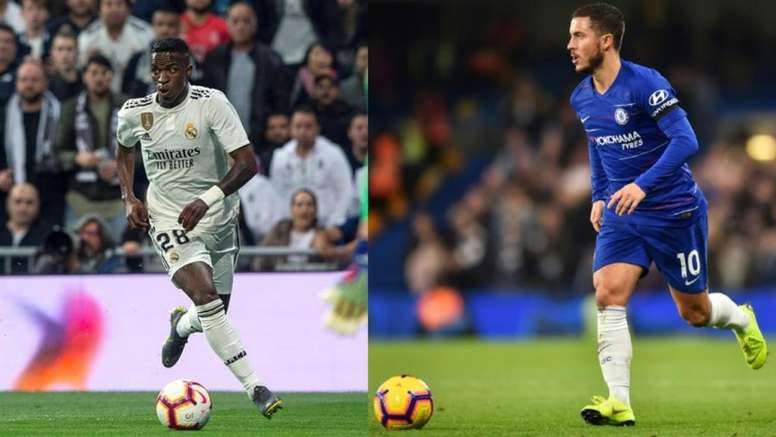 Vinicius' left, Hazard's left
The days go by and Real Madrid's campaign to sign Hazard remains active. More active than ever, possibly. Appropriate steps are being taken for the Belgian national to switch from London to Madrid, although there is still no consensus between clubs. Zidane wants him for his new project and the midfielder, as he has said on countless occasions, would be delighted to work under the Frenchman's wing.
If the transfer goes through, there is no doubt Madrid would have a lot to gain with his signing. He is in one of the best moments of his career, and his goals have been rolling in. However, his position on the left hand side might clash with one of Madrid's most promising young stars: Vinicius. This would of course prove problematic, as despite adapting to any avant-garde position, Hazard performs better on the left.
Where Cristiano played, where Vinicius plays. The Brazilian settled in his first season in Madrid, although he still has much to improve. Regardless, his evolution has been remarkable and only an untimely injury against Ajax stopped it. He is about to return, and Zidane is clear on what his role is going to be: a protagonist in the first team.
Although Vinicius once played as a striker center and right, he has recently spent most of his time in the left hand side. It's where he feels most comfortable, as from there he faces and looks for solutions, either with his team-mates or finishing on goal; something that he has yet to be so lucky with.
The same goes for Hazard, although the Belgian player has appeared in many more games on the right flank or even as a 'false 9'. Sarri bet on him there, but the Chelsea player does not feel so comfortable with such few spaces.
When Hazard arrives, if it arrives, Zidane will have the difficult task of deciding who takes their preferred position in a team that has high expectations to come back from an average season at best.