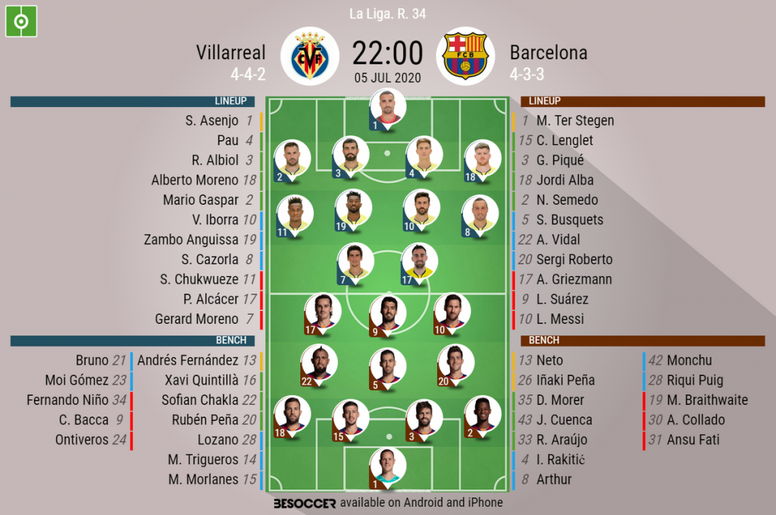 Villarreal v Barcelona - as it happened
Villarreal

Barcelona

95'
FT: Villarreal 1-4 Barcelona!! All over at El Madrigal! Barcelona were easy winners thanks to a Torres own goal, Suarez, Griezmann and subsitute Ansu Fati. Messi didn't score, but had a goal taken away by VAR and hit the bar with a free-kick. Gerard Moreno had drawn Villarreal level in the first half, but they were outplayed. Had it not been for Asenjo, Barca could have scored seven or eight. Thanks for joining us and see you again soon!
93'
Messi strikes the bar with the free-kick and then Asenjo makes a stunning save to deny Braithwaite on the rebound!
92'
Messi goes down just outside the D.
91'
Asenjo denies Messi from close range!
90'
Little to report in the last few minutes. This game has been finished for a while.
86'
Fati makes it 1-4!! Alba passes to Fati, who runs down Villarreal's right and then cuts inside before seeing his shot off a defender's foot and leaving Asenjo with no chance.
84'
Nino is penalised for a foul.
82'
Barca sub: Araujo on for Pique.
82'
Trigueros penalised for a high boot on Rakitic.
81'
Chance for Barca! Messi passes to Braithwaite in the box, he has an effort from close range, but Asenjo gets down.
80'
Back here! Barca very comfortable.
77'
Free-kick to Barca and drinks!
76'
Chukwueze shoots from this near side and it's saved by Ter Stegen.
74'
Barca attacking again and they win a corner.
72'
Barca double sub: Griezmann and Busquets off, Braithwaite and Fati on.
71'
No goal! Messi loses his goal and Pique seems to see the funny side to it. Can do when you're 1-3 up!
70'
Villarreal sub: Nino on for Bacca.
70'
Vidal looks just offside from Rakitic's pass and I think this will be chalked off.
69'
Messi makes it 1-4! Vidal passes to S Roberto who squares for Messi to tap in! It looked as though Barca had lost the opportunity after Puig's run had led to excessive passing.
66'
Great save by Asenjo!! Rakitic runs and then passes to A Vidal whose shot is well stopped by Asenjo.
64'
Albiol and Griezmann are down on the ground after Bruno knocks both of them over!
60'
Barca double sub: Puig and Rakitic on for L Suarez and Semedo.
58'
Suarez!!! Vidal passes to Suarez who hits the side netting from a very tight angle. Asenjo did well.
56'
Villarreal sub: Cazorla is replaced by Trigueros.
55'
Cazorla fouls Semedo from behind. Shirt pull.
54'
Anguissa runs inside, but nothing comes of it.
53'
Griezmann lays the ball off to Messi with his shoulder and the Argentine tries to chip Asenjo, but the GK catches easily.
52'
Villarreal attack and Cazorla cuts back inside into the referee! Brilliant defence by the ref to dispossess him! A drop ball is obviously called.
51'
Villarreal are having some possession now in Villarreal's box, but they can't create anything.
48'
Rakitic is warming up on the touchline. Barca still comfortable here.
46'
Villarreal get us going again!
46'
Villarreal double sub: Soriano and Gomez on for Iborra and G Moreno.
45'
HT: Villarreal 1-3 Barcelona!!! Half-time at El Madrigal after a couple more good Barca attacks! Setien's men have been dominant here from the first minute. Pau Torres turned into his own net after three minutes, Gerard Moreno surprisingly levelled 13 minutes later, but strikes from Suarez and Griezmann have given Barca a deserved two goal lead at the interval. Back for more in a bit!
45'
Barca are absolutely dominating this one. Villarreal are struggling especially down their right and this is the best Barca performance we've seen for a while.
45'
Griezmann makes it 1-3 with a lovely chip! Suarez and Semedo play a one-two on the move, the ball then goes to Messi who drives towards the area and he lays the ball off for Griezmann just outside the box and the Frenchman's chip goes over Asenjo and in off the bar. Brilliant.
41'
Double opportunity for Suarez inside the penalty area! The first was saved by the GK and the second by a defender, but Alba was offside in the build up.
39'
The corner is comfortably caught by the GK.
38'
This match is incredibly open!
38'
And now Griezmann is on the charge for Barca, he feeds Vidal whose shot is knocked behind by Asenjo.
37'
What a tremendous save by Ter Stegen to deny Bacca. The Colombian's strike across the goalie is tipped over the goal after a lovely pass by Chukwueze.
36'
Villarreal sub: Bacca on for Alcacer.
34'
Villarreal attack, A Moreno looks to try and find a teammate in the box and his pass is cut out.
33'
Alcacer has not returned since drinks and Bacca is coming on.
30'
Chance for Chukwueze, but his shot from inside the box goes over the goal and it's drinks.
28'
Villarreal send a ball into the box, but it comes to nothing.
25'
Alba wins a corner for Barca.
24'
Barca attack through Suarez and Semedo, but the flag is up.
23'
Asenjo comes out of his goal and boots clear.
20'
What a goal by Barca! Suarez makes it 1-2! Messi chest the ball down in the centre-circle, he gets past Anguissa and runs 25 yards before giving the ball to Suarez to his left who curls one into the far corner.
18'
Messi's free-kick is deflected off the wall for a corner.
17'
Yellow to Torres for a hand in Suarez's face. It's just outside the box.
16'
Pique leaps from the corner and heads at Asenjo, Villarreal counter and A Moreno hits the side netting.
15'
Great save by Asenjo now to prevent Vidal scoring! He goes down and stops with his foot at the near post.
14'
That just come out of the blue!
13'
G Moreno makes it 1-1!!! Villarreal counter, Chukwueze's long pass finds Alcacer, he gives to Cazorla whose shot across Ter Stegen is saved and then Moreno takes in. VAR checks Alcacer's position, but the goal is confirmed.
12'
Barca attack again down Villarreal's right and the cross by Alba is caught by Asenjo.
10'
Barca threaten again, Griezmann passes to Messi who feeds Vidal, but his shot goes well wide.
8'
Villarreal are having a bit of possession, but Barca are looking comfortable so far.
5'
That's the worst possible start for Villarreal and Barca are attacking again here.
4'
The VAR checked to see whether Alba was offside in the build up, but it got the all clear.
3'
Griezmann puts Barca ahead!!! Roberto passes to Alba on the far side and his cross is put turned in by Pau Torres of Villarreal. Griezmann was there to turn in, but the Villarreal man got there first.
1'
Busquets commits the first foul of the match.
1'
Barca get us going in the turquoise strips from left to right!! Villarreal in their usual yellow strips.
Prev.
The players are out here at the Ceramica.
Prev.
Villarreal have been in great form since the restart and they won 0-2 at Betis last Wednesday. Ruben Pena, Ontiveros, Trigueros, Moi Gomez and Bacca drop out. Gaspar, Iborra, Cazorla, Chukwueze and Alcacer come in.
Prev.
Barca drew 2-2 v Atletico last Tuesday. Griezmann and Sergi Roberto for Rakitic and Puig are the only two changes from that game.
Prev.
Barca beat Villarreal 2-1 earlier in the season.
Prev.
Carlos del Cerro Grande is the referee here while Ricardo de Burgos Bengoetxea is the VAR.
Prev.
26 degrees in Villarreal this evening.
Prev.
5th v 2nd. 54pts v 70pts. Barca will go four points behind RM (five effectively due to head to head) with a win here while Villarreal will move into a CL spot with a win here as they have a better head to head record than Sevilla.
Prev.
Barcelona XI: Ter Stegen (GK); Alba, Lenglet, Pique, Semedo; Arturo Vidal, Busquets, Roberto; Griezmann, Suarez and Messi.
Prev.
Villarreal XI: Asenjo (GK); Moreno, Pau, Albiol, Gaspar; Cazorla, Iborra, Anguissa, Chukwueze; Alcacer and Moreno.
Prev.
Hello and welcome to our live coverage of the La Liga clash between Villarreal and Barcelona!