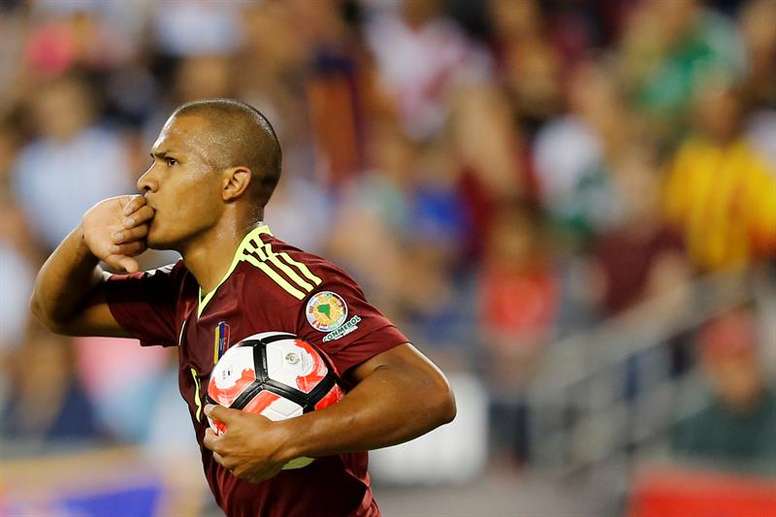 Venezuela stun Argentina to win 'friendly' clash in Madrid
All of the pre match talk was of the return of Lionel Messi and how his impact may help the youthful Argentina side around him. Selected today in the number 10 role, the Barcelona star had a wonderful first half with some incredible creative passes, picking out team mates on either side of the pitch. However, he was unable to aid his team's goalscoring as a whole host of chances on either side of half time went begging.
With both teams preparing for the Copa America in Brazil this summer, this match was a bit more than merely the 'friendly' it was dubbed as. Venezuela were the underdogs going into the game, although the team did still pack the likes of Salomon Rondon and Tomas Rincon, players known in the European leagues, specifically the Premier League and Serie A.
It actually only took Venezuela 6 minutes to break the deadlock with a wonderfully taken goal by Rondon himself, the ball over the top of the Argentine defence by Ronald Hernandez was sublime, although in all honesty, the defending of Gabriel Mercado left a lot to be desired. The touch and control of Rondon was fantastic however, and the finish was one of supreme quality from the Newcastle forward.
The second Venezuela goal was simply magnificent. Jhon Murillo got the ball after a free kick was given Venezuela's way, instead of taking the set play, the decision was to play quickly and the ball swiftly reached Murillo's feet, he had a lot of work to do, but decided to drive into the box and shoot, it curled magnificently past goalkeeper Franco Armani and he quite rightly celebrated wildly.
Half time came and Argentina had 67.8% of the possession, yet trailed 2-0 after some lousy defending. 2 of the defenders, Mercado and Lisandro Martinez were then taken off at half time, as was Gonzalo Martinez. Paulo Dybala still remained on the bench for Argentina though.
The second half was better for Argentina, and they began brightly, creating chances. However, the story of missing those chances was one that could not evade them. They finally managed to put the ball behind fantastic Venezuelan keeper, Wuilker Fariñez, in the 59th minute when Lautaro Martinez finally took a chance.
The substitiutions flowed all match and in the 72nd minute, Rondon was replaced by MLS superstar Josef Martinez. Just 3 minutes later, Tottenham's Juan Foyth became the 3rd starting defender to be responsible for a goal when he took Martinez down in the box. The Atlanta forward duely slotted it with a rather exuberant skip and the match was nearing a close.
Argentina had 4 glorious chances in the second half, with Messi having 2 excellent free kicks sailing marginly over the bar, to save their blushes, but it was not to be, it was Venezuela's day and they thoroughly deserved the win.